Having a small shower space with no shower caddy is indeed a severe problem for most people! Too many showering accessories further limit the available showering space! It reminds me of my college days when I was also going through the same problem due to a small bathroom.
Organizing all those things in a small space was a headache for me until one of my friends recommended installing the best shower caddy.
Thanks to her, I finally got something to achieve my bathroom organization goals!
Indeed, one can't stretch the bathroom walls to widen the showering area, but correctly managing the shower accessories can help optimize the showering space.
If you are also facing the same problem, installing the shower caddy would be the perfect solution!
By organizing all showering accessories in a well-mannered way, you'll not only have more showering space, but it will improve your bathroom's décor.
So, all in all, installing a new shower caddy or replacing your old caddy with a new rust-resistant, compact caddy would be the perfect decision!
But, every day, a new brand introduces a shower caddy, and filtering them out is no less than a hustle!
After spending a lot of time analyzing different brands manufacturing shower caddies, we have shortlisted the top five products to make a choice more straightforward for you!
Our Recommendations For Best Shower Caddy 2023
| Award | Design | Showers | Retailer |
| --- | --- | --- | --- |
| Modern Shower Caddy | Best Pick | | Check Price |
| | Staff Pick | | Check Price |
| | Budget Pick | | Check Price |
| Shower Caddy For Dorms | | | Check Price |
| Rust Proof Shower Caddy | | | Check Price |
Zenna Home Expandable
Best Pick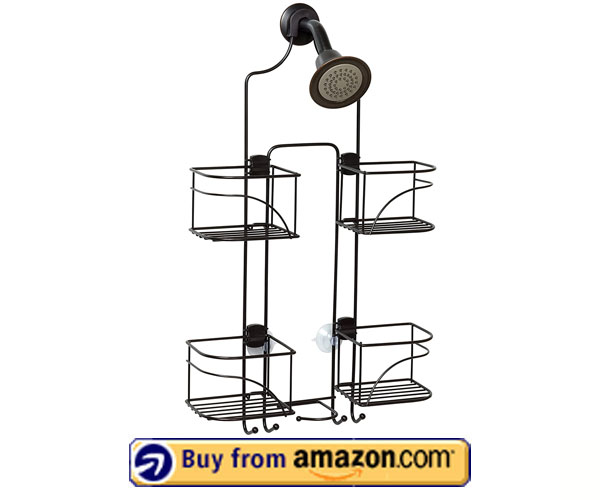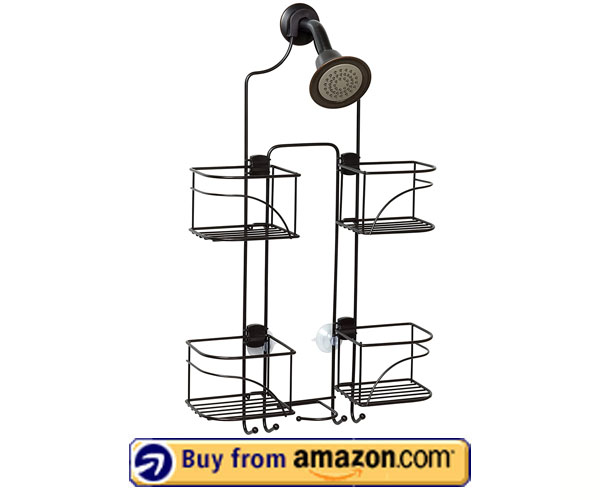 Modern Shower Caddy
| | |
| --- | --- |
| No. Of Shelves: | 4 |
| Drilling Requirement: | No |
| Material: | ABS |
In comparison with any other shower caddies in the list, there are only four baskets in this unit for better custom storage, and due to their excellent height, you can place tall shampoo bottles.
There are two suction cups to mount the unit against the wall in one place easily. You can install it without drilling, and with its non-slip collar, you can securely fit it over the showerhead. So, all in all, it is pretty easy to install.
There are multiple hooks to hang the razors, or you can use them for clothes-drying purposes!
Distribute the heavy showering accessories equally among four baskets instead of putting all of them in one to avoid any failure.
As you will be mounting it over the shower head, make sure it doesn't disturb you while showering, especially if the shower arm isn't very long and you already have a small showering space.
Additionally, carefully attach the suction cups to the wall without rubbing it as they may lose the grip, and just because of that, the whole unit becomes useless.
This shower caddy has an exquisite design so that it will magnify your bathroom's glow.
Being made up of durable and ABS sturdy material, it strongly resists rust and requires minimal cleaning and maintenance. You can expect this caddy to last long!
Why Should You Buy Zenna Home Expandable Shower Caddy?
You won't find more organizing space provided by any other shower caddy in the list in comparison with this unit.
You will fall in love with this unit's elegant design, and without any doubt, it will be a perfect organizer to enhance your bathroom's decor.
With no chances of corrosion, you won't have to spend long hours cleaning and lubricating this shower caddy!
Multiple hooks allow you to mount the towel, trimmer, and toothbrush at your arm's distance, making them more easily accessible!
Pros
4 baskets are providing more organization space
Minimal cleaning requirement
Durable in nature
Hooks for mounting small essentials
Enhances the bathroom's glow
Cons
Suction cups lose grip
Not suitable for small bathrooms
Simplehuman Adjustable
Staff Pick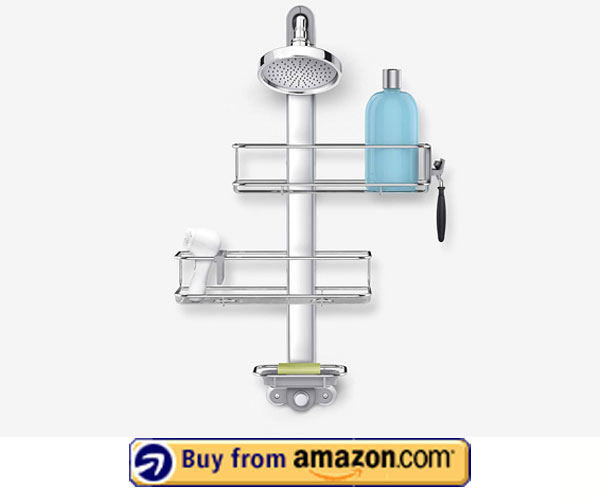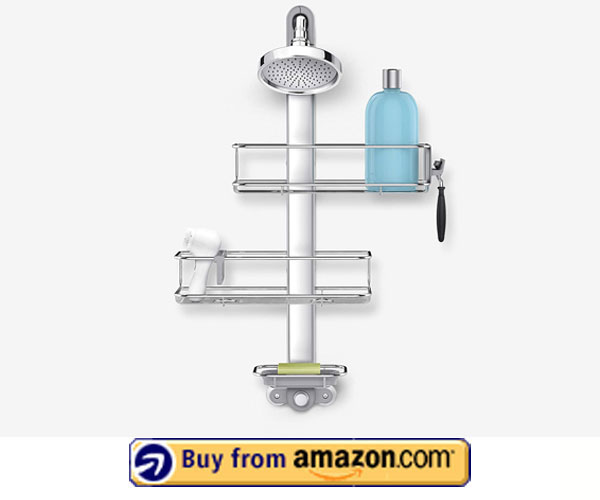 | | |
| --- | --- |
| No. Of Shelves: | 2 |
| Drilling Requirement: | No |
| Material: | Stainless Steel |
This shower caddy has a straightforward and secure installation.
There is rubber-made showerhead clamp that supports the caddy unit from above. To give it support from the bottom, simplehuman has installed two pivoting suction cups that keep the shower caddy in place and restrict its free motion.
You won't need any drilling for this shower caddy as well, so no more worries about seeking permission from the apartment owner.
This shower caddy has two large racks having large capacity allowing the better organization of the shower essentials. You can keep them all in one place, and they will be easy to reach while showering.
There are separate sections for placing the toothbrush and to mount the trimmer, and there is a smallholder located at its bottom that makes your access to soap or shampoo easy.
Racks have built-in slots at the bottom, so water won't collect inside them. Thus, you won't have to empty them after every shower!
This showerhead has a unique design, and its moveable racks will give you the flexibility to move the caddy shelves both horizontally and vertically. So, you can adjust them according to your needs. This feature isn't there in any other caddy unit!
This shower caddy uses stainless steel as the primary manufacturing material with few parts of anodized aluminum. So, it won't let the rust come near it, and cleaning it after every three days will make the shower caddy long-lasting.
This shower caddy perfectly drains out the water from its shelves and soap holder so that the soap will remain dry most of the time, and it will last longer.
As you will be mounting it on your shower head, make sure it doesn't limit your showering space.
Avoid rubbing its suction cups with the wall to protect them from losing the grip.
This showerhead provides a staggering warranty of 5 years that makes this brand trustworthy in its customers' eyes.
In case of any problem, you can contact their customer support, whose quick response will surprise you!
Why Should You Buy Simplehuman Adjustable Shower Caddy?
No other brand is as transparent in terms of providing the best warranty for its product as simplehuman. It is one of the reasons why people love this brand.
Since its racks are vertically and horizontally adjustable, you'll have the flexibility to adjust them according to your space requirements.
You won't have to clear the water from buckets after every shower – thanks to its self-water drainage buckets design.
With this unit, you won't have to drill into the wall if your shower head is long, and you can move this portable shower caddy around your multiple bathrooms!
Pros
No need for drilling
Large racks provide more space
Quick water drainage
Won't corrode and last long
Good warranty
Responsive customer support
Cons
Can't withstand heavy load
Consumes more space
iDesign York
Budget Pick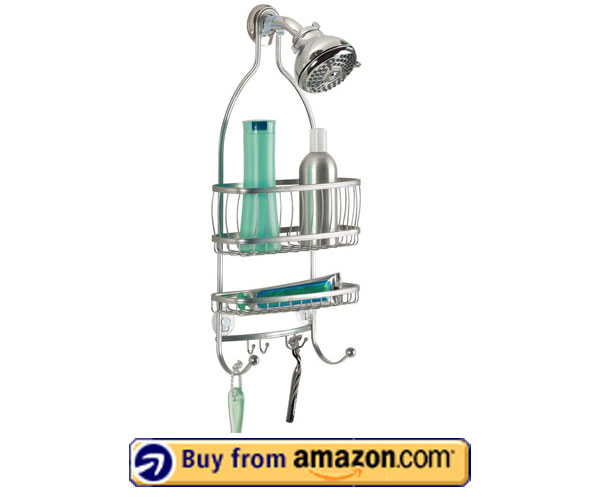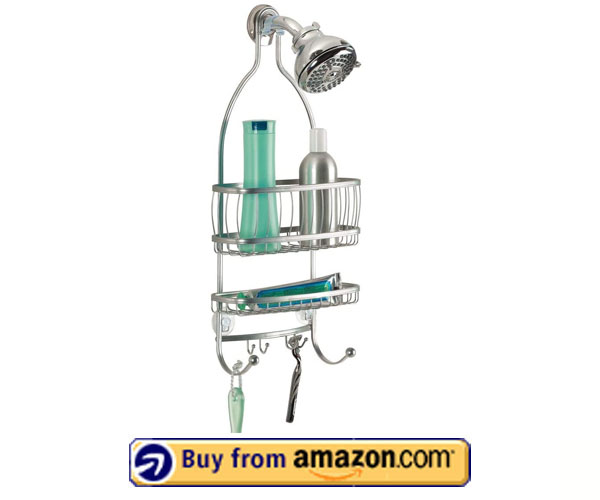 | | |
| --- | --- |
| No. Of Shelves: | 2 |
| Drilling Requirement: | No |
| Material: | Stainless Steel |
There are two separate racks in this shower caddy, so you will have more space to organize your showering accessories in a better way.
It would be best if you mount it on your fixed shower head or alongside your shower arm to have more showering space, especially if you have a small bathroom.
You can use both racks for storing shampoo, conditioner, and other accessories, while the lower hooks are perfect for mounting razors, washcloths, and sponges!
You can use its hooks to dry your wet towels or clothes. So, it will also be pretty handy!
But, do bear in mind that both sections of the shower caddy can't hold too much weight, so distribute your showering accessories equally between both areas without overloading them!
This is a perfect product for any bathroom, whether it's the master bathroom, kids, or guest bathroom!
You won't have to drill into your bathroom walls to mount this unit if you already have a fixed showerhead with a long shower arm. You can mount this shower caddy as a whole over it, but make sure it doesn't create any hurdle while showering!
If you can't afford to mount it alongside the shower arm, then you may have to drill into the bathroom wall to mount this unit that your apartment owner may not appreciate. That's a factor you need to consider if you are living on rent.
This unit has an elegant design and has powder-coated steel as a primary manufacturing material; there are minimal corrosion chances. So, you can expect this unit to remain your shower accessories organizer for a long time.
Just keep on cleaning the unit after every three days with a solution of water and baking soda. It will further resist corrosion or rust growth!
Why Should You Buy iDesign York Shower Caddy?
If you are too sensitive about the glow of your bathroom, then this shower caddy will significantly magnify your bathroom's shine.
Having multiple racks will provide more space to organize many showering essentials in a better way.
Thanks to its high strength material, you won't have to replace it every two months!
You aren't limited to just organizing your showering essentials in this caddy. You can dry your wet clothes as well – thanks to the integration of separate hooks.
Pros
Elegant design
No drilling is required
More space for the organization
Hooks for drying wet towels
Long-lasting
Cons
Can't hold heavy items
No defined warranty
Gecko-Loc Suction Cup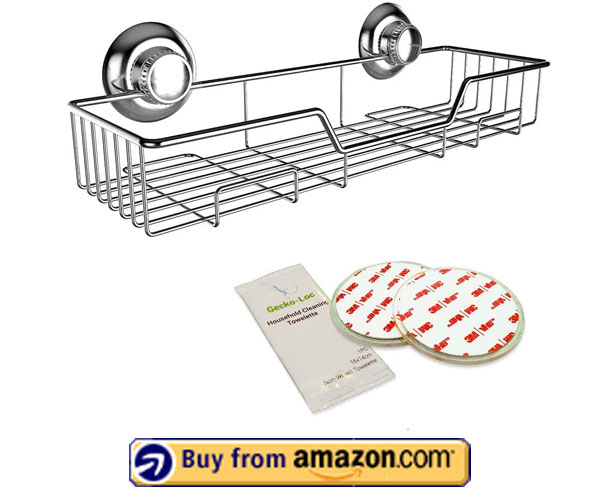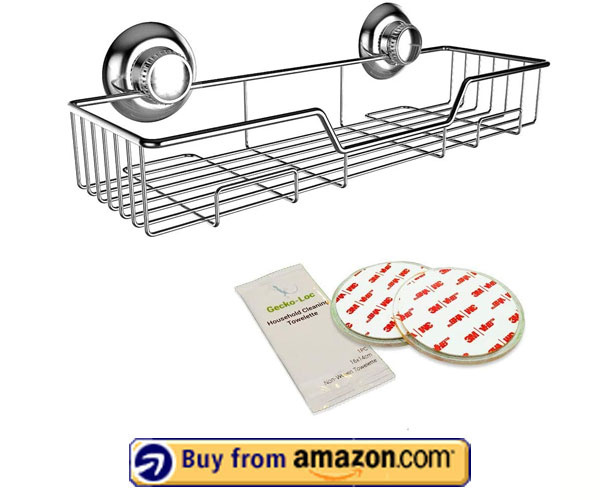 Shower Caddy For Dorms
| | |
| --- | --- |
| No. Of Shelves: | 1 |
| Drilling Requirement: | No |
| Material: | ABS and Stainless Steel |
This shower caddy is pretty easy to install with no requirement of any expensive tools or glue. You won't even have to drill a hole in the wall.
This shower caddy can hold items up to an accumulative weight of more than 44 pounds. Thanks to its wide racks, you can organize your shampoo, soap brushes, towels, and the rest of the bathroom accessories in a single unit.
One can mount it on the wall by placing it on a smooth flat surface, and by applying pressure and turning it clockwise, it will get fixed on the wall!
This shower caddy doesn't involve damaging the bathroom walls, making the unit best for people living in apartments or rentals.
It is light in weight and easily detachable, so you can move it with you with great ease while shifting the apartment.
Specially designed for bathroom accessories organization, it will be convenient to organize your kitchen accessories in this unit.
This unit works best on a few bathrooms finishing specific materials, including ceramic tile, glass, granite, stainless steel, acrylic, laminate, and non-porous surface.
Being small in size, this is the best shower caddy for dorms.
One of the significant problems with shower caddies is that they get corroded over time due to direct water droplets exposure. This isn't the case with this unit.
This unit comprises powder-coated, anti-rust stainless steel and ABS. It will protect the unit against any external corrosion.
This unit is easy to clean, and we would recommend you wash the unit with water, vinegar, and baking soda solution.
Why Should You Buy Gecko-Loc Suction Cup Caddy?
With no drilling requirement, you can install this shower caddy single-handedly in a short time.
You can use it in more than one place by detaching the unit efficiently – thanks to its portable and lightweight design.
If organizing bulky shampoo bottles is a headache for you, try shifting to this unit – its high strength material capable of supporting heavyweight will solve all your worries.
If you are a busy person and can't clean the caddy every day, this product is right for you as it requires minimal maintenance and cleaning.
Pros
Easy to install and clean
Strong resistance against corrosion
No drilling is required
It can hold heavyweight items
Easy to detach the portable unit
Cons
No defined warranty
A single rack limits the space
ALLZONE Constant Tension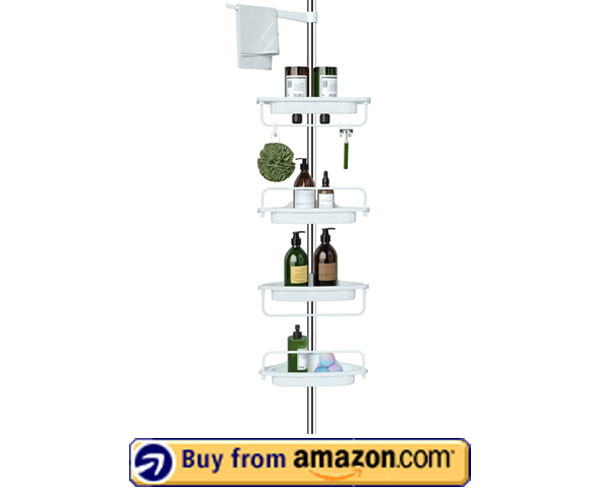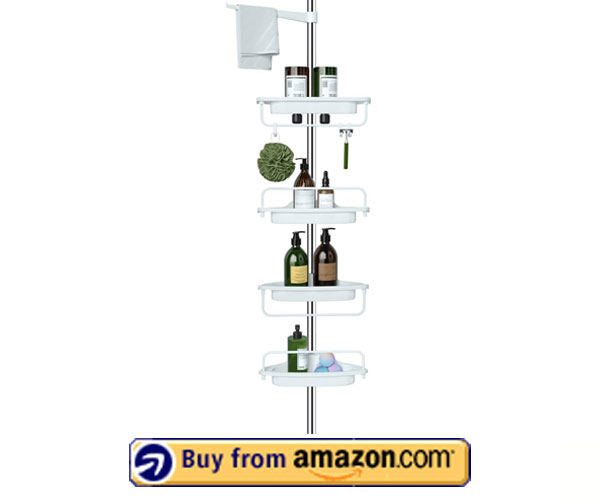 Rust Proof Shower Caddy
| | |
| --- | --- |
| No. Of Shelves: | 4 |
| Drilling Requirement: | No |
| Material: | Stainless Steel and Plastic |
This shower caddy is also mounted on the top of the showerhead. Its installation is super easy and fast, so no damage to the floor or ceiling by drilling.
There are four shelves of this shower caddy, and you'll have enough space to organize your showering essentials effectively.
There is a thick and robust tension spring set that keeps the pole in one place without any movement.
All shelves are of the same size, so you can equally distribute the overall showering essentials to avoid overloading them.
Although there are no separate hooks under these shelves, there is a handle upon which you can mount your trimmer, toothbrush, and other small accessories.
This unit has a stainless steel pole that strengthens the shower caddy, and its sturdy plastic shelves hold the maximum number of products in a minimum space.
Thick plastic is used to manufacture shelves to bear multiple bottles' weight without any chances of failure. You can clean it easily.
Additionally, these shelves aren't fixed and can be moved up and down to create space for tall bottles. On top of the showerhead, there is a separate handle for mounting and drying the wet towel.
The shelves are corrosion resistant and won't let the rust come close to this rust proof shower caddy. However, we would recommend you to regularly clean its pole and don't let the water stay on it; otherwise, there are chances that it can corrode!
As you won't have to mount it on the showerhead, you can place it along the corner to have more showering space!
According to Allzone, they provide a lifetime warranty on its products, so you can blindly trust this unit as well, along with a simple human shower caddy.
Their customer support is also reputable for its good response and in ensuring timely warranty assistance.
Why Should You Buy ALLZONE Constant Tension Shower Caddy?
This shower caddy is portable, so you can place it at your preferred location inside the bathroom while showering.
You'll get peace of mind with a lifetime warranty on this product. You can blindly trust this highly reputable brand.
Having four shelves will give you the flexibility to organize your showering accessories in a better way.
One can expect this shower caddy to last long – thanks to its high strength pole support.
Pros
Peace of mind lifetime warranty
Place anywhere in the bathroom
Not Spacious
Hold all shower essentials
Long-lasting caddy
Moveable shelves
Cons
Can't be mounted on the showerhead
Not suitable for small bathrooms
Conclusion
Finally, here is the list of the five shower caddies!
These units are of no match in terms of small area coverage to have wider showering space, elegant design to improve the bathroom's looks, wide rack space to organize all showering accessories effectively, and high strength manufacturing material that ensures a long life span!
You can choose any best shower caddy that best matches your requirements and budget, but if you go with our recommendation, we would suggest you buy the Zenna Home shower caddy!
Four wide baskets hold all of your showering accessories. Also, it has two suction cups to provide adequate stability. Easy installation with no drilling required. Additionally, you can hangers small accessories, elegant design to magnify the bathroom's looks, strong rust resistance, and minimal cleaning requirements.
A well-informed decision not only saves money but saves a person from any future headache!
I hope this article would be of great help to you and now you will be able to choose the unit on your own!
Frequently Asked Questions
How Long Does A Shower Caddy Last?
It will depend on the user with how much care he'll use the unit. If you overload it, there are chances that it may undergo immature fracture, and rust may end up eating the caddy if not adequately cleaned.  If you take great care, expect it to last at least for more than a year.
Can We Use a Modern Shower Caddy In Multiple Rooms?
Depending on the shower caddy's design, you can use it at multiple places inside your house. But, they are designed only for bathrooms.
Why Shower Caddy Rust?
Shower caddies usually are powdered coated that protects them against rust. Still, if not properly cleaned, the water stays over the caddy for an extended time, which results in corroding the unit.
Is The Shower Caddy Portable?
Most of the shower caddies are light in weight and portable. If you are specifically buying for your bathroom, then this factor won't make much difference!