Regardless of what brand they are using, what a typical user needs at the end of a shower is to feel relaxed and soothed to be delivered by a shower head with good pressure, a spray pattern, and easy-to-clean nozzles afterward.
The most significant benefit of buying a handheld showerhead with a slide bar is the accessibility that helps you pour water into hard-to-reach body parts. It effectively removes shampoo from your hair with good water pressure.
Besides that, these showers are easy to clean. Also, they consume less water and make the showering process easier for kids and older people.
Many other factors have to be researched and considered before choosing the best handheld showerhead with a slide bar, such as flow rate, durability, and slide bar convenience, to ensure the best showering experience for oneself.
This process can be complicated, and to save you the trouble of doing so. We dug deep into these aspects and research the 5 best handheld shower heads with slide bars. The article has detailed reviews of their significant features, pros, and cons.
Though these products are more durable from highly-reputed brands, they can be expensive and usually provide value for the money you pay.
Our Recommendations For Best Handheld Shower Head With Slide Bar 2023
| Design | Showers | Retailer |
| --- | --- | --- |
| Best Pick | | Check Price |
| Staff Pick | | Check Price |
| Budget Pick | | Check Price |
| | | Check Price |
| | | Check Price |
Delta Faucet
Best Pick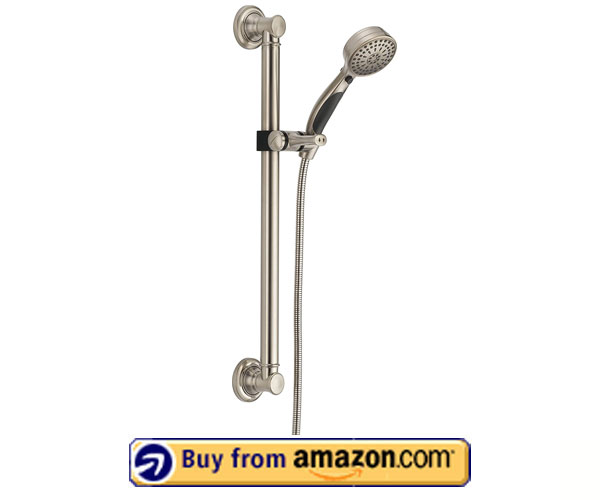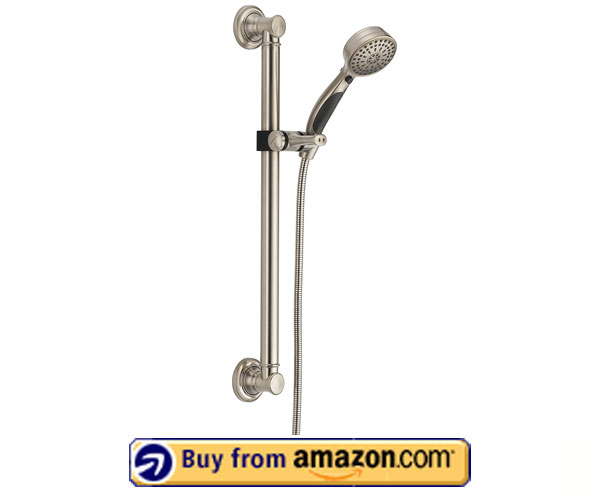 The immense power, 9 powerful spray options, massaging jets with versatile settings, and a limited lifetime warranty, every feature enables this product to deserve a rank in the best handheld shower heads with slide bar.
Besides being so generous with its features and performance, this handheld shower head by Delta Faucet is known to be stylish, well-constructed for durability & sturdiness. It has a stretchable hose with just the perfect slide bar adding more to the greatness.
More spray options mean more than one way to enjoy your shower time every time you get into it. To deliver that, this handheld shower brings nine of them, including soft & full-body spray, shampoo rinsing spray with & without massage, and soft drenching spray with and without massage.
Also, the fast massaging and full spray with massage modes fulfill the usual demand for these showers. However, trying a combination of these could open you up to more ventures that will be worth it.
The shower enthusiasts know how relaxing it is to immerse yourself in a powerful shower fully, and what you feel afterward is mesmerizing. This handheld shower brings a stretchable hose that extends up to 82 inches to let you dive deep into the immersion to ensure that feeling.
Not just that, the full-body spray and its various customization are so powerful that this will be hitting your body like the water from a stream, satisfying every desire you have had about a quality product.
What makes this whole experience worth spending? It has powerful massaging jets that bring a refreshing shower time, get rid of the muscle soreness, and leave you energized for work and other tasks that you have procrastinated.
You can quickly stem the water flow by a pause switch. It is located on the handheld portion of the showerhead. It gives you time to lather up and then re-release it.
The elbow, an essential component for installing this handheld shower, is missing from the box, ensuring that you get that from the market already to save yourself the trouble before you receive this on your doorstep.
Why Should You Buy Delta Faucet Handheld Shower Head With Slide Bar?
Excellent operation both at low and high-pressure settings for an optimal experience
Powerful and immersive with 9 spray options and two massage jets
The stretchable metal hose with a slide bar that provides a great finish has
An easy to install and customize shower spray that suits everyone
Pros
Sturdy and Durable
No complex settings
9 different spray settings
Massage jets for muscle soreness relief
Cons
It doesn't include elbow attachment
Seems a bit low pressure due to the low-flow hand shower
Moen 3668EPBN
Staff Pick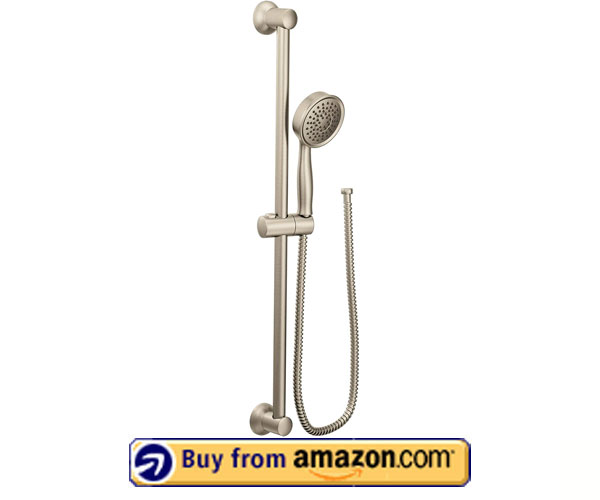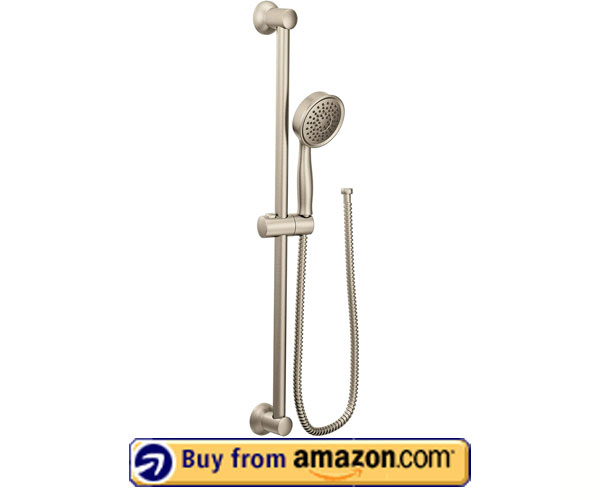 Bringing water efficiency, interlock spiral hose, and the brushed nickel finishing that will lighten your bathroom appearance.
Some notable features of this Moen 3668EPBN are a 24-inch slide bar for height adjustment, 1.75 flow rate, and various design innovations that help you achieve a soothing spa-like shower experience.
The reduced flow rate of 1.75 GPM is more efficient at saving water since it gets the shower job done while showering less water with the high-pressure flow.
The innovative design backs the high-pressure water flow with various shower patterns to reduce muscle soreness and make you feel relaxed.
Even the showerhead's reduced diameter helps achieve high water efficiency; however, the lesser diameter could lead to clogging.
While the rest of the installation is an easy process, you will need to drill a hole. However, hiring a professional would be getting to get it right.
After that, it is more a plug-and-play thing with easy controls for slide bar height adjustment, temperature, and water pressure controls.
Why Should You Buy Moen Handheld Shower Head?
A powerful and hard-hitting shower experience with water-efficient design
The installation process is easy, however, you will still need to drill holes for it
The height adjustment becomes easier with 24-inch slide bar
Attractive design with chrome and brushed nickel finishing
Pros
75 GPM smooth flow rate
The spiral metal hose
Easy pressure and height adjustment
The full-body relaxing water experience
0 GPM flow rate at handheld shower
Cons
Pretty expensive though
The plastic build doesn't seem very durable
KES Slide Bar
Budget Pick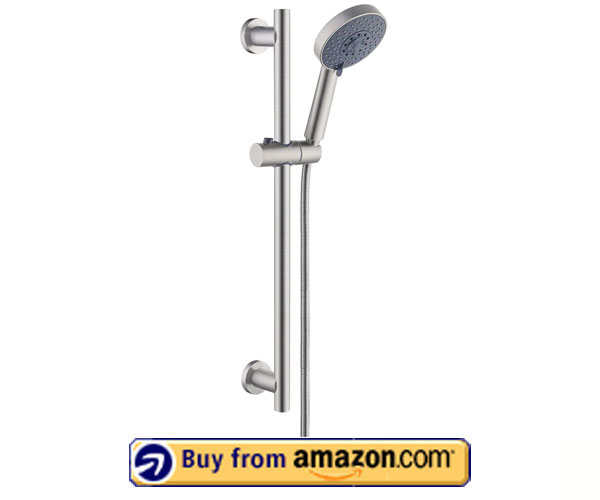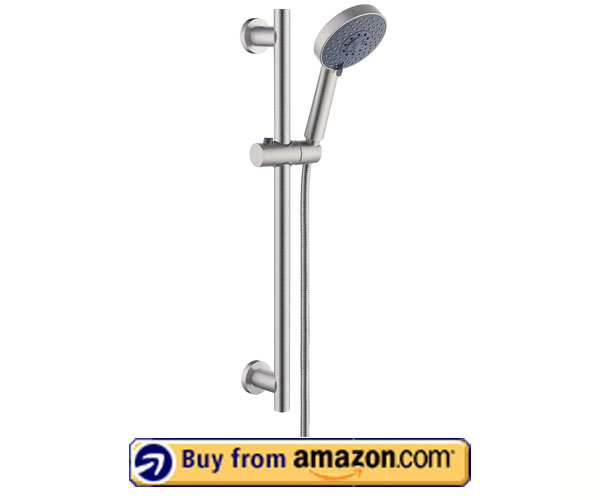 One of the most reputable brands in the kitchen and bathroom industry, KES Slide Bar with Handheld Shower Head introduces the premium handheld showering experience backed by a 5-function massage sprayer, trickle adjustable function bracket for slide bar to ease the operation.
The 5-function massage settings include trickle massage, full coverage, and relaxing massage delivering the soothing massage experience in the shower you have been looking forward to.
KES Slide Bar with Handheld Shower Head brings the complete package with a slide bar, shower hose, interlock spiral hose, and the hardware pack. Moreover, this entire package is easy to install with every necessary component present in the box, eliminating the need to hire a plumber whatsoever.
The shower hose is stretchable that makes the product ideal for everyone, including kids and parents. Its standard length of 1.5 meters can be extended to 1.9 meters, sturdy and easily expandable, delivering what you were hoping for.
This shower head is also known for its durability, which is ensured by the heavy-duty stainless steel providing the sturdiness that will last for years of performance.
The height adjustment is now effortless to do with the showerhead slide convenient to work up from top to bottom. You can remove it easily from the hook to convert it into a handheld shower.
Why Should You Buy KES Slide Bar Shower Head?
No prominent defects that we might be able to list as concurring cons
A durable and sturdy shower head that will stay in your bathroom for years
The adjustable bracket makes height adjustment easier for kids and adults
The 5-function massage sprayer with a trickle function, massage, and full coverage modes
A complete package having the sliding bar, spiral hose, and a hardware pack for installation
Pros
Easy installation even for beginners
Convenient height adjustable bracket
The stretchable hose and easy cleaning
One of the most affordable handheld showerheads
Cons
Not a durable hose though
Not a drill-free shower slide bar
KOHLER K-98361-CP Awaken G90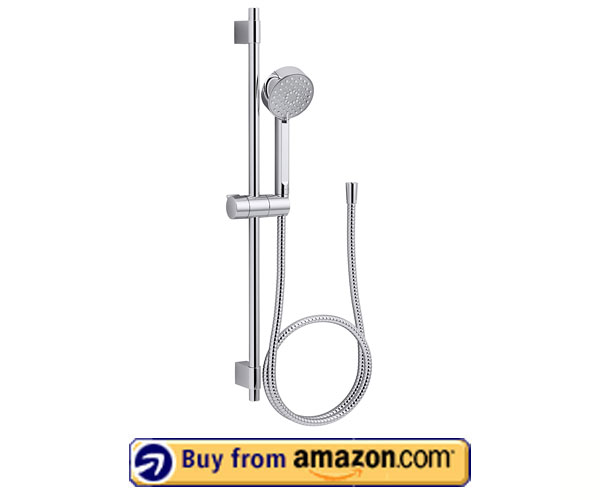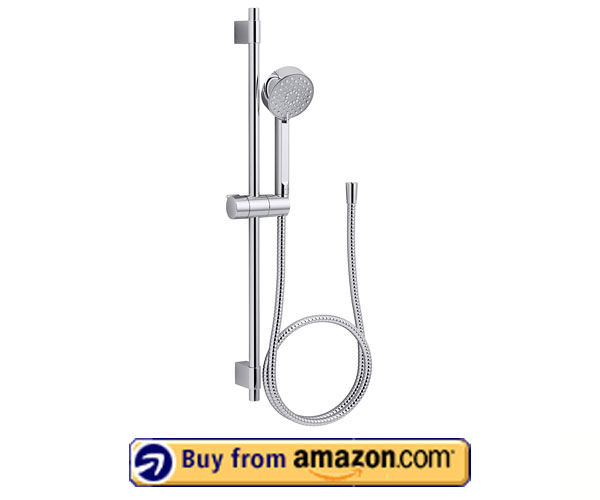 Much better when it comes to the advanced spray functions providing wider coverage in an even economic price range, KOHLER K-98361-CP Awaken G90 Slidebar Kit is our third pick.
One of our top recommendations mainly because of its advanced spray engine providing a forceful water throw to effectively remove shampoo from your hair, making it suitable for everyday use.
Though it may seem against the tradition of shower-lovers, KOHLER K-98361-CP Awaken G90 Slidebar Kit comes with the flow rate (1.5 to 2.0 GPM) standards set by the American Association to meet everyone's needs, especially the disabled people.
However, it still delivers the required targeted continuous flow stream that falls on the body's part to bring instant relief from muscle soreness and pain. It will leave you relaxed and free from anxiety, getting providing full value for the money.
This kit brings intense drenching with its targeted and powerful stream that does thorough rinsing of the body and hair. It clears the shampoo thoroughly from your hair and brings the instant relief you have been looking forward to.
Plus, it has a wide variety of features that make it ideal for everyday use, including various spray conditions, showerhead settings, and power rain, massage, hydro-mist, water temperature control, making the experience even better.
It has been designed for easy installation and post-installation maintenance, such as cleaning the showerhead to remove the mineral clogging. Also, the chrome finishing makes it corrosion-resistant, making the product durable.
One of the most disappointing things about this shower head was the plastic used in the making, except the slide bar, pure stainless steel.
Why Should You Buy KOHLER K-98361-CP Shower Head?
Powerful yet smooth flow stream to relieve muscle soreness and rinse hair well
The coverage wide enough to meet the needs of everyone at home
A complete and best handheld shower head with slide bar package at an affordable price
Pros
Good price and value
Easy to install and customize
Good flow rate for everyone
Saves plenty of water as well
Cons
Plastic incorporated compromises durability
DreamSpa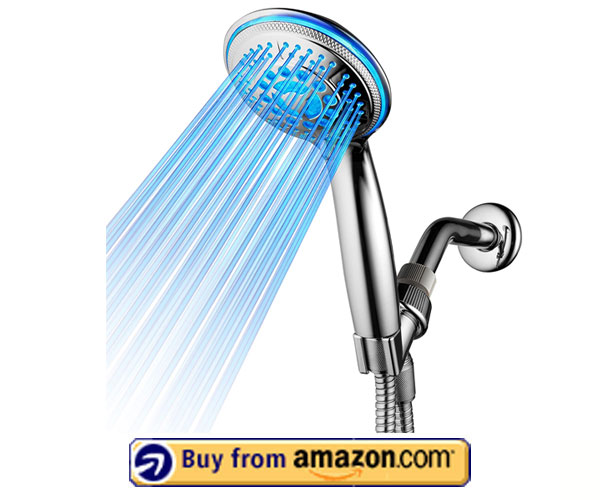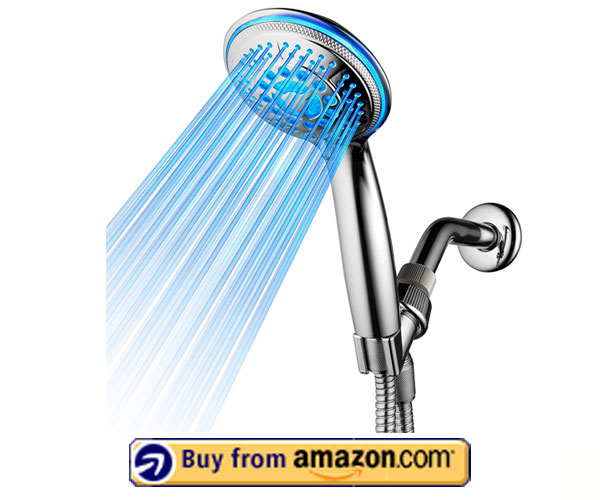 DreamSpa's is one of the most affordable handheld showers with five modes, making it a perfect choice for almost any user.
Besides those quality features related to massive functionality, the DreamSpa Handheld Shower Head is designed for a disco-like showering experience with changing LED light colors. They can be adjusted manually and set the ones you like the most.
The need for various shower settings has always been a priority. Hence, DreamSpa Handheld Shower Head brings five settings, such as pulsating, massage, hydro-mist, power rain, water-saving, and economy rain modes, enhancing the experience while saving plenty of additional water benefits.
Depending on what experience you are looking forward to, you can switch between these settings. For standard showers, though, we recommend the water-saving and economy modes that bring optimal rain while saving water as well, making it one of the best handheld shower head with slide bar.
It is an excellent feature that saves you the trouble of changing AA batteries over and over again after a few days to keep the LEDs powered. Instead, the running water from the water will generate electricity to power up the LED lights.
DreamSpa Handheld Shower Head is the most economical shower head in the market. It has every necessary feature to bring the optimal and eco-friendly experience you are looking forward to. Also, it is easy to install and maintain afterward without troubling the users much.
Moreover, unlike the products in this price range, DreamSpa Handheld Shower Head has 2.0 Gallons per Minute flow rate that would be enough to take care of shower lovers' needs delivering both low and high-pressure showering experience continuously.
Just like any product, especially the ones in this price range, DreamSpa Handheld Shower Head has its share of flaws, including the lousy spray selector that at times gets stuck and doesn't switch properly.
Also, though you can't expect it from a shower head this economical, DreamSpa has done zero work on lowering the shower noise and as a result, you get a pretty loud shower that can bother some buyers.
Why Should You Buy DreamSpa Shower Head?
Whether you are installing a new one or upgrading your shower, it stays affordable
The 5-setting shower head for various shower modes for a different experience every time
The changing LED colors and temperature settings are a welcome addition
Pros
5-Setting shower modes
Changing LED lights
Easy to install and maintain
Durable materials and construction
No batteries required for LED lights
Cons
Poor quality spray selector
Loud shower noise
Conclusion
The showerheads could have a huge difference in prices despite having similar features, so a buyer must be quite aware of construction material and flow rate to buy a product that suits him.
Following that criterion with almost perfection, our top recommendations are Delta Faucet and DreamSpa as the best handheld shower heads with slide bar.
We will conclude our reviews of the best handheld showerheads with slide bar.
Leave us your queries if you are looking for more answers, and keep visiting our website to read reviews and buy the best bathroom gear in the market.
Frequently Asked Questions
How Should I Choose The Best Handheld Showerhead With a Slide Bar?
It would be best to compare the flow rates, a material used in the construction & finishing, and slide bar height to choose the best handheld showerhead with a slide bar.
What Is The Best High-pressure Handheld Showerhead?
The DreamSpa and KES Handheld Showerheads are the best with a 2.5 GPM flow rate.
What Is The Best Material For A Showerhead?
Brass is the best material for a showerhead. Since it is more durable, resistant to corrosion, and showerheads made of this particular material are low-maintenance.