Not getting the proper water pressure inside the bathroom is the problem of every second home!
Not long ago, I was also suffering because of the mediocre water pressure that never even came close to satisfy my needs!
I remained in the same boat before I planned to install a high pressure shower head inside my bathroom!
Thanks to my laziness, before installing this unit, I never tried to identify the root cause of low water pressure and never looked for its solution!
When I dug to find its reason, I realized that the primary cause of this low pressure was the height at which my apartment is located!
Improper piping and valve blockage might be its other root causes, but I couldn't afford to pay a plumber to inspect all pipelines for me!
Just like me, if you are also getting low water pressure in your faucets, it might be due to the above two reasons!
Unfortunately, there is no direct solution to these issues. We can't change the apartment; no one has the budget to pay a plumber every other month to clear out blockages!
So, instead of struggling with these issues and sticking to your old, outdated low-pressure showerhead, consider switching to the best high pressure showerheads.
Your low water flow problems will be solved. It will also omit the need to pay the plumber!
Saying that! Water exiting the showerhead at high pressure will also soothe your sore muscles, and it will undoubtedly change the way you enjoy taking a shower at your home!
But in a highly saturated market where every other brand introduces a new shower head, it is quite difficult to find the right product.
Leave this task to us!
Our Recommendations For Best High Pressure Shower Heads 2023
Aqua Dance 30
Best Pick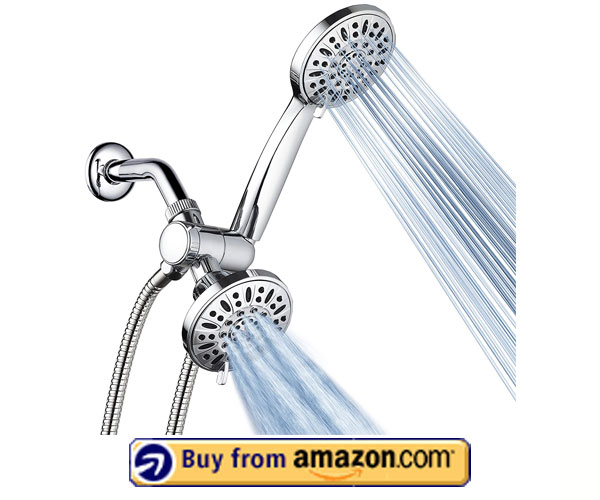 Thanks to its elegant design – this shower head provides excellent coverage, thus not limiting the bathers to a shorter space.
With six different spray settings, you will have a variety of options to enjoy bathing with. You can change the setting to another spray option in just a second.
These spray options include power rain, pulsating massage, power Mist, Rain and Massage, Rain and Mist, and last but not least, water-saving pause option.
Internal rub-clean jets allow easy cleaning of the showerhead to prevent the build-up of lime or any other material.
It will take you only 10 minutes to install; thus, you can save the plumber fee.
Unfortunately, this unit hasn't got the WaterSense label making it not suitable for better water consumption. But, as mentioned earlier, reducing the shower time can significantly drop your water bills.
Lifetime warranty and excellent customer support are two main reasons why users love this product. But, you won't even need to claim the warranty as this unit will last long.
We have included this unit in our list of best high pressure showerheads because of its highly converging nozzle that sprinkles water at high pressure, but when you are using its both heads at one time, you may see a slight decrease in pressure.
With chrome-plated premium ABS material, you can expect this shower head to last long. Thanks to its highly resistant nature – it is pretty easy to clean and maintain.
An anti-swivel lock nut angle-adjustable overhead bracket will allow you a hands-free rotation of the showerhead to comfortably bathe in any position you like the most.
It is perfect for a 5.5-inch short person, and a 6.6-inch tall man can also adjust its height accordingly, which is pretty easy to do.
There is no such information on having a flow restrictor inside the showerhead. Still, it would have a better flow adjustment than standard single head shower units.
One stunning feature to consider is that you can use one head as a handheld shower as well, allowing you to shower your kids and pets comfortably.
Moreover, a three-way diverter will allow you to direct water equally between two shower heads with a simple turn switch.
Why Should You Buy Aqua Dance 30 Shower Head?
With six different spray settings, this unit has the second most spray options compared to all showerheads on the list.
The availability of two heads with one handheld makes this unit the best choice that gives users a more flexible bathing experience.
You'll need a single bath under this showerhead to relieve your stress –thanks to its high pressurized jets coming out from its converging nozzle.
Allowance of both height and angle adjustment without spending an extra penny on buying an extension arm.
Pros
Broader area coverage for couples
Second most spray patterns
Both angle and height-adjustable
It can be used to shower pets
Ten minutes of installation time
Cons
No WaterSense label
No flow restrictor
WASSA
Staff Pick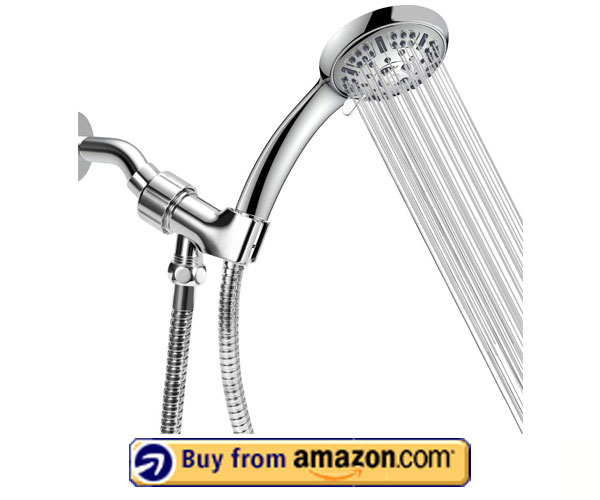 This showerhead beats others in the list when it comes to providing excellent coverage. With its numerous spray settings, you can enjoy a comfy bath.
There are 9 different spray patterns, namely soft spray, intense spray, misty and extreme spray, misty, saturating + misty, saturating spray, saturating + massage, massage, and pause settings. You won't get such flexibility in any other showerhead unit.
With the integration of medical TPE self-cleaning nozzles, you won't have to worry about accumulating dirt and debris. Just regularly clean the shower arm to avoid any sort of degradation.
Just like Anystream Showerhead, this unit is also not backed by Watersense. But there is a water pause setting to have better water conservation. Still, taking a quick bath can save water and reduce water bills.
This unit also joins hands with Anystream and Delta's showerheads to be the highly trusted brand with a lifetime warranty.
If you are tired of taking a shower with mediocre water pressure, this shower head is for you. A highly pressurized water jet relieves the stress with multiple spray settings, especially at jet spray mode.
Just like Anystream, this showerhead also has a flow rate of 2.5 GPM.
ABS is used as the construction material for this shower head that is highly corrosion resistant and long-lasting. Thus, you won't have to worry about its deterioration with the passing time.
With a 3600 angle adjustment, you can set the water to hit at any desired angle at you – thanks to the flexible ball joint.
You can either mount this shower head to take a bath or to use it as the handheld shower head for a small shower for your puppy at home.
You can adjust the desired height to get a better showering experience. Being a handheld shower, you can also move it around your inaccessible body parts.
There is no flow restrictor in this showerhead, but there is a pause function by which you can turn on/off the showerhead while you soap up with just a single button making it the best shower head for water consumption.
This best high pressure shower head is not only limited to showering your body and your pets, but you can wash bathroom fixtures as well.
With surety, one can say that it will improve the look of your bathroom – thanks to its elegant design.
Why Should You Buy WASSA Shower Head?
It equals the Delta shower head in terms of area coverage – perfect for a couple to bathe together.
Only shower head with nine different varieties of spray patterns – thus, you'll have a ton of settings to play with while showering.
You can take it to your inaccessible body parts as well!
Not only suitable for you and your family, but your little pets can also take advantage of this shower head!
Pros
The highest number of spray settings
No manual shower head cleaning
Light-weight and corrosion-resistant construction material
Best replacement to manage mediocre water pressure
3600 angle and height adjustment
Cons
No WaterSense label
No Flow restrictor
Aqua Elegante
Budget Pick
This unit covers a reasonable area with a uniformly distributed sprinkling of water. It is not like regular shower heads that confine people to limited space inside the bathroom.
Just like the NearMoon shower head, you will miss the advantage of having multiple flow patterns with this unit as well. It only allows a single medium-size flow pattern perfect for a standard bath.
This showerhead is engineered with self-cleaning nozzles made up of mineral resistant silicone material that prevents the build-up of calcium, and these nozzles won't clog up ever.
With a Teflon tape shipment with the product, it will only take your 5 minutes to install this unit– plain and simple.
This showerhead also fails to get the Watersense label, although it meets the flow rate criteria. Water consumption by this showerhead will be nearly the same as other WaterSense labeled shower heads.
With a warranty of 1 year, one can easily rely on this brand. But, their customer support has a bad reputation; it will take you a few days to hear back from them.
This unit is not like a traditional showerhead, out of which water hardly trickles out. This high pressure shower head will freshes you up with its impressive massaging therapy.
Cheap and thin plastic isn't the construction material this showerhead is made up of. With an ABS thermoplastic resin, you won't see corrosion or rust eating up this showerhead. Also, thanks to its lightweight, this shower head is pretty easy to handle.
The showerhead will allow the redirection of the water flow, and you can set it at or change it at any desired angle while taking a bath. Still, as mentioned earlier, you won't get any multiple spray modes just like the other few units in the list of best high pressure showerheads.
It's not clear whether you will be able to adjust its height after installation. So, install the unit accordingly.
There is a flow resistor that limits the flow rate to 1.8 GPM, thus allowing you to meet major US cities' regulations.
Just like the NearMoon shower head, you won't be able to shower your pets with this unit as well.
Its design is perfect to match the beauty of any bathroom. Thus, it will not only give you an enjoyable showering experience but will improve the overall design as well.
Why Should You Buy This Shower Head?
Its self-cleaning feature will solve your worries of manually cleaning the clogged up nozzles every other day.
Its construction with robust ABS material makes this high-pressure showerhead unique from others – more strength that acts as an ingredient for its long life span.
The elegant design will improve your bathroom looks – you will love this product if you a designing enthusiast.
Pros
One push self-cleaning of nozzles
Gives a soothing massage experience
Flow redirection at any angle
Straightforward installation and maintenance
Long-lasting shower head
Cons
No Multiple shower patterns
Minimal warranty
No WaterSense label
Lokby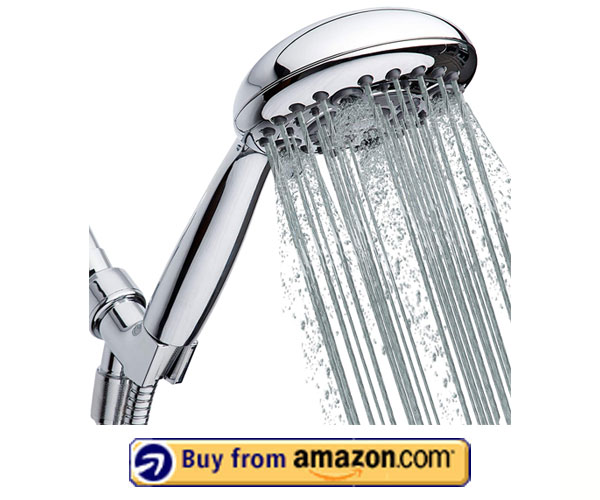 With its disk-shaped multiple shower heads, you will get three times more area coverage than a regular showerhead. Both heads are wall-mounted, but you can use one of them as the best handheld showerhead as well.
There are a total of 30 full and combined water flow patterns with six full spray settings. With simple control, you can change the spray settings very quickly.
This shower heads is equipped with Rub-clean jets to allow self-cleaning of the showerhead. It is designed with Antimicrobial Microban Technology, so it protects the shower head against mold and bacteria growth.
So, with anti-clog nozzles that don't allow accumulation of debris, you can expect this shower to last long.
As there are zero chances of clogging inside the showerhead, you can expect the pressure inside this shower head not to drop after a few months.
With a flow rate of over 2.0 (2.5 to be exact), this showerhead also fails to meet the criteria to get the Watersense label. Avoid letting it run for long hours.
You will get a lifetime warranty for its products that is one reason for high customer attraction towards this brand.
With a broader face of the disc, excellent and smooth high-pressure jets would be massaging your body while you are showering under this shower head – thanks to its advanced 3 zone lever dial design.
With a chrome-plated ABS material, rust and corrosion won't come close to this showerhead. Expect to spend years showering under this shower head with its robust design.
Angle adjustable brackets allow the showerhead's rotation up to a limited angle, thus giving you a more extensive exposure of the water jets to wash your body with.
Unlike a Healthy lifestyle shower head, AquaDance doesn't allow any height adjustment, so take your desired height in your mind while installing your shower head.
AquaDance equips its shower heads with a flow restrictor and a 3-way diverter that allows using any one of the shower heads at one time or using both at the same time.
There is no height adjustment allowance, but you won't make need such adjustment as a handheld showerhead.
Its chrome finishing will brighten up your bathroom. With a unique design, it beats other single head shower heads in this department as well.
Why Should You Buy AquaDance Shower Head?
With one handheld head's integration, your pets won't miss out on bathing under this showerhead.
This is in the list of those few shower head units with chrome finishing – it will furnish your bathroom more than ever!
With a flow rate of 2.0 GPM, you can take long hours showering under this unit with your partner, and it won't spike your water bills.
Anti-clog nozzles with Antimicrobial Microban Technology, you won't see mold growth once in this showerhead. No other unit is equipped with this feature.
Pros
Multiple shower heads
It can be turned at any desired angle
Mold-resistant technology
Many spray options to play with
Cons
No height adjustment
The limited angle Adjustment
High water consumption
Speakman S-2252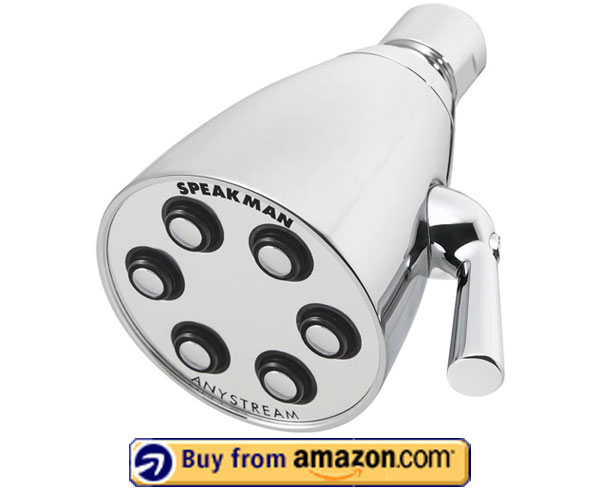 With a decent area coverage of its spray, you will have a lovely time showering under this showerhead.
You will have the flexibility to use the showerhead on three different spray pattern settings: Intense, rain, and full-floor settings.
Just like Delta's showerhead, these best high pressure shower heads are also pretty straightforward to install. No need to pay the plumber extra bucks for it!
Unfortunately, this showerhead has not got the WaterSense label. So, you should spend less time showering with this unit to avoid wasting water.
Just like the Delta showerhead, you will enjoy a lifetime warranty with this showerhead as well.
The plungers control the spread of water as soon as it leaves the nozzles. You can adjust them to get a high-intensity stream of water to shower your body.
This shower head has a flow rate of 2.5 GPM, which is the highest flow rate provided by modern-day high-pressure showerheads.
This showerhead is made up of brass, which is a corrosion-resistant durable material. So, just like Delta's product, you won't have to deal with the corrosion problems with this showerhead as well.
If you like moving around while taking a bath, then with the 3600 rotation allowance in this showerhead, you can turn this unit at any angle. However, it shows a bit resistant while turning, so rotate it with a good grip!
Just like the Deltas shower head, you won't adjust the height in this unit as well.
There is a flow resistor installed within this showerhead. Adjusting it can give you the flexibility to increase or decreases the water flow at your desired level.
Why Should You Buy Speakman S-2252 Shower Head?
This high pressure shower head sprinkles high-pressure jets compared to Delta's shower head for a smooth massage experience.
This showerhead has the upper hand over most showerheads due to its 3600 rotation allowance. This is what you won't get with most other units.
Robust construction material will omit your worries of changing the showerhead every year.
No Plumber cost – just take out the showerhead from the packaging and hand tightened it by removing your old showerhead.
Pros
Multiple Shower Patterns
3600 angle adjustment
Robust construction material
Incredible flow rate with zero chances of corrosion
Better Customer Support
Cons
No WaterSense label
No height adjustment
NearMoon
This 6-inch wide circular high pressure showerhead sprinkles the water while covering the right area. Thus, it doesn't confine the bathers to a smaller space, just like standard shower heads.
Unlike most of the shower heads, this unit doesn't give users the flexibility of multiple shower patterns. You may find it annoying, but you'll only get a cylindrical-shaped spray pattern with this unit.
With its self-cleaning silicone nozzles, you won't have to worry about the hard water and scale. Thus this showerhead will bring you a healthier shower.
Both wall-mounted and ceiling mounted shower arms can be installed within 5 minutes without using any expensive plumbing tool.
Just like the other few shower heads in the list, this is also not a Watersense labeled unit. It will consume more water, and if you are a fan of showering for long hours, it may spike your water bills.
You can also enjoy a 30-day full refund and two years warranty with NearMoon shower heads. It makes a person trust this brand, but it doesn't beat other units on the list with a lifetime warranty.
If you have spent some time showering under lower than average water pressure, then this best high pressure showerhead unit will make you realize what you were missing. With its fast water jets, it will provide relief to your sore muscles, just like massage therapy!
With stainless steel construction material, this unit will be your showering partner for years. You won't have to deal with the corrosion problems and contaminants build-up inside the unit.
You can freely adjust the angle – thanks to its swivel ball connector design that allows 3600 rotation. It is a perfect showerhead to enjoy a lovely bath with your partner!
You may not enjoy the flexibility of adjusting the height, so install the showerhead accordingly.
There will be a flow restrictor to sprinkle a reasonable amount of water when turned on. You can adjust it, but we would recommend you not to remove it ever!
As it is a fixed shower, so your pets may not get the benefit from it!
The chrome finishing will protect this high pressure showerhead from corrosion, and it will perfectly match with any bathroom decor.
Why Should You Buy NearMoon Shower Head?
Say no to the build-up of debris inside the showerhead. This unit offers perfect self-cleaning that most units on the list lack!
Thirty days refund and two years warranty with impressive customer support are enough to trust this brand.
This unit also covers nearly the same coverage area as the Delta shower head – thanks to its perfect circular head that sprinkles the water all around the bathroom.
This showerhead will do both duties of showering you and brighten the looks of your bathroom.
Pros
Impressive design to enhance bathroom looks
Responsive customer support
No hard water and scale problems
3600 rotatable design
The long life span of the unit
Cons
Limited Shower Patterns.
No WaterSense label
No height Adjustment
AquaDance Antimicrobial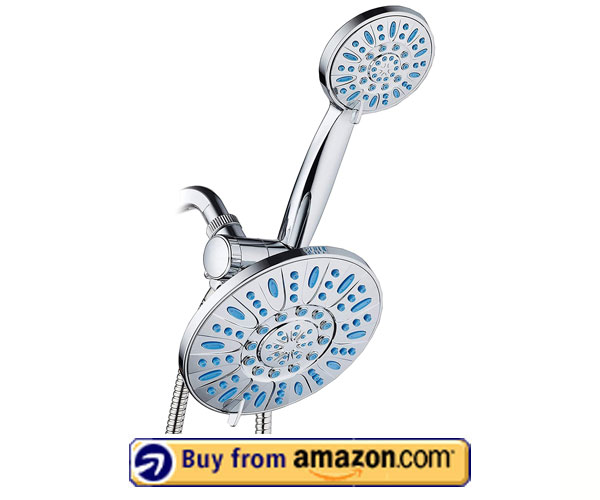 It has a medium area coverage, which is better than standard shower heads but not compatible with that of AquaDance and NearMoon showerheads.
With six spray patterns ranging from simple mist to high power massage, you have plenty of options to play with. You will get steady water flow at all pattern settings.
The shower head design incorporates very firmly placed Anti-clog Silicone Jets to prevent the build-up of lime and deal with hard water. You won't have to worry about its cleaning.
This high pressure showerhead will take no more than 15 minutes in its installation with one hand tightened connection with no drilling requirement.
With a water flow rate of 1.8 gallons per minute, this showerhead meets the WaterSense label requirement, but it doesn't have the label yet.
Just like most of the top brands, Lobky also offers a lifetime warranty for its products.
This is a perfect product to deal with low water pressure problems to have an ultimate showering experience. Its pause and stop function will be convenient in saving water and reducing water bills.
Like AquaDance shower head, its ABS material, chrome-plated, makes the unit lightweight and highly durable. It won't leak or crack for years.
Even when you mount this high pressure shower head on the wall, you can adjust its angle, but we would recommend you use it as a handheld showerhead to have a better relaxing experience.
The water flow restrictor will limit the flow rate to 1.8 Gallons per minute, as mentioned earlier. If you need more quick flow rate, you can adjust it accordingly.
This would be the perfect shower head for your pets and children. Being light in weight, even a ten-year-old kid can hold it in his hands easily and bathe comfortably.
Why Should You Buy AquaDance Antimicrobial Shower Head?
With a flow rate of 1.8 GPM, you can spend long hours in your bathroom, and it will consume nearly the same water as any high flow rate showerhead consumes in a short time.
Flexibility to be used as the best handheld showerhead for seniors as well as a fixed shower head. You can easily mount it on the wall.
A brand with a good track record and offers a lifetime warranty that puts it on the list of a highly trusted brand.
With a highly durable and robust construction material, this unit will remain your shower partner for years.
Pros
Anti-clogging jets
Good reputation among customers
Better Water consumption
Multiple spray options
Quick installation
Impressive looks
Cons
No WaterSense label
Limited angle adjustment when mounted on the wall
Delta Faucet H2Okinetic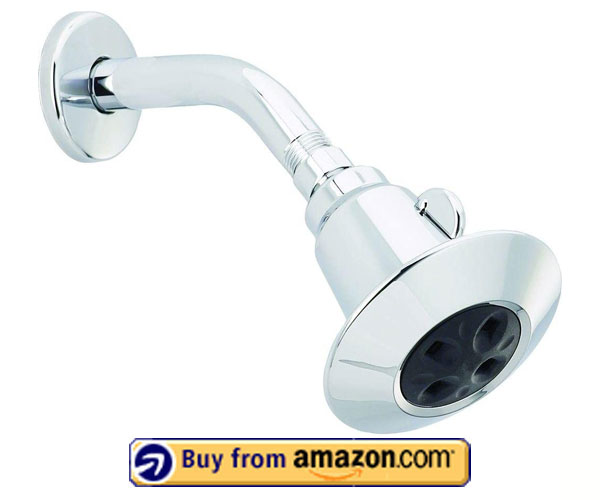 The coverage that these best high pressure shower heads provide is nearly three times more than a standard showerhead. Thus, its more extensive flow is for full-body coverage.
This showerhead provides two spray patterns, which are a full-flow shower and a wave pattern. Large spray droplets in the later pattern give a more soothing experience.
This showerhead is pretty straightforward to install and clean. You can do so without any professional help.
Delta Faucet has got the WaterSense label that proves this faucet's low water consumption. Thus, it will surely leave some money on the table you spend in the form of water bills every month.
Another significant advantage that you will get with this shower head is its lifetime warranty that is one reason how this brand wins the hearts of its buyers.
Many buyers have praised this high pressure shower head due to the spectacular pressure that this showerhead provides. If your existing shower is slow in cleaning your body, just go for this showerhead.
You can adjust the pressure for your kids whenever they plan to take a bath if they are too sensitive to high water pressure, which is a typical case with the kids.
There is a flexibility of two different types of flow rates that the unit provides. At high-volume spray, you will be getting 2.5 GPM, while at other water-saving settings, 1.75 GPM of water will be washing your body.
As the showerhead is entirely made up of plastic so you won't have rust and mold problems to face with this product.
The ball joint is used in the design to allow rotation of 30 to 450; thus, you won't have to stand still like a pillar at one place while having a bath.
Unfortunately, apart from the angle and flow rate adjustment, there is no flexibility in changing any other settings, including the height. So, better install it according to yours!
By adjusting the knob, you can control the flow according to your needs, and we would recommend you not to remove flow restrictors from the showerhead.
This showerhead isn't durable at all, so better not to put a heavy load on it or "detach and install" it quite often.
Why Should You Buy This Shower Head?
It provides the maximum shower coverage in comparison with other showerheads.
Backed by the WaterSense label, this shower head is most suitable for better water conservation.
With a lifetime warranty assurance, this is one of the trustworthy shower heads.
You'll have the option to shower at two different flow rates. One at a low flow rate and better energy conservation and the other with high flow rate but high water consumption.
Pros
Best coverage
Easy installation and cleaning
WaterSense labeled product
No rust or corrosion problem
Lifetime warranty and better water consumption
Cons
Limited Spray Patterns
No height-adjustment
Not Durable
AKDY 9 Rectangular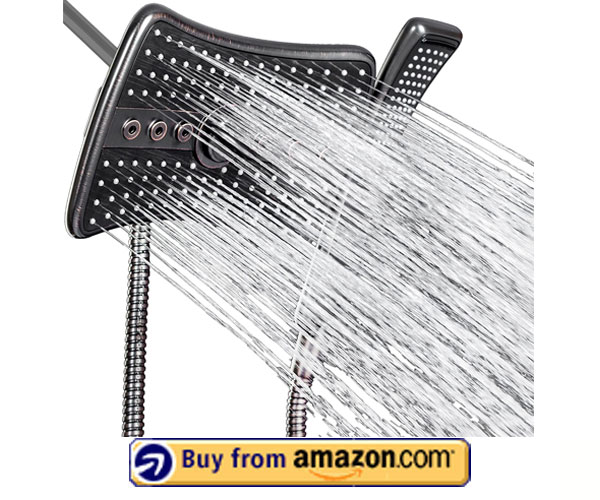 Its spray covers a wide area to let your bath comfortably. Thanks to its rectangular design, the stream of jets will act as a massaging therapy to remove your workday stress. But there is no official data about how many spray patterns this high pressure shower head is equipped with.
Although the installation and cleaning are pretty easy to do, you will have to keep a close eye to avoid debris accumulation if the pressure inside the high pressure shower head drops.
With no WaterSense label, this product isn't shipped to California, Colorado, and New York as it consumes more water than regular showerheads. Using this product may spike your bills if you have a habit of taking long showers.
There is no official data about how much warranty you'll get for this product, but recent buyers have mentioned it to come with a year warranty.
Like all other products on the list, this unit is also the most suitable high pressure shower head for low-pressure areas. So, if you aren't happy with the water pressure in your apartment, installing this product will give you a tremendous high pressurizing massage experience.
2.5 GPM is the water flow rate at which water leaves this showerhead. You'll have to cut your bathing time duration to save water and reduce water bills.
This a gross plastic product. However, there are zero corrosion chances inside the showerhead but take special care while installing this best high pressure shower heads unit.
There is a small allowance in changing the showerhead angle, but connecting an S-shaped extension will let you raise the showerhead and makes the angle steeper to have a more pleasant showering experience.
There is no direct height adjustment in this showerhead, though, but if you want to put the showerhead a bit high, then you can buy an arm extruder. But make sure the knob isn't high enough that you can't even change the settings.
Unlike the WASSA shower head, there is a flow restrictor inside this showerhead. But this product isn't durable at all.
Why Should You Buy AKDY 9 Shower Head?
By connecting one S-shaped extruder arm, you'll be able to adjust both its angle as well as height.
These best high pressure shower heads are perfect for a low-pressure area – staggering high pressurized jets would differentiate your bathing experience with this unit compared to your old, outdated showerhead.
No headache of waiting for a plumber to dismount and clean its head – you can do it on your own even if you aren't a technical guy.
Plastic material nullifies the chances of corrosion and rust build-up inside the showerhead – expect this unit to last long!
Pros
Provides the best massaging experience
No need to pay the plumber the installation charges
No headache of mold and debris growth
Good customer support
Cons
No height adjustment
No WaterSense label
Not Durable
No defined warranty
HealthyLifeStyle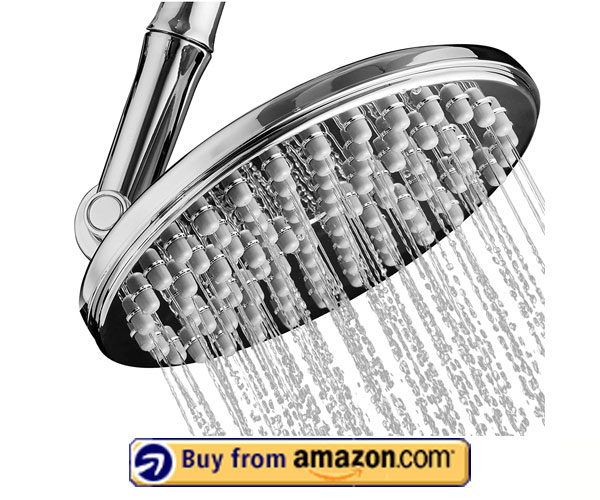 With a giant showerhead face, this unit will provide extra-wide body coverage that will be 2 to 3 times more than a regular shower head.
Apart from a full spray pattern, you won't have any other spray option to play with. If you are a fan of bathing with multiple spray patterns, this product may not suit you!
Unlike NearMoon and Aqua shower heads, there are no self-cleaning nozzles in this unit. Still, you can easily unplug and clean it with great ease.
This is comparatively a new brand and hasn't got the WaterSense label. So, flowrate might be a bit high, and you will be wasting a large amount of water with this showerhead if taking a long bath is what you like the most.
This showerhead offers a staggering warranty of 10 years. It beats many well-known brands in this department.
With a sizeable high-pressure water sprinkling out from 109 nozzles of this high pressure shower head, you won't regret buying this showerhead. You will see a massive difference in your showering experience.
It is made up of plastic and won't fit right on a metal shower arm. The threads of metal shower arm connectors can strip off the threads of the showerheads so. However, you won't have to worry about rust and corrosion problems but don't connect it with a dissimilar material shower arm.
Its design incorporates six rotating joints that self-locks at multiple positions, thus allowing you to put the showerhead at the angle to get a perfect short of high-pressure jets at your body.
By extending the shower arm, you can put it at any desired height as well. Thus, unlike Aqua and NearMoon units, it would be perfect for a 5.5-inch short person as well as a 6.6-inch tall man.
These best high pressure shower heads are equipped with a built-in flow regulator to allow even water distribution from all 109 nozzles. Still, there is no official information about its exact flow rate.
Although you can adjust the height, this adjustment is limited due to the short extension arm length. Thus, you can't bathe your pets with this showerhead.
Indeed, it will be an excellent addition to your bathroom decor. With an elegant look, it will magnify the beauty of your bathroom.
Why Should You Buy HealthyLifeStyle Shower Head?
With 109 in-design nozzles, you will truly enjoy a full body spray under its giant head face making it perfect for a couple.
Getting ten years of warranty at a 60$ product isn't a bad deal. You won't even need to claim the warranty!
Multiple angle and height adjustment gives this unit an upper hand over outdated showerheads.
If you are ok to shower with one spray pattern, it is better than most shower heads in many other departments!
Pros
Better coverage than normal shower heads
10 years warranty with excellent customer support
Extendable shower arm
Both angle and height-adjustable
Easy manual cleaning
Cons
Cheap material with connectivity issues
No self-cleaning nozzles
No WaterSense label
Frequently Asked Questions
What Is Proper Water Pressure For A Shower?
The average water pressure should be 35 to 55 Psi, but it depends on the person's interest.
How Are Pressure And Water Flow Rate-Related?
The greater the water flow's pressure is, high will be the rate at which it is leaving the showerhead. So, one can say that these are directly related to each other. Increasing one increases the other and vice versa.
What Is The Average Shower Time?
The average shower time can range from 8 to 15 minutes. If you are spending too much time in your bathroom, you are probably wasting more water.
Do One Need To Replace The Showerhead Quite Often?
Yes, most people think that they can use the showerhead for years, but that's partially true. Depending on the showerhead type and its material quality, an average showerhead should be replaced every eight months to 1.5 years.
What Does Flow Rate Mean In A Showerhead?
The water flow rate means the amount of water leaving your shower head for a specific time. It is generally measured in GPM (Gallons Per Minute). GPM means how many gallons of water is coming out of your showerhead per minute.
For nearly all new showerheads, the maximum flow rate is 2.5 GPM that is a federally mandated flow rate.
Best High Pressure Shower Heads Buyer's Guide
Features To Consider While Buying Best High Pressure Shower Heads
One must consider certain factors before selecting and finalizing the best high pressure showerhead.
These features also help us in comparing two different shower heads by comparing their capabilities.
In the best shower heads for low water pressure, some of the most significant factors include the type of showerhead, water pressure, ease of installation, hose length, spray patterns, and water consumption.
Let's dive deep into each of them separately.
Hose Length
Too long hose length can cause hindrance in the bath, and the hose will rub itself on your wall, thus damaging the tiles; and if it's too small, it may be limited to a specific area around the showerhead, and due to unnecessary tension, it may lead to premature failure.
So, the hose length is very crucial in selecting the best high pressure showerheads. The average hose length must be 60 to 72 inches.
Spray Pattern
Each showerhead is limited in the number of patterns with which it sprinkles the water on your body.
Few patterns include instant mist, aeration, jet, rain, and pulse, with each having different pressure and flow rate. If you are interested in learning more about spray patterns, you can click here.
Water Pressure
If you are too sensitive about the water flow at which you take a bath, you must consider how much water pressure the selected showerhead can support as it directly relates to the flow rate. Usually, the water flow rate is 2.5 gallons per minute.
Water Consumption
A higher flow rate means you will be consuming more water while taking a bath every time.
WaterSense is a label given by EPA to a limited number of showerheads that consumes no more than 2.0 GPM while providing the same spray intensity as a regular showerhead.
Thus, if the selected shower head is EPA certified, that's a seal of low water consumption.
Ease Of Installation/Maintenance
The more straightforward the installation of the showerhead is, the easier it will be for your life. We would recommend you to select a shower head that you can install on your own. Thus, saving yourself some money in the form of a plumber fee!
The showerhead design shouldn't be sophisticated that you can't clean it by opening it all by yourself. It gives you the same advantages as ease of installation.
Type of Shower
Every showerhead is specially designed for a particular purpose. Where some showerheads are handheld to shower all parts of your body, some of them are designed with the sole purpose of supporting high pressure. So, you must consider the type of showerhead and its use before finalizing the product.
Price
Replacing your old showerhead with a new best high pressure shower heads will add value to your bathing experience, but it must come at a hefty price. You should check the affordability of the showerhead before finalizing it.
Material
If the selected product is made up of highly durable material, it will last long. You should make sure that the showerhead you are going to install in your bath is rust and corrosion-resistant.
Of course, you don't shower your body with water that takes rust along with it.
Common Reason For Low Water Pressure At Home
Have you ever noticed while showering in your bathroom that water pressure drops suddenly, and you have to open the valve more to get the same pressure you were getting before?
There are many reasons why this abrupt pressure drop that you must know to avoid any critical problem in the future.
Imagine you are thoroughly soaked in soap, and water stops coming out of your shower head!
Of course, you won't let them happen, so for that, you should understand three primary reasons for low water pressure in your shower:
The first most crucial reason for sudden pressure drop could be any type of blockage in your showerhead that can hinder the flow or block it permanently.
Maybe, water is losing its pressure way before it reaches the shower. That could be due to any blockage in the pipes or any kind of leakage.
Another reason that you should look is that you haven't turned off the showerhead valves. Of course, you can't bear the embarrassment of calling a plumber, and he found no problem other than valves being closed.
Knowing these problems beforehand can save you from embarrassment in front of your lovely guests in case of any mishap!
Advantages of High Pressure Shower Heads
Few main advantages of high-pressure showerhead are mentioned below:
Installing the best high pressure shower heads will help you conserve the water as it will reduce the time you usually take to soak your body with an excellent quick thrust of water.
Conserving the water will reduce the water bills, saving some bucks for you to spend something more entertaining.
A quick jet of water striking your body will release the stress and bring relief to your sore muscles – thus providing relaxing massage therapy.
As the high pressure showerhead sprinkles the water at your body at high pressure, it can help you to better wash and clean your body.
How Does a High-pressure Showerhead Work?
With nearly the same flowrate, water leaves the high pressure showerhead at high pressure than usual.
Either of the two below mentioned methods increases the pressure of water coming out of showerheads:
The first one is adjusting the spray settings by which water is made to leave through a smaller showerhead hole, thus converging the spray to leave the showerhead as a sharp thrust of water.
The second way is by adding a pressure chamber, which combines air into the water flow by which the water comes out of the showerhead faster at higher pressure.
Thus, you won't have to do anything other than installing it in your bathroom as these best high pressure shower heads are designed according to one of the above-mentioned ways, but you should make sure it doesn't get clogged with time.
How Do You Install A High-Pressure Showerhead?
Whether you need to call a professional to install the showerhead or you will be able to do it on your own will solely depend on the design and type of the showerhead that you'll buy!
Buying a simpler design showerhead will omit the need to pay an extra installation fee to your plumber, and the opposite will be the case with a sophisticated showerhead.
If you plan to do the installation on your own, follow the below-mentioned guidelines:
Remove the old showerhead by rotating it in a counter-clockwise direction that will separate it from the connecting shower arm.
If there is any kind of rust or mineral debris inside the connecting arm, you should clean them before installing the new shower.
Now, take a new shower head out of its box, place it on the connecting shower arm and turn it clockwise with your hand until it is fully tightened. If you note any slippage while tightening the showerhead, you can use Teflon tape.
If there is any space to fasten the showerhead with a connecting arm via a screw, you can do so while driving them into the holes.
After putting it on the connecting arm, try to run water through it to check any water leakage.
This is a straightforward process, and regardless of which showerhead you'll buy, there will be a minor difference in the shower head installation process and trust me, you can install any best high pressure shower heads from the list on your own!
Water Saving Tips For Showers
You'll shock to hear that nearly 1.2 trillion gallons of water are used by the people of the United States every year. That too, just for showering!
There is a need to save water as the water shortage is getting higher with every passing day while looking at the population growth throughout the world.
The EPA has been making efforts to limit the use of the water while having a shower, and they have introduced a "WaterSense" label, which is given to those showerheads with a max flow rate of 2.0 GPM.
But, despite all that, they can't control a person taking a shower at 2.0 GPM for nearly half an hour, wasting the water unnecessarily.
The more you wastewater, the more expensive it will be for you, and you'll have to pay more in the form of water bills. Saying that! One must make saving water a social responsibility!
Few of the water-saving tips are mentioned below:
Reduce your shower time
Do close the valve while shampooing your hair
Regularly inspect the showering system to avoid any leakages
Switch off the valves carefully after taking a bath
Avoid wasting too much water
By following the tips mentioned above, you will not only save the water but minimize the water bills cost as well.
Conclusion
Here is the list of the top 10 best high pressure shower heads to choose from! Taking a quick bath under the high-pressure water coming out of the showerhead will relieve your workday stress.
Each showerhead has the upper hand over other units in a few departments and lags behind them in the others. But, one thing is for sure that all ten products will solve your low water pressure problems.
Still, choosing from these ten would be difficult, so after analyzing each product, we have concluded that you should go with the WASSA high-pressure shower head as for us, this unit is the best handheld shower head.
With its nine different spray patterns, self-cleaning nozzles, lifetime warranty, 3600 angle adjustment, height adjustment, and high pressurized jets that makes it perfect for apartments with low water pressure, one can say without much thinking that it's the ideal deal for you!
It would not be a perfect choice for you but for your pets as well – thanks to the integration of one handheld head in this unit!
So, why miss out lovely bathing experience due to mediocre pressure level!
Taking a quick bath under the high-pressure water coming out of the showerhead will relieve your workday stress.
Believe it or not, this small investment will make your shower under this best high-pressure shower head every day!
Lovely bathing and massaging experiences are just one buy away from you!
Cheers!