Handheld showerheads are a convenient option to have a luxurious bath experience. Whether it is used to clean your pets or wash your children, or the elderly of your family – a reliable and comfortable water source is always appreciated; especially since it is an essential daily need.
Searching for the best shower head with handheld combo means going through hundreds of reviews and reading up on features of the desired products; even trying to get a hold of their configurations.
Moreover, you need to consider other factors like the weight of the unit, its flow rate, the construction material used for its manufacturing, and so much more – all of which can be quite a hassle and a confusing task, especially when the market is full of remarkable products.
To ease it down for you, we have reviewed below our top picks with all the specifications, features, configurations, and their price. Hopefully, this will help you in deciding the best shower head with a handheld combo for your bathrooms that can last for years.
Top-Rated Best Shower Head With Handheld Combo 2023
| Design | Showers | Retailer |
| --- | --- | --- |
| Best Pick | | Check Price |
| Staff Pick | | Check Price |
| Budget Pick | | Check Price |
| | | Check Price |
| | | Check Price |
PULSE ShowerSpas 1011-lll-ORB Kauai III
Best Pick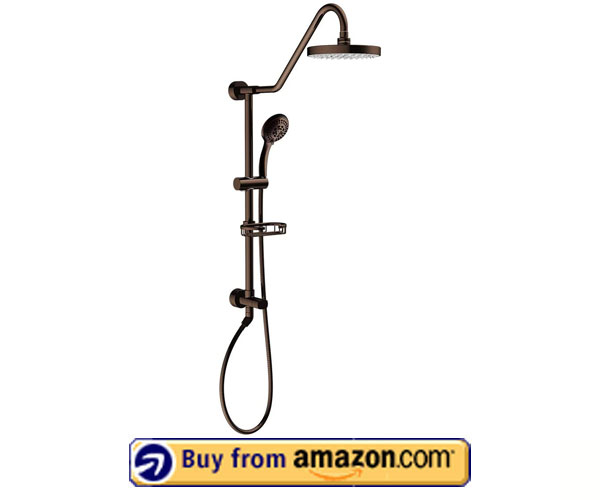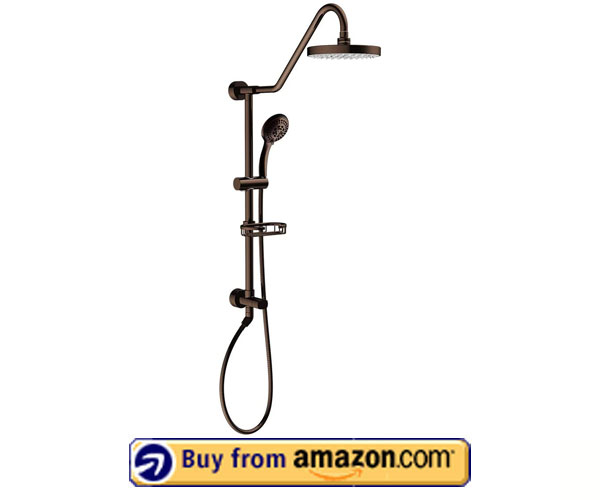 | | |
| --- | --- |
| Flow Rate(GPM): | 2.5 |
| Type: | Hand Shower |
| Spray Pattern: | 5 |
| Material: | Brass |
With Kauai III from PULSE ShowerSpas you now do not have to make a difficult shift from your regular shower head, as this unit comes with a dual showerhead with a variety of comforting features.
It has an 8-inch wide shower head size with a 2 in 1 system that is accompanied by a sliding bar. This means now you can adjust your desired shower height without a hassle. In fact, to provide ease, this unit also comes with a soap dish made of brass for your reach.
Luckily, this excellent option on my best handheld shower head list has a dual shower head adapter, which makes switching of showerhead functions much easier as you use both heads at once. This top-rated system has a flow of 2.5 gallons per minute, with a simple installation process.
In fact, it has a stainless steel hose measuring about 59 inches wide. This modern showerhead comes with a number of modes for you to choose from, making it an excellent choice for households with 4-5 members.
It has an adjustable height feature to accommodate a variety of individuals and comes with a 3-year long manufacturer's warranty. The PULSE shower unit is available in 3 different styles. These include:
Brushed Nickel
Polished Chrome
Oil-Rubbed Bronze
Why Should You Buy PULSE ShowerSpas Shower Head?
Pre plumed with a mounting surface
Has an adjustable slide bar
Multifunctional rain shower head
Lifetime manufacturer's warranty
Stainless steel hose with double interlocking
Has a brass wire soap dish
Pros
Dual shower head system
Comes with an adjustable height feature
More suitable for small showers
Hand shower is multi-functional
Cons
Has a few plastic parts
Low flow
AquaSpa
Staff Pick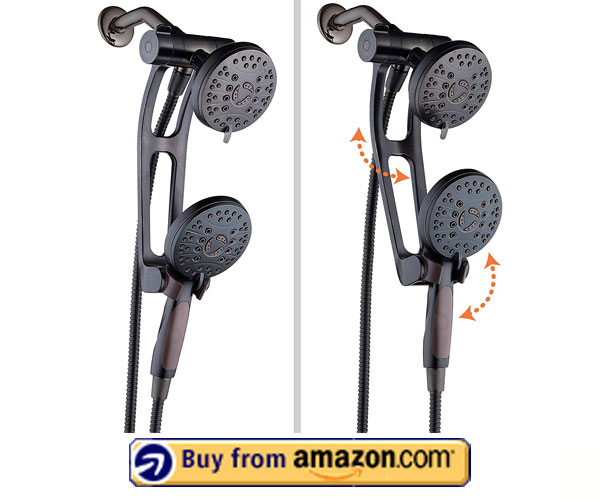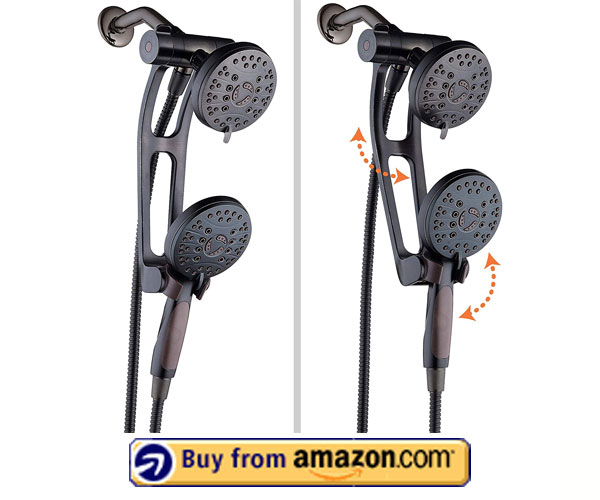 | | |
| --- | --- |
| Flow Rate(GPM): | 2.5 |
| Type: | Wall Mounted |
| Spray Pattern: | 6 |
| Material: | Stainless Steel, ABS |
Amongst best high pressure shower heads, AquaSpa 48-mode shower head is our top pick! This shower head unit comes with a stainless steel hose, manufactured by the top US brand.
It provides you with 5 distinctive spray pattern settings like a downpour, bubbling sprays, the eminent enemy of stopping up the spout, downpour spray similar to bubbling blend, and body massage.
Its hose is 5 feet long with an adaptable feature allowing you to have a convenient shower experience. To add more, it has an easy installation process and will reduce your water bills.
It has a smooth water flow stream and a capacity worth 2.5 gallons per minute. Additionally, it is a 3-way shower head that provides a high-pressure outlet.
To top it off, it comes at a quite reasonable price, making it an economical choice for your household. Secondly, given its efficient shower unit system with the diverter makes it quite feasible to switch in between showerheads.
In case your shower head unit incurs any sort of damage, then you can always avail of its lifetime manufacturer's warranty.
Why Should You Buy AquaSpa Shower Head?
Product is from a trusted American Brand
The extension can be adjusted back and forth
3-way shower
High-pressure shower head
Stainless steel 6-foot long hose to prevent corrosion
Has a lifetime warranty
Pros
Switching shower heads is easier
Will not add excessively to your water bills
Easy installation
Comes in a variety of shades to choose from
It is economical
Cons
Low water pressure at times
DreamSpa
Budget Pick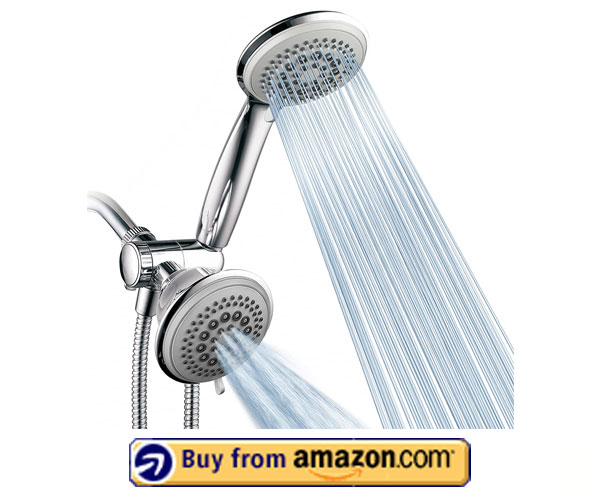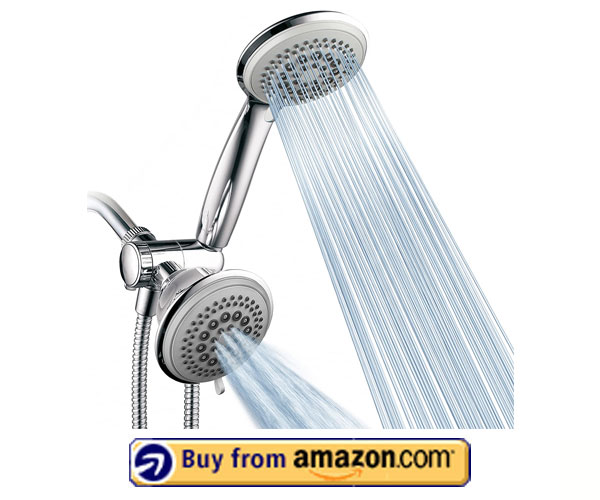 | | |
| --- | --- |
| Flow Rate(GPM): | 2.5 |
| Type: | Wall Mounted |
| Spray Pattern: | 5 |
| Material: | Chrome Plated Premium ABS with Stainless Steel Hose |
DreamSpa 36-Setting Ultra-Luxury Shower Head is yet another unique combination of a showerhead along with a handheld shower. With a steady flow rate of around 2.5 gallons per minute, this best dual shower head weighs approximately 1.5 pounds. It has dimensions 6 x 4 x 9 inches and is accompanied by a long hose of about 5 feet.
This brilliant shower head has been manufactured using stainless steel and chrome-plated, high-grade ABS. Both its shower heads are of size 4 inches and can be used separately too. To establish an even distribution of water within both the showerheads, this product comes with a 3-way water diverting system.
The best part is that it offers a variety of 36 flow pattern settings. Every shower head in this comes with 7 power settings for the spray pattern. These include pulsating massage, rain massage, hydro mist, pause mode feature, rain mist, and an eco-rain setting.
Additionally, its overhead bracket is adjustable, allowing you to choose different angles as per your needs and desires. This is a great feature for varying heights of people living in a family. In fact, to provide a steady angle position, its bracket comes with an anti-swivel lock system.
Furthermore, it has a durable hose that is 6 feet long and made up of stainless steel, adding to its anti-corrosive property, making it the best handheld showerhead.
To add more, this product comes with a super easy method for installation, which can be wrapped up quickly. You have nothing to worry about as this item is compatible with all other shower arms – a better convenience for you.
This product has a great value for its investment as it can efficiently perform in low-pressure conditions. Subsequently, this shower head is super easy to clean and maintain.
Why Should I Buy DreamSpa Luxury Shower Head?
Dual shower head system
Easy to clean and install
Durable
36 luxury settings
Anti-swivel lock system
Stainless steel extra-large hose prevents corrosion
Lifetime warranty
Pros
7 settings for massage and power spray
Life time manufacturer's warranty
With an anti-swivel lock system
Angle-adjustable overhead bracket
5 feet long hose
Cons
Its shower head has a chrome finish
The shower head is of plastic nature
Ana Bath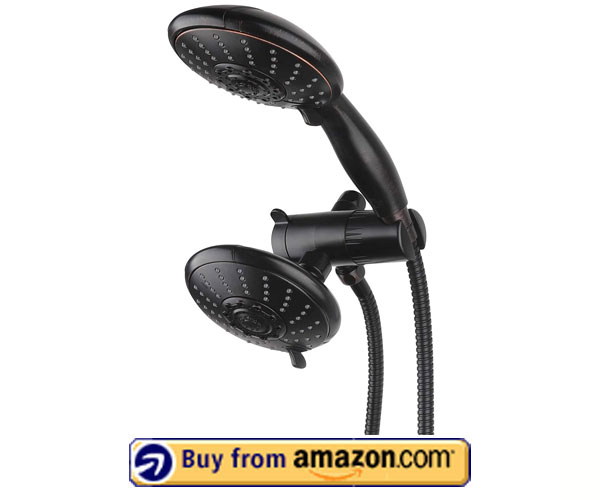 | | |
| --- | --- |
| Flow Rate(GPM): | 2.5 |
| Type: | Screw-in |
| Spray Pattern: | 5 |
| Material: | Stainless Steel, ABS, Brass |
The Ana Bath anti-clog dual shower head will give you a fantastic experience where you can not only enjoy the perks of bathing but have easy cleaning sessions. This high pressure shower head is an efficient system that will use less amount of water – not adding to your huge water bills.
This dual shower head system with a handheld combo will give you a 2.5 gallons per minute flow rate with a steady water stream. The showerhead is around 5 inches wide and comes with massage and rainfall settings.
This versatile unit also consists of 5 spray pattern options. Additionally, to prevent any sediment build-up, this shower head system ensures to use of a plastic plate. These prevent limescale and calcium depositions.
Since its hose is made up of stainless steel, it is easier to prevent corrosion. It is also compliant with an anti-clog feature while allowing you the ease of using two shower heads at the same time. It is extremely easy to install this system without any professional help.
Hands down, this brilliant shower head system is considered as one of the best shower head with handheld combo.
Why Should I Buy Ana Bath anti-clog Shower Head?
Renowned American brand
Rubber nozzles for anti-clogging feature
Large size water diverter
Easy installation
Stainless steel flexible and 5 feet long hose
Ergonomic shower handles
Pros
Non – corrosive plastic heads
Hose made up of stainless steel
Anti-clog feature
5 shower heads spray patterns
5 GPM flow rate
Both shower heads can be used at the same time
Cons
Simultaneous functioning of shower heads can lead to a pressure drop
Over longer time periods, fittings can loosen up
Lordear Double Rain Hotel Spa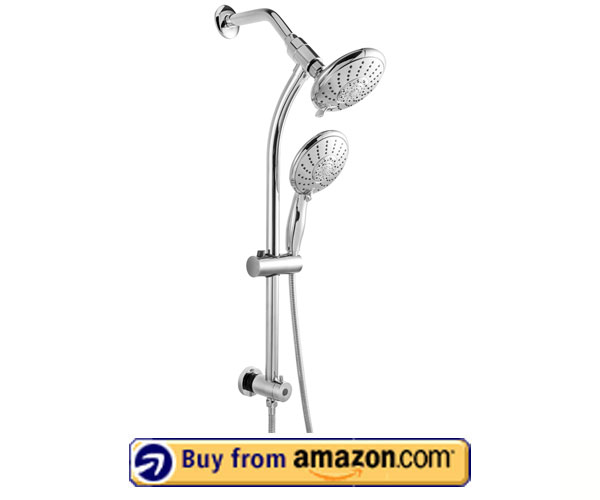 | | |
| --- | --- |
| Flow Rate(GPM): | 2.5 |
| Type: | Wall Mounted |
| Spray Pattern: | 5 |
| Material: | Stainless Steel, ABS |
The Lordear Double Rain Hotel Spa Dual Bathroom Shower Head comes with a height-adjustable handheld shower head. This dual shower head is flexible with a compact design. With its unique setup, you can enjoy the water from the fixed shower and also remove it to wash off your other body parts.
An additional feature of this unit is that it is extremely easy to install; this means you do not have to undergo the hassle of hiring a plumber. So it is okay if you are not quite tech-savvy, you can still install it all on your own.
This dual system comes with 5 spray pattern types for each of its shower heads, often which gives off a spa-like experience. To top it off, it is manufactured with a chrome finishing to prevent it from corroding.
It also consists of rubber nozzles that can help remove the build-up of sedimentation like limescale and calcium. It takes up minimum space and is low maintenance.
Why Should I Buy Double Rain Shower Head?
Decreased sediment buildup because of rubber nozzles
dual shower head with slide bar
No corrosion due to chrome finish
Money-back guarantee 100%
Multifunctional handheld shower
5 shower settings
Hotel standard rain shower head
Pros
Can use showerheads together or separately
Low maintenance rubber nozzles
Installation requires no drilling
5 shower spray settings
Hotel quality commercial parts
Has a shower bar slider
Water regulator switch can be easily accessed
Cons
Heavier in comparison to other models
Sticking of shower bar slide
Conclusion
Bathing is a natural part of our everyday lives – may it be in the evening as your day ends or early morning before you go off to work. There is no argument for this ritual that it is an essential part of your life; hence many people long for an enhanced, enjoyable, and more refreshing experience.
To achieve this you need to shop for the best handheld shower head to upgrade and maximize your bathroom experience, like the Pulse ShowerSpa, which is our top pick on the list.
With their 2-in-1 built-in shower heads, you can enjoy a luxurious and spa-like experience. However, you need to consider a few factors before making a purchase, for instance, additional features, colors, functions, design, accessories, and of course the price.
Hopefully, with the above review and comparison, we might have narrowed down your choice to buy the top best shower head with handheld combo, along with other queries.
Go make your bathing experience more fun and luxurious!
Frequently Asked Questions
What Are Handheld Shower Heads And How Do They Function?
Handheld showerheads are a kind of showerhead type. Generally, these are connected with a hose with long lengths and reside in a cradle when not in use. In a fixed cradle position, they serve as a fixed shower type.
Once you remove their hose from the cradle, you can use their versatile features as the water comes out of the head, while flowing through the hose length.
These best handheld shower heads are used for various purposes, for instance, cleaning shower walls, shining bathtubs, bathing children, and even washing pets.
How Can I Install A Handheld Shower Head?
Installation of a handheld showerhead is not a difficult task as it may seem. In fact, to accomplish this task, you do not require any professional help or prior handyman experience.
With just a few instructions, and without any mess, you can easily install a shower head in a couple of minutes; following the instructions manual.
To do so, you first need to remove your old showerhead to create space for the new one. Twist the showerhead in a clockwise motion. To do till the shower arm comes off.
Now, clean off all mineral and rusty deposits, shower arm leftover sealant, and any old tapes. In a clockwise motion wrap Teflon tape on the shower head thread, 2 or 3 times. Tighten it using a screw as you mount the handheld shower.
Lastly, connect the handheld shower head with the mounted hose and tighten it with a hand.
Now, test it out for any possible leaks by mounting it.
Can I Replace My Handheld Shower Head's Hose?
Yes, you can replace the hose of your handheld shower head, especially if there are any cracks or leaks within. Additionally, you can replace your short length hose with a longer hose.
Simply unscrew the mounted hose from the showerhead and replace it with a new one.
What Should Be The Height Of My Shower Head?
The minimum height for a showerhead should be mounted at about 78 inches, keeping in mind the distance from the floor bottom. However, there are no specific or standard heights. Height can vary with each user – no hard and fast rules.
You can determine the height by taking into consideration your shower arm's height from the wall. The best shower head with handheld combo usually comes with a pivoting spray angle design for you to easily adjust your shower head height.