It is very inconvenient to stink after a long day of camping or hiking, but enjoying a blissful hot shower in the situation, can be a treat for all of traveling enthusiasts. For the fulfillment of this wishful thinking, you'll obviously need the best solar camping shower to get the splashes of flowing water in the middle of the forest or on the top of the mountains.
No matter where you are, you can enjoy the pleasure of a fresh bath everywhere you want to.
Especially, solar camping showers not only allow you to enjoy taking a shower in the wilderness of beauty, but they can be a fantastic addition to your beach swimming.
Also, they absorb solar energy and gives you plenty of hot water to get a refreshing hot bath. They will save your time to a great extent, as you don't have to heat your water on wood or any kind of fuel.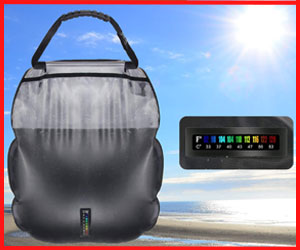 Undoubtedly, the sun-powered outdoor showers offer an amazing water flow after reaching a specific temperature and can be a valuable addition to your camping and tailgating.
With the market full of esteemed brands, each of them claiming it to be the best, it's often a challenging task to choose the best solar camping shower.
Solving your problem and making this task more accessible than before, we filtered the top-rated highest quality solar showers to solve your outdoor bathing issues and ensure an incredible experience.
Our Recommendations For Best Solar Camping Shower 2023
| Design | Showers | Retailer |
| --- | --- | --- |
| Best Pick | | Check Price |
| Staff Pick | | Check Price |
| Budget Pick | | Check Price |
| | | Check Price |
| | | Check Price |
Advanced Elements Summer Shower
Best Pick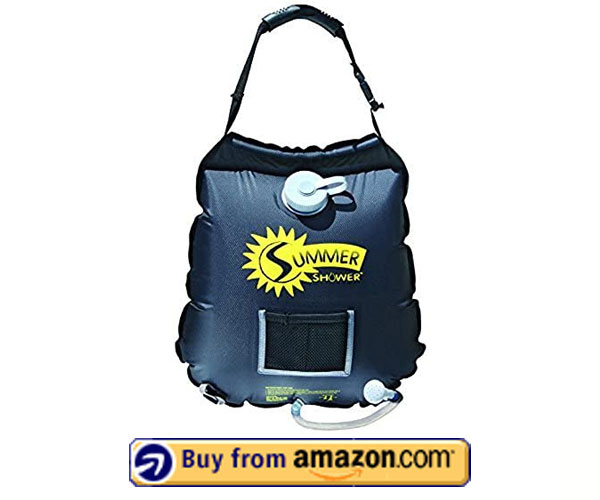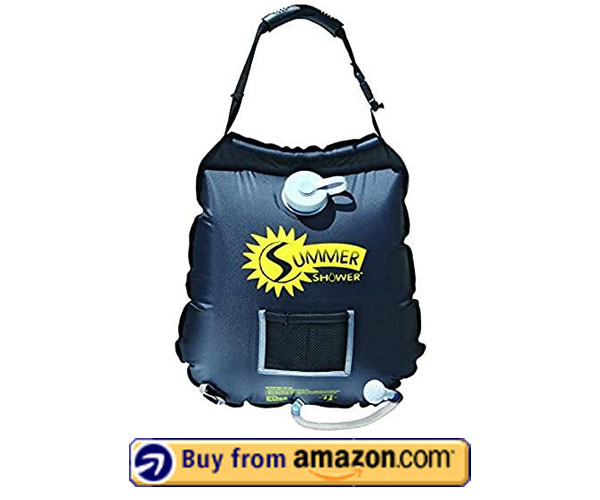 If you are looking for an easy fill solar water reservoir with an extra-large filling hose, then you are absolutely at the right product.
Advanced Element provides you with everything which you ever wish to be in the best solar camping shower.
This fantastic solar shower system has such a unique design with four layers that ensure the fast heating of water. Also, it has a temperature gauge that monitors the inside temperature of the stored water.
One of the essential features of this shower is its rolling capability. You can easily fold this shower and place it in a backpack while traveling. This handy solar shower comes with 5 gallons of water storage.
Its additional features contain an extra-large filling valve along with a turn twist cap. Also, for shampoo and soap, extra straps are available, and you can carry your shower with carrying straps.
Four layered construction makes it durable and robust enough to use it in exceptionally harsh UV sunlight. Moreover, you can turn on or off your shower head by only twisting a knob.
Why Should You Buy Advanced Elements Summer Shower?
This handy solar shower comes with a robust four-layered body made up of diamond rip-stop fabric and contains a reflector panel and a solar panel. It includes all of those unique features which an ideal solar shower system should ever have.
Moreover, its extra-large filling knob and temperature knob makes it unique of all. Its turn on and off shower head is its exceptional feature, making it the most recommended best solar camping shower.
Pros
Wider carrying handle
Velcro straps
Four layered durable construction
Temperature gauge
Cons
Relatively low pressure
Leakage at the hose and bag attachment is noticed
Texsport Portable
Staff Pick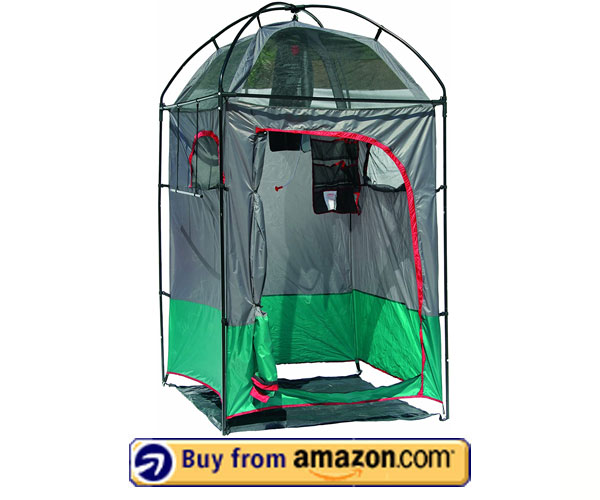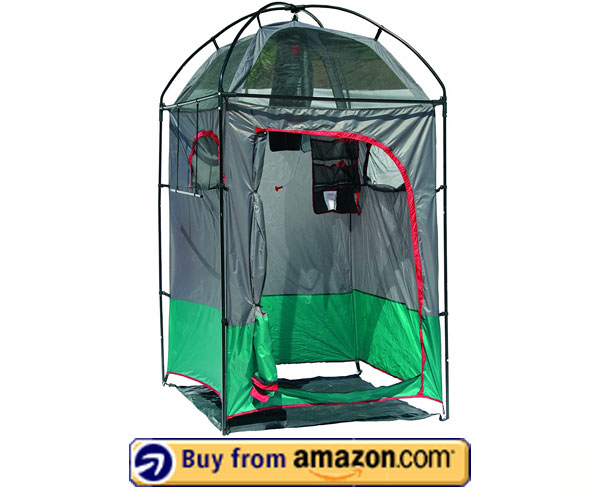 When you are out camping or hiking trips, it is quite difficult to take a comfortable and warm shower with full privacy. But Texsport portable is the most reasonable solar camping shower which comes with a privacy shelter room.
You can easily take a hygienic bath in this sheltered solar shower, which has a wonderful storage capacity of 5 gallons.
Texsport Portable Shower is built using polyurethane and rip-stop fabric, which makes it extra durable and long-lasting solar shower. It is durable enough to be used in the harsh sun rays and is completely rust free.
Perfectly designed to ensure breath ability and ventilation. And its towel hanging rack and mesh pockets are the eye-catching features.
A beautifully created D-style door is a unique quality in this shower. Moreover, it is highly light-weighted; thus, you can carry it alongside while traveling or hiking with great ease.
This solar shower has steel poles of ¾ diameter, easily adjusted by its speed clips. Also, its flame-retardant nature makes it the most recommended best solar camping shower.
Why Should You Buy Texsport Portable Solar Camping Shower?
If you often go camping, then Texsport is the best solar camping shower because it is made keeping in mind the hygiene and privacy of every user.
It has noticeably lightweight and robust construction.
Also, its great 5 gallons storage capacity allows you to take a longer blissful shower in the middle of the woods while camping.
Pros
Include a carrying bag
It has a towel rack
Highly portable and light-weighted
Rust-resistant
Sportneer Solar Shower Bag
Budget Pick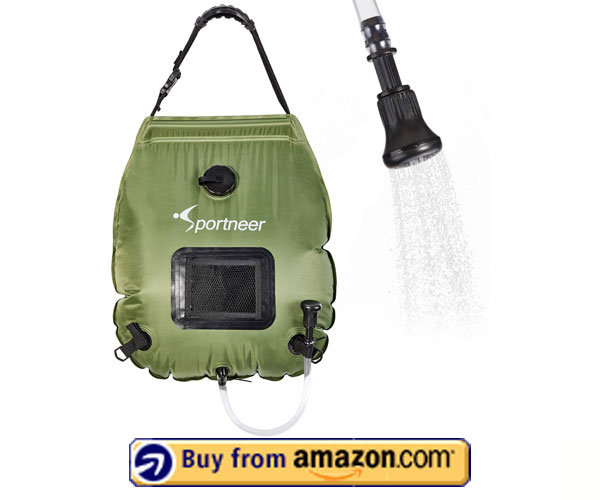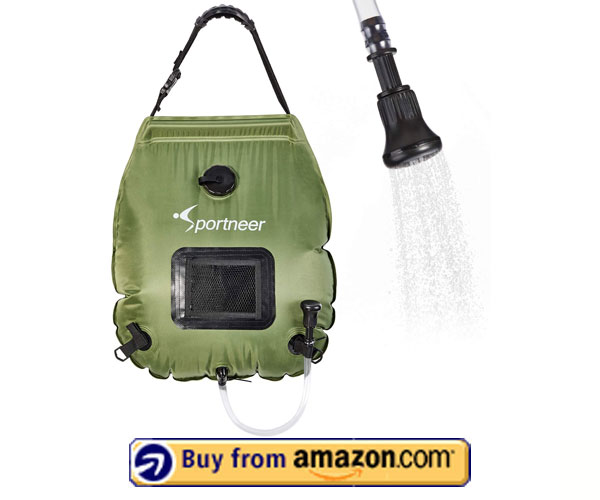 Spoertneer is an upgraded solar shower system that contains all of the noticeable features and is fully eco-friendly. It completely works on solar energy and helps you get Lukewarm perfect water even in the middle of the woods.
If you love to take long and blissful showers while camping, this shower is the perfect solution to your long-time shower with its impressive storage capacity of 5 gallons.
It is uniquely constructed with solar panels fitted in it. They help to absorb solar energy and, in turn, heat your water to perfect temperature.
It has a wonderful temperature gauge present in it, which will monitor your water temperature with great accuracy and help you notice the water temperature until it reaches the optimum one.
Another unique feature of this user-friendly solar shower is its non-toxic PVC construction, which makes it durable enough to bear strong UV rays and adds up to its life to a great extent.
This army green solar shower is so uniquely designed with mesh pockets and carrying straps to hold it alongside while traveling or hiking making it one of the top-rated best solar camping shower, which every camping and hiking enthusiast should consider buying.
Why Should You Buy Sportneer Solar Camping Shower?
It has almost all of the unique features, including a great 5 gallons storage capacity and a non-toxic PVC construction. It contains solar panels that absorb a decent amount of sun rays to heat your water.
Fundamentally, we can say that it is the most unique and great buy option. And it will, for sure, fulfill all of the requirements of every camper.
Pros
20-liter water capacity
Solar panels equipped
Non-toxic PVC construction
Additional pockets for keeping toiletries
Cons
Does not have any noticeable flaws
Trofoty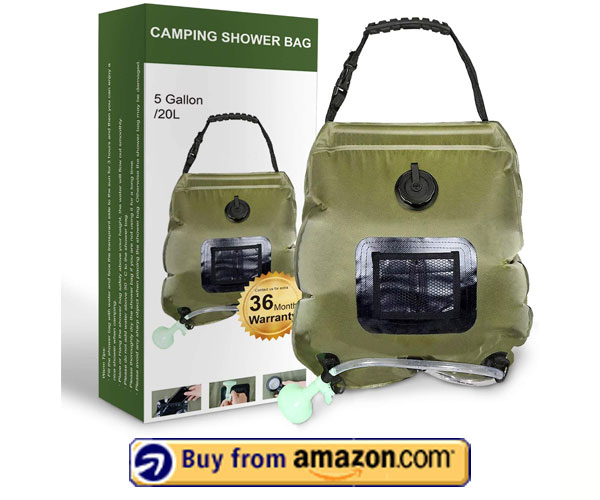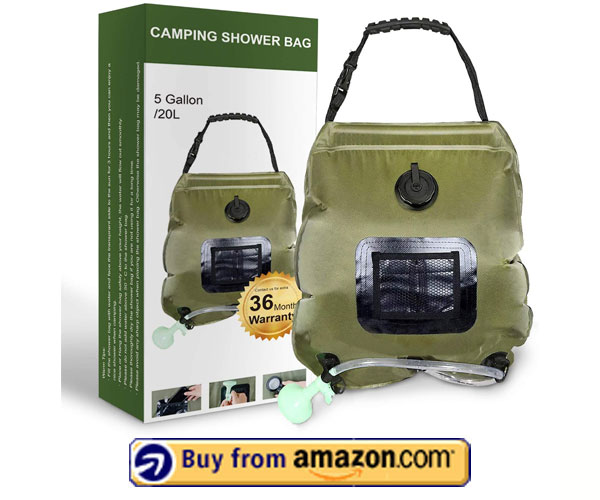 Are you searching for a lightweight best solar camping shower, which can be your perfect camping partner? Then a Solar camping shower bag is a suitable choice with its incredibly durable and lightweight construction.
It has a great water storage capacity of about 5 gallons, making it the best camping solar shower. You easily take a shower multiple times without any need for a refill.
This amazingly designed solar shower system has solar panels that will heat your water to a considerable temperature.
Moreover, its unique temperature gauge helps to monitor your water temperature level with great accuracy.
Another noticeable feature of this solar shower system is its premium quality construction, which makes it durable enough to be used in the woods or harsh UV rays.
Its luxurious construction includes extra pockets to keep your bathing goods in them. It also has a turn ON/OFF knob by which you can easily turn off your water flow when lathering or not using it.
This army green solar camping shower is recommended for the camping and hiking enthusiast because it is noticeably lightweight and portable. You can easily fold it and place it in your bag pack.
Why Should You Buy Solar Camping Shower Bag?
Solar Camping Shower Bag has unique portable design and sufficient water capacity.
Whether you have to wash your dished or to take a refreshing bath in between woods camping, it is a perfect choice for everyone.
Its excellent temperature indicator will help you to monitor the optimum temperature of your water.
This eco-friendly camping shower contains solar panels, which will heat your water by absorbing a considerable amount of solar energy. All of the above qualities make it the best solar camping shower.
Pros
Robust construction
Temperature gauge and indicator
Extra pockets are present
Cons
A moderate quality handle
KingCamp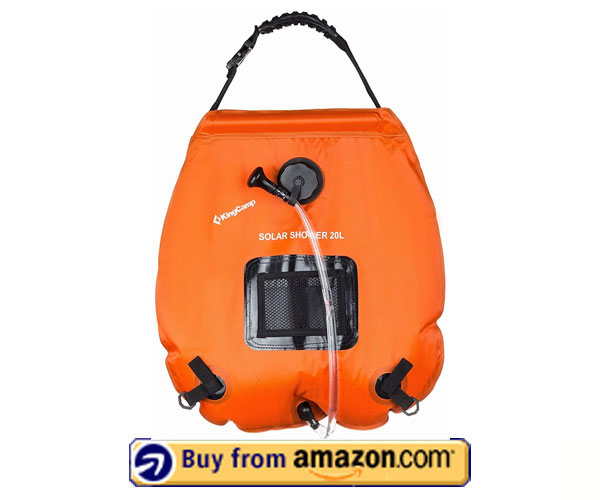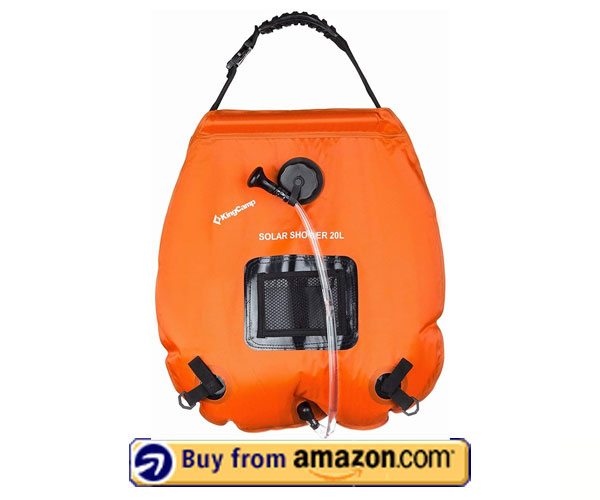 Here comes an exclusively designed, KingCamp Solar Shower with a built-in thermometer and color-changing ability, when the temperature inside rises. It comes under the best solar camping shower because of its outstanding features and great ease of use.
Well, a large water-filling hose and the handy on and off design makes it much simple to use. All you need to do is fill up with water, expose the back to the sunlight, and get started with taking a shower or wash your hands. It's much efficient in absorbing solar heat.
This shower has a great storage capacity of 5.28 gallons. Which means you can get enough hot water at once. You can use it for whether taking a bath or for washing your camping dishes.
A wonderfully designed, strong, and the durable handle is a plus point in this shower. You can easily hang it for heating or hold it from its handle while traveling.
It comes with a unique turn twist knob, which enables you to turn off or on your showerhead. You can wash dishes in the middle of the woods with great ease. Also, while lathering, you can turn your shower head off.
You can easily expose your shower bag to the sun for more than 15 hours, as it is made up of durable and robust polyester material. Also, the 2-meter long hanging cord is a noticeable feature, which adds many conveniences in use.
Why Should You Buy KingCamp Camping Shower?
If you are looking for the best solar camping shower for taking long baths, then we must say that this solar shower is the best choice to go.
It comes with a non-toxic polyester triple-layered body that you can expose to the sun for more than 15 hours.
Moreover, its great storage capacity of 5.28 gallons is a noticeable feature. You can hang it using a 2-meter long hanging cord in the sun to warm your water.
Pros
20 liters capacity
Made up of non-toxic polyester
A 2-meter long hanging cord
You can expose it to the sun for 15 hours
A mesh pocket for toiletries
Cons
It's quite tricky to open twist knob with wet hands
A relatively shorter hose
Conclusion
No doubt, it's truly a blessing if you get to have a hot shower on the top of snowy mountains. On the whole, we must say that the solar camping showers are one of the essential things which you can't miss when you are out camping.
Well, here's our winner, best overall camping solar shower, equipped up with all the contemporary features to make your experience worthwhile.
Our top pick for best solar camping shower is Advanced Elements Summer Shower because of its unique heating system, which provides perfectly lukewarm water along with great 5-gallon capacity.
Not only this, but this shower also features many other conveniences, including PVC-free construction and many pockets for keeping all the toiletries.
If you are a bit confused, then you can certainly go for our recommendation, as it's a highly rated product on our best solar camping showers list.
Frequently Asked Questions
How Does Solar Shower Work?
A solar shower is a normal shower, but it works on solar energy instead of any fuel or electricity. This solar shower is an eco-friendly invention that contains solar panels present in it.
They absorb solar energy from the sun and help to heat your water present in the solar bag.
Fundamentally, all you need is to fill your solar bag with water and hang it in the good light coming area, and after a few minutes, you will get blissful hot water.
Do Solar Camping Showers Work On Cloudy Days?
The answer may be YES or NO both because if there is a thunderstorm or heavy rain, it will not work.
But if you will go for the best solar camping shower and along with this, it is a moderately cloudy day with the presence of some radiant heat rays, then you will be able to get Luke warm water.
What Are The Qualities Of The Best Solar Camping Shower?
The following are the qualities of the best solar camping shower:
A strong and durable carrying handle
Made up of thick, heavy-duty, and non-toxic material
Light-weighted
Large water storage capacity
A twist turns the ON/OFF valve
How Do You Dry Out a Solar Bag?
After every single usage, it is necessary to dry out your solar bag so that it will be long-lasting, and it won't stink.
For this, you will have to hang your solar bag into the sun by using a hanger, and after that, take it out and fold it carefully to store for the next usage.