The tradition of steam baths dates back centuries ago, it was known to have a fun time while getting a therapeutic massage for better physical and mental health.
Modern times have proved those traditions to be scientifically accurate in their beliefs. Now continues with the latest technology bringing spas and in-home steam showers.
However, taking the time out from your busy routines to join the steam bathhouses to get this therapy isn't possible for everyone. Thus the only viable option that remains is to get a steam shower for your bathroom.
Making the right choice among many brands claiming to produce the best steam showers could leave you unclear and confused about what suits you the best.
Before reading the reviews, check the detailed comparison table where we have put the essential features of all the best steam showers against each other to give you a good idea of the price and what you need right now.
Recommendations For Best Steam Showers 2023
ARIEL 300A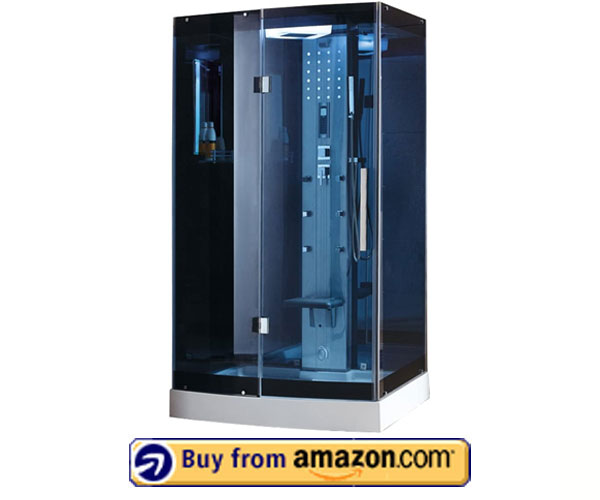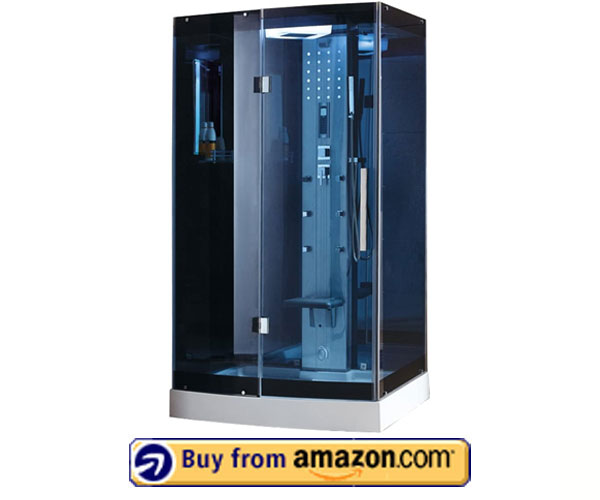 Ariel 300A Steam Shower is the best choice for soothing when looking to enjoy a steam shower, especially in stress. We can enjoy professional steam shower spas with easy digital controls and a 3Kw steam generator.
One of the problems people face at home while using these steam showers is the ideal temperature setting. Now being someone new with these at-home steam showers, the Ariel 300A Steam Shower helps you by bringing an automatic heat limiter that keeps it optimal.
Also, optimizing the settings for an optimal steam shower experience could be a problem that this brand tackles smartly by bringing a digital control panel with an easy to understand interface. You can optimize your experience in its entirety by using the heat, temperature, and water jet settings.
For people who aren't used to fixed overhead showerheads, Ariel 300A Steam Shower brings multiple flow options for its handheld showerhead. You can detach and have a vigorous shower with a seating option if you don't like standing while in a shower.
Ariel 300A Steam Shower brings an experience that will improve your blood circulation, relax your muscles after a heavy workout. It also boosts your skin health.
As compared to others in the market, Ariel 300A Steam Shower promises an optimal steam shower experience with a 3Kw steam generator, making it the best steam shower generator of 2022 and easily one of the best steam showers ever made.
Though it has a few problems as well such as a difficult installation that is made even more complex due to the lack of proper and easy instructions in the manual.
Why Should You Buy Ariel 300A Steam Shower?
Brings the best steam shower head with a high-intensity steam generation capacity.
It allows the handheld operation and even brings a seat making it convenient for everyone.
Brings an easy to understand digital control panel for optimizing settings to your liking.
One of the best steam showers with a wide space inside for a soothing bath.
Pros
Powerful steam generator
Durable Build
Rainfall shower available
Beautiful LED Lighting
Single seating available
Cons
Complex installation
Poor instructions
Mesa 803L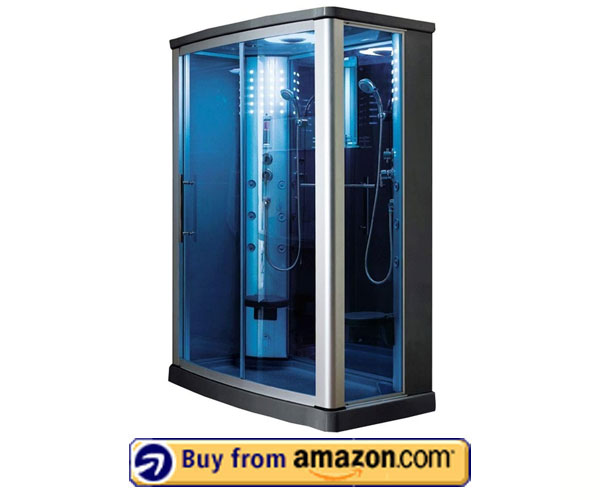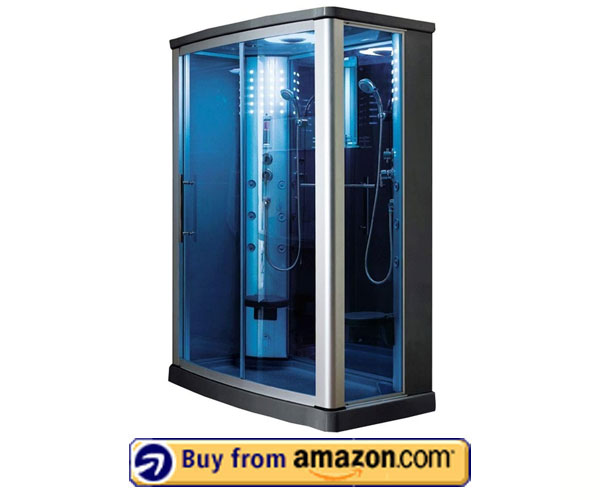 While you may need to raise your budget a lot for Mesa 803L 2-Person Steam Shower as compared to the previous choice, you will be getting one of the best steam showers with a 3Kw steam generator, durable and beautiful build, and powerful experience with 12 acupuncture water body jets.
Perfect for a lovely couple, Mesa 803L 2-Person Steam Shower comes with 2 handheld shower wands allowing you and your partner to take a bath at the same time without leaving the other person waiting at all. Moreover, listen to the news or music on the built-in FM radio while doing so.
Now you can make your mornings more refreshing in a steam shower that comes with 12 acupuncture water body jets with various spray modes with the rainfall showerhead. Moreover, it gives you a beautiful look in your master bedroom with the tempered blue glass design.
Being a 2-person shower brings the adjustable handheld shower wands for both users and the seating for two to make your showering life even convenient. After the use, the foldable seats can be folded back to the corner where they are installed for a compact user-experience.
One of the best aspects of this Mesa Steam Shower is the Ozone Sterilization System, further enhancing your in-home steam shower experience that is beneficial for your skin and overall health. Moreover, the enhanced technology allows you to have powerful showers after working out to relax your muscles.
As for the flaws, there are some, including the leakages that often occur after a few weeks or months of use. Some rectified them, and yet they continue to present themselves. The rain shower head quality needs to be improved, especially for a shower that charges over $3000.
Why Should You Buy Mesa 803L Steam Shower?
The powerful steam generator with relaxing 12 acupuncture water jets for a soothing bath.
The Ozone Sterilizing System leaves you to feel refreshed at the end of each shower.
It has easy-to-open sliding glass doors and brushed nickel trim.
The perfect two-person shower with handheld shower wands and foldable seats.
Pros
Great steam generation
Adjustable shower wands
12 water body jets
The rainfall showerhead
An innovative shower design
Cons
Not very durable
Prone to leakage
Too expensive for a non-durable build
Aston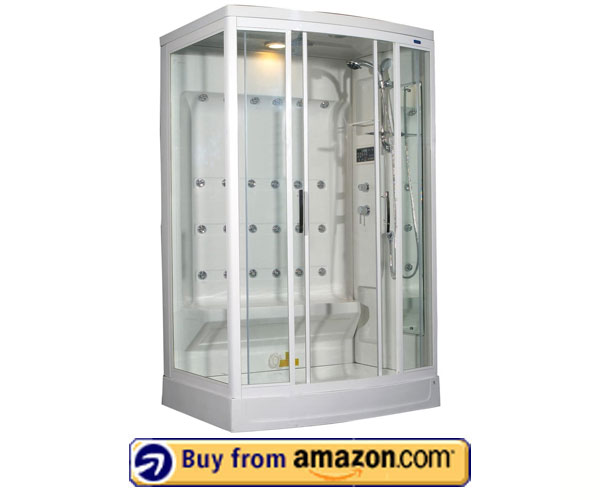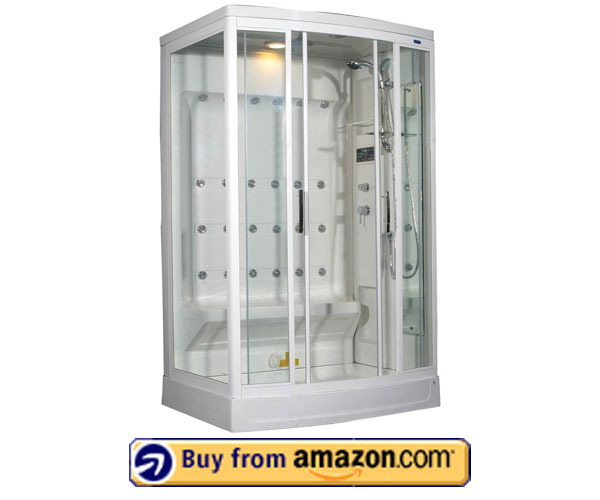 Users have many durability concerns about these best steam showers, which have often failed the buyers by being prone to leakages, etc. However, Aston Steam Shower is a class apart on aluminum's durability and reinforced fiberglass acrylic framing.
Not just the build, it is a perfect option for your shower since it generates enough steam within 5 minutes, all thanks to the powerful 3Kw steam generator. Plus, it has both handheld and overhead shower options with 24 directional body jets for a different experience every time.
Aston Steam Shower has enabled these options and makes it easy to switch between these modes, and it brings a diverter valve that you can interact with and use whichever mode you like. You can enhance and optimize further options with the digital LED control panel with easy settings.
As for the construction, Aston Steam Shower is one of the most durable ones, with a fiber-glass reinforced framing supporting aluminum. Also, the tempered safety glass forms the border that separates your steam shower from the bathroom.
Like many great brands, Aston Steam Shower also ensures that it keeps the users entertained, and for that, it has installed a stereo speaker in the system with an FM tuner. You can tune in to the radio while showering to listen to entertaining music or morning news to keep yourself updated.
Moreover, to keep the environment optimal for steam showering, Aston Steam Shower brings an exhaust fan in the design, a drain kit, adjustable feet for leveling, and storage shelves so you can keep your showering stuff near.
Aston Steam Shower is not one of the easier steam showers to install so you will need to seek professional help that would add more money to your already expensive costs.
Why Should You Buy Aston Steam Shower?
The most durable and best steam shower with aluminum and fiberglass framing.
The LED control panel for optimizing settings and FM radio for music and news.
An easy-to-use diverter valve to switch between handheld, overhead, and directional modes.
A thermostatic valve that allows you to keep the water temperature constant.
Pros
Water temperature maintenance
Easy digital control panel settings
FM radio for entertainment
Exhaust fan and diverter valve
Durable framing
Cons
An expensive one
Difficult installation
1001NOW Y9001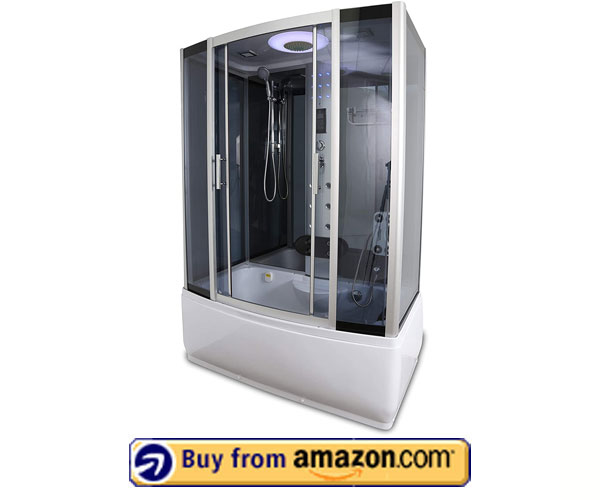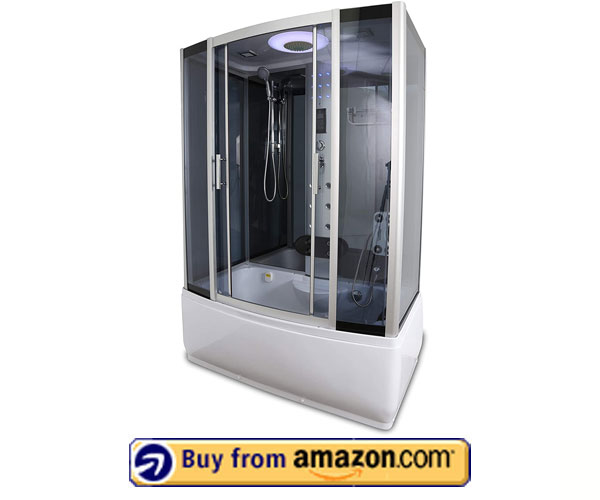 Being someone who is looking forward to spending heavily on improving their shower system, going either for a steam shower or bathtub are great options. However, our best steam shower picks 1001NOW Y9001 Rectangle Steam Shower & Tub combines them both and saves you the trouble once and for all.
There is nothing as advanced as this steam shower that comes with foot massage and massage jets attachments providing you a complete spa-like experience. Either you are looking forward to a quick shower, or a relaxing bathing time in your bathtub, you now have both options.
The interface of this 1001NOW Y9001 Rectangle Steam Shower & Tub has been extremely well-designed, from the digital control panel for optimizing your shower settings to other capabilities including phone calls, FM radio, CD/MP3 music playback, and LED lighting for a beautiful look.
You make maximum use of this overhead rainfall shower head with a robust flow rate leaving you to feel refreshed after your morning bath. After work, when you come back home, prepare a relaxing bath in the tub with herbal oils and cosmetics to get restored within no time.
This steam shower and tub by OB utilizes a combination of various materials in its design, such as the ABS board, aluminum alloy, and copper-based bath accessories for a long-lasting experience. The sturdy construction makes it less prone to leakages and other damages over time.
Even the accessories are not prone to damage since everything inside the system is water-proof, leaving no room for a non-durable experience that you don't ever. However, while it combines all that you need, this steam shower demands a hefty sum, not making it one of the affordable products.
Also, one of the design flaws is that it is not spacious enough for two people even though the design seems bulky and takes a lot of space in the bathroom.
Why should You Buy 1001NOW Y9001 Steam Shower?
A complete set of phone calling and music accessories for an entertaining bath time.
The durable aluminum and ABS construction for a long-lasting shower & tub experience.
The touchscreen digital control panel for easy setting customization for an optimal bath time.
The multi-function sliding shower handle for overhead and handheld use.
Pros
Foot massage and body jets
Overhead and handheld options
Easy touchscreen digital controls
Radio, MP3, and Phone Calling
Durable aluminum and ABS build
Cons
The very high asking price
Substandard steam generator
L80S02AS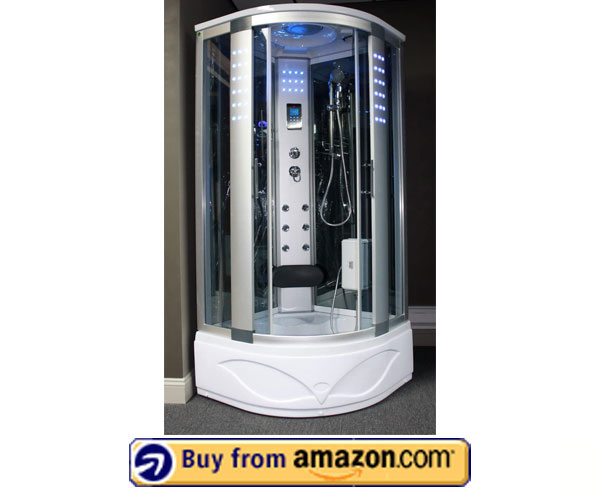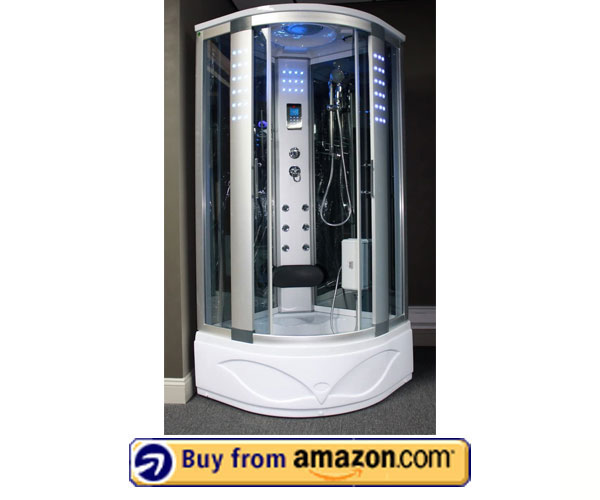 Our final pick among the best steam showers list is the L80S02AS Corner Steam Shower model by Luxury Shower Room. Though a bit orthodox corner steam shower design, it has everything a common user wants including an overhead rainfall showerhead, foot massage, and 6 body massage jets.
This corner steam shower comes with Bluetooth audio for listening to your favorite music. You can also turn on the built-in radio and listen to the daily news to get rid of such important stuff while showering.
A small in size yet a heavy-duty product brings the most soothing showering experience with various jets and seats and allows aromatherapy to get further benefits. It also introduces a waterproof digital control panel with music, radio, and temperature settings.
Further accessories in this showerhead are a remote control, ventilation fan, and fog-free mirror. You can also dial and receive calls from its control panel and carry out essential tasks such as these while in the shower to save more of your time for more critical duties afterward.
Having different spray modes, this corner steam shower comes with 6 body massage jets providing a powerful shower experience at high flow rates giving you a massage-like experience. It proves quite worthwhile after your office or workout routine to get rid of fatigue and tiredness for good.
The digital control panel has been designed for maximum user convenience where you can track the water temperature and maintain it frequently with the automatic heat limit feature.
Though we expected the design to be more spacious to allow at least a couple people in for quick showering it is still justified given its compact corner shower system build.
Why Should You Buy L80S02AS Steam Shower?
An affordable yet advanced corner shower system with 6 body massage jets.
A digital control panel with easy customization for optimizing your shower time.
Easy water temperature controls for keeping them constant for a relaxing bath.
The adjustable overhead and handheld shower wand for an easy user-experience.
Pros
Relaxing body and foot massage
Durable and economical build
Easy to install and compact design
Adjustable and easy controls
The heavy-duty yet small design
Cons
Not very spacious
Durability concerns
Conclusion
With the best steam showers, reviews are done in detail, and almost every query is answered. We will conclude our article by recommending Ariel 300A and Aston Steam Shower. These are our two top favorite suggestions for the buyers.
Ensure that you keep your budget in mind, your prior experience with installing steam showers, and features such as durability, massage jets, and quality & ease of use of the digital control panels.
If you have more queries about these products, leave them in the comment section. We will post our replies within a short time.
Keep visiting Bath Hour for more exciting product reviews and buying guides.
Frequently Asked Questions
Are Steam Showers Worth The Money?
Even though expensive, steam showers can be worth your money because you recognize your needs and choose the right brand. An in-home steam shower can be a lifetime deal that would save your costs on steam bath services.
Can You Take A Regular Shower In A Steam Shower?
Yes, including steam in your regular shower can prove to be very beneficial for your health. You are especially coming home after a long day at the office or gym to rid of fatigue and muscle soreness.
Are Our Steam Showers Bad For You?
Steam Showers are generally very beneficial for your mental and physical health. However, if you have diabetes or heart problems, it can elevate your blood pressure, which wouldn't be good for you.