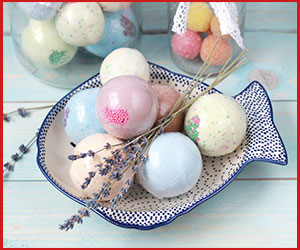 Using Epsom salt as a natural remedy isn't a twenty-first-century thing. For centuries, it is being used in the treatment of many ailments and as a special ingredient in beauty products. Nowadays, where people consume Epsom salt after mixing it in water, it is also being used as one of the main ingredients to make Epsom salt bath bombs.
When we see the chemical composition of EPSOM salt, you will notice that it is entirely made up of magnesium and sulfate, making it 100% organic in nature.
Thus, soaking the body with Epsom salt bath bombs improves our fitness by increasing the magnesium level inside our body.
One can't imagine the relief that they can provide to a person at a very cheap cost and its other health benefits that we will discuss late in the article.
Where many different types of bombs are being used, Epsom salt bath bombs have also gained popularity in recent few years.
But is it easy to make Epsom salt bath bombs at home?
What's that secret professional bath bombs recipe?
And what tools would be required to make them?
Here, in this article, we will answer the above-mentioned questioning by going into detail about the ingredients and tools that are required to make the bath bombs and the procedure to make them while sitting in the comfort of your home.
Tools And Ingredients To Make Epsom Salt Bath Bombs at Home
Base Ingredients
The required ingredients to make Epsom salt bath bombs are as follows:
Half cup of baking soda.
One-quarter of corn starch.
One-quarter of citric acid.
Three tablespoons of Epsom salt.
Water
Essential oils.
One tablespoon of coconut oil
Food coloring
Essential Tools To Make Bath Bombs
Required tools to make the Epsom salt bath bombs are mentioned below:
Unique bath bombs mold to attain the desired shape of the bath bomb.
One or more mixing bowls.
Measuring Cups/Spoons.
Instructions
To make perfect Epsom salt bath bombs at your home, you should follow the below-mentioned bath bombs recipe:
First of all, you should color the Epsom salt by mixing different food coloring and then evenly distributing them over the salts. That's your choice to choose the ones that fascinate you.
The next step would be to take a large bowl and mix baking soda, cornstarch, and citric acid. Using a spoon would be beneficial for better mixing.
At this point, you can add the essential oils into the mixture, and their quantity will solely depend on you as to how strong you want the fragrance to be. If your skin is too sensitive to essential oils, we would suggest you add only 10-20 drops of it.
In the next step, you will have to melt the coconut oil and then mix it with the rest of the bath bombs' ingredients.
Till this point, the mixture would be ready, and you will have to squeeze it by taking a handful of mixture.
If the powder starts to clump together, you are good to go to the molding stage!
If not, then add some water into it and keeps on stirring the mixture until the mixture becomes damp sand. Don't add too much water so that the mixture starts to fizz.
When the mixture is ready, take the colored Epsom salt and mix it well with the mix of other ingredients.
Put a spoonful of the final mixture into the desired shape mold and let it sit for a few hours.
Carefully take the Epsom salt bath bombs out of the mold and save them for your next bath!
Benefits of Epsom Salt Bath Bombs
Soaking your body in Epsom salt has a ton of benefits that a layperson isn't generally aware of!
It helps to combat a magnesium deficiency, quicken the recovery from flu and cold, reduces the itching from sunburn, helps you get rid of rashes, reduces stress, and even helps you to sleep better at night.
Let's go into detail about each of its benefits:
Combat Magnesium Deficiency
The excessive use of processed foods results in a deficiency of magnesium. As a result of this, you can face health issues like high blood pressure, heart attacks, strokes, kidney problems, and, in some cases, nervous disorders as well.
Since magnesium is the main ingredient of Epsom salt, and our body can absorb magnesium through the skin; thus, using Epsom salt bath bombs increases the level of magnesium to eradicate its deficiency.
Recovery From Cold & Flu
By increasing the production of white blood cells in the body, Epsom salt helps in quickens the recovery of a person suffering from cold or flu.
Reduces Swelling Due To Bug Bites/Rashes
Epsom salt can absorb moisture from lesions; thus, helping in reducing the swelling due to bug bites. It results in the removal of dead cells, making your skin softer and soothes the dry/itchy patches.
Helps In Sleep
You may never have experienced this, but a high level of magnesium deficiency can make your nights hell.
To maintain the level of magnesium, you can soak your body in Epsom salt that will not only helps you in sleeping better at night but improves digestion and balances the blood pressure to help you to have a sound sleep
Reduces Stress
When we are under severe stress, our body starts losing magnesium level, thus resulting in more weakness. Therefore, taking a bath in Epsom salts bath bombs improves the level of serotonin, another hormone that relaxes our body and mind.
Conclusion
Here is a summary of how you can take Epsom salt bath bombs while sitting at your home.
Where these bath bombs will be beneficial for your health, it will also save you from spending extra bucks on expensive bath bombs as ingredients being used in its formation are readily available at low prices.
I would say you should give this a try, and I can assure you, you won't even get a single thought of using any other bath bombs.
For just a quick reminder, you can easily buy the Epsom salt from grocery stores, pharmacies, and famous retailers.