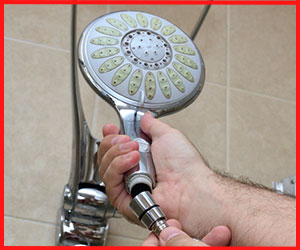 A handheld showerhead gives you a pleasant and versatile experience. A handheld shower provides a comfortable experience for disabled individuals or people who struggle with mobility problems – as they can be seated while bathing.
It is an ultimate relief for achy joints as you pour over hot water from your handheld shower directly. You may find wall-mount and handheld combination shower models, often with a shower arm.
A handheld shower with diverter can also be installed in your tub spout for an efficient stream.
Handheld shower heads have various benefits; however, you cannot enjoy its perks until you have one installed in your bathrooms.
If you are wondering about how to install a shower head with handheld, then you have come to the right space.
Here, we will provide you with a detailed guide on installing a handheld showerhead, using the best high pressure shower heads.
Let us begin!
What Tools Are Required To Install A Shower Head With Handheld?
You will require to have the following equipment to install your handheld showerhead. These include:
Handheld shower kit
Drills
Hex key
Channel type pliers
Adjustable wrench
Plumber's pipe seal tape
Tub spout with diverter
Leather or heavy cloth piece
Steps For Preparation
A few preparation steps are required if you wish to replace your regular showerhead with a handheld one.
You, however, do not need to worry about how to replace a shower head arm because the handheld shower head would be attached to your shower arm directly.
Step 1
To start, you need a channel kind of pliers and a wrench that is adjustable to remove the old showerhead. Turn the showerhead along with its nut in a counterclockwise direction to thoroughly loosen its fitting.
Step 2
In case you want to use this showerhead anywhere else, then make sure to wrap it using leather material or a bulky cloth before you reach for the pliers or the wrench.
Step 3
Next, to get rid of all the mineral deposits, thoroughly clean the shower arm threads and the pipe seal of the plumber's tape.
Step 4
Use a plumber's tape to wrap the threads in a clockwise direction for a minimum of five to six times.
The purpose of the tape is to prevent any possible leakage from the connection. Make sure to use the tape on the threaded part so that when the new unit is installed, it would not be visible.
How To Install A Handheld Showerhead On A Regular Fitting?
Using this technique will allow you to add your handheld showerhead to a pre-existing shower arm. Although, a flexible hose along with a handheld shower will be replacing your regular shower head fitting.
The best shower head can either be wall-mounted or screwed into the shower arm's end – all of which is dependent on the type and the model of the handheld shower that you have chosen.
Attachment Of The Showerhead Base
Once the showerhead has been removed, use the plumber's pipe seal tape to create multiple loops on the shower arm's threads.
Now, take the shower arm and screw the base of the handheld showerhead onto it. Use your hand to tighten it.
Attachment Of The Hose
On the base of the showerhead, wrap multiple turns using the plumber's pipe seal tape near the cross tee diverter's nipple. Now, attach the flexible shower hose onto it. Use your hand to tighten it.
Turn on the faucet for water to run and check for any possible leaks. In case of a leak, please make use of the channel type plier or the adjustable wrench to tighten it. To protect the finishing from any scratches, use a heavy cloth or a leather piece.
Bracket Wall Mounting
The wall bracket needs to be mounted, using directions provided by the manufacturer. To create anchors that can be expanded, you may need to drill holes within the wall.
Frequently Asked Questions
Expertise Required To Install A Shower Head With Handheld?
Installing a showerhead with a handheld does not require hiring professional help. It is quite simple and can save you an added cost of plumbing.
You do not need to be tech-savvy for its installation, and beginner-level expertise may serve just fine.
Time Required To Install A Shower Head With Handheld?
With beginner-level expertise, you can install this shower head handheld within just 30 minutes, saving you ample time on hand.
Cost Of Installing A Shower Head With Handheld?
The estimated cost of installing a shower head with a handheld may start with a minimum of $15 and go up to $150.
This is so as it may vary according to the type of shower head with a handheld you have chosen.
Conclusion
People often tend to panic when it comes to the showerhead installation process; they often are stuck in a dilemma of how to install handheld shower diverter or how to install handheld shower with a slide bar, but find it quite simple once they come across proper guidelines.
Hopefully, at the end of this article, you must be well-rehearsed on how to install a shower head with handheld and are left with no possible queries.
It is a simple process with a minimum cost and little time and expertise that can provide you with a luxurious experience.
Before use, make sure that before you use it, you thoroughly check it for any leaks in the connection.
Besides, to reduce the cost, choose a showerhead that suits your needs and is within your budget, to so well research the internet, and thoroughly go through people's reviews to conclude.
Now, waste no more time and rush to your super-mart to get hands-on with your tools and begin your plumbing to enjoy a brilliant shower experience.