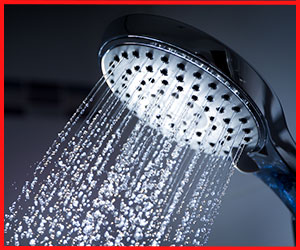 If you have ever skipped those mandatory before entering pool showers or bottled your way to the beach waves without rinsing off yourself, then you are not alone, my friend.
Now, this is the case with more than 40% of the population.
As you take a dip, you are directly in contact with vicarious hair and skin microbes, urine, lotions, fecal matter, and perspirations from a bunch of people – which grossed me out even thinking about it.
Swimming can lead to the spread of various water recreational illnesses.
For instance, parasites and skin infections are infected via the intake(Swallowing) of contaminated pool water.
Luckily, to save yourself from this deadly problem by showering before and after swimming using the best shower head, it is considered one of the swimming pool shower etiquettes.
Facts depict that 93% of Americans would not opt for using other people's used bathwater; however, yet tend to refrain from taking a shower before entering a pool.
As per reports by the Water Quality and Health Council, 40% of the American population pulls off this stunt.
You may be wondering, should you shower after swimming since it feels odd, as we are entering a swimming pool, so why bother?
You need to understand that although this water may cleanse your body, however, cannot get rid of the attached particles to your body. Eventually, these particles spread in the water and affect other swimmers.
So let us learn today about the importance of showering before and after swimming, along with a few other frequently asked questions to clarify your dilemma.
Let us dive in!
Why Should You Take Shower Before and After Swimming?
If you want to protect yourself from those deadly recreational water illnesses, then the best remedy is to take a shower before you dive into a pool.
Sadly, only 30% of the population follows this protocol before swimming – indicating that more people need to be educated about it.
You are supposed to have a soapy bath before and after opting for any recreational water activities, but the question is, why? Keep reading below to find out.
Chlorine Doesn't Kill It All Off
Chlorine is used for various purposes like in swimming pools, water parks, and even hot tubs to oxidize and kill harmful germs and deadly bacteria, for instance, E.coli.
Unfortunately, Chlorine doesn't kill instantly and doesn't always affect all microorganisms.
It can take almost one minute to a maximum of a week for Chlorine to be useful, as per the agent you are using. For instance, the parasite Cryptosporidium is killed in 10 days by Chlorine.
Additionally, once our body's organic matter mixes with Chlorine, it produces a highly toxic agent known as halogenated by-products (HBPs) – giving you another reason to shower pre-swim.
Showering helps remove lotions, sweats, sunscreens, organic matter, and various bacteria. It also saves up the extra Chlorine to clean the pool and prevent additional water illnesses.
Oceans And Lakes Are Quite Dirty Themselves
Lakes, rivers, and oceans follow the same logic. You bring in a hub of fecal matter traces and different pathogens by not showering before you enter the water. Hence, you may often witness the beach water quality to be deteriorating.
According to the U.S. Centers for Disease Control and Prevention (CDC), people tend to have an average of 0.14 grams of fecal matter on their bodies and skin. Swallowing, even the slightest amount, can put you at greater risks.
A certain category is more at risk, like children playing in the water for long hours, windsurfers, open water swimmers, since they all are completely underwater and are spending extended periods – leading to more risks and infections.
Prevents Odor And Illnesses
Swimming before entering the water can also reduce irritations and prevent your pool from having a smelly odor, a combination of Chlorine and impurities.
To add more, it reduces infections like skin rashes, diarrhea, and swimmer's ear.
Post-swim Showers Mean That No Bacterias Are Left Behind
Post swim showers are equally important.
It protects your body from contracting any infections like rashes. It follows a simple logic: showering with soap and warm water right after a swim tends to remove all pathogens and bacteria from your hair and skin.
Even if you are a part of secondary water activities like fishing, boating, and paddling – it is essential to have a post-swim shower.
Although you are not completely immersed in water, however, you are exposed to different contamination.
What To Do After Swimming In Chlorine Water?
You are probably near a poolside, with sunscreen on, and enjoying your cold beverage as you decide to take a dip in since you are sweating in the scorching heat.
Once you are out, you lie down under the sun rays without a quick post-swim shower.
Well, that is not a good idea.
You are entitled to wash off the left behind the pool's residue, which is a combination of bacteria and chemicals that linger on later to cause skin irritation and infections. However, the main reason still stands for Chlorine.
As explained by Dr. Tania Elliott, who is an internist and allergist specializing in immunology and skin diseases, Chlorine kills off all the bacteria on your skin, leaving it to dry out and cause irritation, which eventually results in a rash, redness, eczema, and itching. It can cause more adverse effects on your skin, which may not be visible instantly.
As stated by Morgan Statt, the safety and healthy investigator for ConsumerSafety.org, there are additional risks like hypersensitivity, since Chlorine is an irritant. Eventually, it leads to asthma and bladder cancer.
To prevent these hazards, do yourself a favor and take a shower after you come out of a chlorinated swimming pool.
Frequently Asked Questions
How Can You Remove Chlorine From The Skin After Swimming?
You can take a shower using shampoo and soap under running warm water via the best handheld shower head, which can help eliminate Chlorine.
You can also mix small quantities of Vitamin C crystals in your shampoo to thoroughly get rid of Chlorine.
How To Shower Before Swimming?
Pre-swimming sessions require a good bath with soap, shampoo, and a thorough flow of warm water via your best high pressure shower heads, as it can remove traces of fecal matter, urine, cosmetics, body oils, sweat, and various germs.
Can You Bathe In A Swimming Pool?
A swimming pool is not an alternative for bathing in a shower. Since it contains Chlorine, it can turn out to be more hazardous than a regular shower.
It would kill off all the good microbes that are present in your body. Hence, take a proper shower in a bathroom using soap and shampoo and not in a swimming pool.
Should You Shower After Swimming In The Ocean?
Since the ocean water is dirty and has high salt levels, it can leave behind various bacteria, dehydrate your skin for more extended periods and even cause minor cuts, abrasion, and lead to infections.
Hence, it becomes essential to take a quick rinse under the shower after swimming in the ocean to get rid of all germs.
Should You Shower After Swimming In A Saltwater Pool?
In comparison to freshwater pools, saltwater pools have fewer chemicals. However, these can still cause burns and infections to your body's skin. Hence it is a good idea to take a shower after swimming in a saltwater pool.
Conclusion
Swimming pools serve as a great form of relaxation and exercise as well. Although it can also turn into a harbor for various kinds of germs if not thoroughly maintained.
Hence, it is essential to shower before you dive in and have a body wash after swimming.
Secondly, Chlorine at times is unable to mix well with different particles that arise from your body, disrupting the pool's chemical balance.
This causes more Chlorine to be used for the cleaning of the pool. You can play your part and be responsible for swimmers and maintaining hygiene standards.
Hoping this article was helpful enough to guide you through the hazards. It will help you in following a proper swimming pool showering protocol.
Stay safe as you dive in!