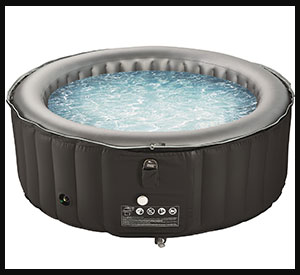 Simple and easy to move around the portable hot tubs are fun certainly; however, some limits make us think; are inflatable hot tubs worth it?
Before people think of buying a hot tub for their massage, hydrotherapy, and relaxation needs, internet research and budget limitations always bring them to this question.
Let's find the answer to this!
Are Inflatable Hot Tubs Worth it?
Yes, inflatable hot tubs are certainly worth it and this is because of features like longevity, portability, and performance.
Also, many people like to use their hot tubs above 40 Fahrenheit and this is an ambient temperature the portable hot tubs are quite suitable.
Moreover, as compared to the fixed in-ground hot tubs, inflatable hot tubs are much more affordable.
It is their portability that makes most people fall in love since you can move them indoors and outdoors at any time you want.
While you can't do for other spas, you can move inflatable hots indoors at any time and even take them to your summer picnic when convenient.
Not just that, the inflatable hot tub electricity usage is lesser than those giant spas and thus your electricity costs will be lower.
Another big advantage of the inflatable hot tubs would be isolated walls that ensure that the heat doesn't leave the hot tub and the water stays hot for a long time.
The replacement parts of inflatable hot tubs are easily available and much cheaper as compared to their counterparts, ensuring low post-maintenance costs.
While users are mostly concerned about the durability, you shouldn't be since the frame of these inflatable hot tubs is also made of similar materials.
Whether or not will it retain its shape, is a question that bothers many users. Well, we have tested and experienced their original shape for more than five years.
As compared to the fixed hot tubs, the inflatable hot tubs use bubble jets instead of hydro jets for giving the massage experience you are looking for and that would be worth it.
Though inflatable hot tubs with seats aren't available usually, you can buy them separately at a fair price that would still cost lower than the fixed hot tub.
You can check our detailed best inflatable hot reviews to learn about the ten best portable spas that are available in the market and you can buy them right away.
Here's a quick takeaway of all the points that make the inflatable hot tubs a better choice:
They are portable
Easy to move in and outdoors
Much more affordable
Easily available replacement parts
Retain their shape well
Remain above the ambient 40F temperature
What's Good About a Blow-up Hot Tub?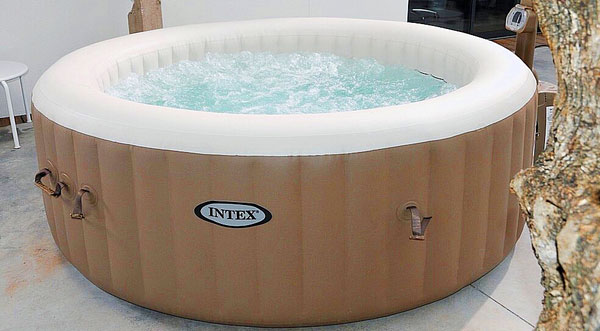 While we have explained many benefits of an inflatable hot tub already, here are some detailed insights into some major features of a portable spa:
Price
Getting those big fixed hot tubs can be the most thing; however, this price factor plays a massive role in becoming a major reason why people choose inflatable hot tubs.
You can even get a complete inflatable hot tub package while keeping your budget well under 500 dollars.
Portability
The biggest factor that we advocate while pushing our users towards buying an inflatable hot tub is portability which allows you to use your hot tub anywhere you want.
Now, this may sound obvious but an inflatable hot is just the perfect solution when you have both indoor and outdoor spas needs during summers and winters.
Even the replacement parts of the product are available easily and are affordable which would result in low post-maintenance costs making the package even cheaper.
Quick Setup
The inflatable hot tub setup is also about placing the framing, blowing up the tube, and plugging in the connection to start using the spa.
There is no hassle of putting together different complex parts just like we do for a fixed hot tub and this reason alone is enough to be convinced about buying it.
Also, you don't need a whole bunch of equipment and do you the quick setup you need to with simple tools available.
Durable
Many people put forward a great deal of doubt towards the durability of an inflatable hot tub and in most cases, they are wrong about it.
The materials used in the making of a portable hot tub are similar to that of the fixed ones and thus you can expect the same level of sturdiness and strength.
It is the interior of an inflatable hot tub that makes it a distinctive product while staying full of strength and long-lasting.
Easy to Operate
The inflatable spas are usually plug-and-play hot tubs with simple interfaces to set the water temperature and bubble jet pressure.
This ease of operation that saves you a great deal of trouble is another big advantage that makes an inflatable hot worth it for good.
Negative Points Of an Inflatable Hot Tub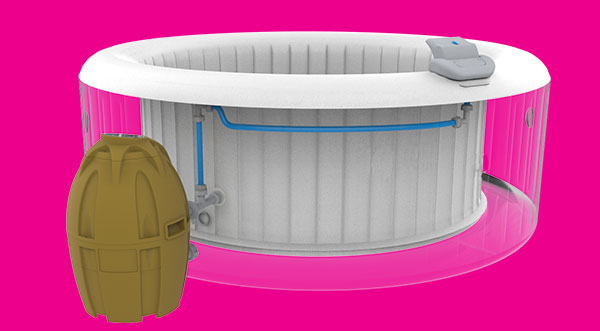 Just like any product, there are certain disadvantages of a portable hot tub that you should know about:
Too Small
Most inflatable hot tubs are small and while you may have a bigger family that is looking forward to having fun, it may not be spacious enough to fit them.
The designs are compact and if you have a family of six that needs to use the hot tub, you will need to buy a bigger one.
Not Powerful Jets
The jets installed inside a portable hot tub spa are not hydro jets. Instead, the manufacturers use bubble jets that aren't powerful, and thus, the massage experience might not be that soothing.
However; if the inflatable hot tubs you are buying have more than 100 bubble jets, we have experienced that they get the job done.
Slow Heating Time
The insulated walls of an inflatable hot tub do indeed not let the heat escape; however, the heating time for water is much slower that can be quite frustrating when you need to enjoy a quick hydrotherapy session.
They Might Not Last
This isn't necessarily true; however, if you end up buying a substandard inflatable hot tub, it might not last long.
Always trust a brand when you need to buy a portable spa to be sure of durability and a long-lasting experience.
Conclusion
This established the fact quite well that the inflatable hot tubs are worth it; however, considering the most important factors such as portability and performance must be of foremost priority when you are ordering one.
Leave us your feedback and keep visiting our website for more interesting best inflatable hot tubs 2023 reviews and much more!