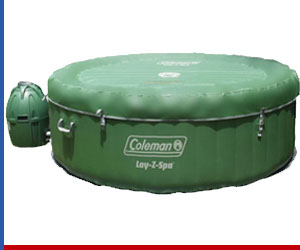 Summer is here, and no time could be better than this season to get yourself a hot tub and unwind from all the stress you have had for some time.
While getting a hot tub might be an obvious choice during this weather, getting to know important stuff about different hot tub types is essential.
To give you more insight into which hot tub is best suitable for you, we have come forward with our list of the 5 best portable inflatable hot tubs in 2023.
Best Portable Inflatable Hot Tub 2023
The portable inflatable hot tub is a better choice in the beginning since these are easy to set up, move in and outdoors, and provide an economical spa solution.
These reviews rank them based on their portability, durability, therapeutic performance, electric costs, and of course, size.
Now while we are at it, let us begin our reviews of the best inflatable hot tubs in 2023 to bring a detailed insight.
Top Rated Portable Inflatable Hot Tubs Comparison Table
[table id=18 /]
The following are our detailed reviews of the best portable inflatable hot tubs with the complete description of the features, pros, and cons:
Coleman SaluSpa – Best Portable Inflatable Hot Tub 2023
Besides the portability, Coleman SaluSpa Inflatable Hot Tub Spa is chosen for the first pick purely based on its relaxing therapeutic experience that combines the benefits of both air bubbles and heat to bring the relaxation you are looking forward to.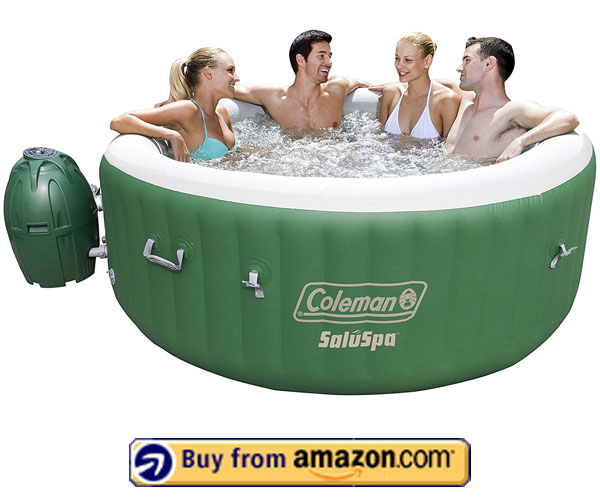 Coleman SaluSpa Inflatable Hot Tub Spa is perfect for a family of 4 to 6 people, however, more convenient for a group of friends to have some good time during their free time.
It has to be the best blow up a hot tub with 242 gallons water capacity, 104 Fahrenheit max temperature, and power-efficient design that doesn't significantly increase your electric costs.
A reason why it is excellent at energy efficiency is because of the multi-function spa that brings the benefits of water heating and tub inflation at the same time.
As compared to that, other hot tubs would feature a separate pump for inflating the hot tub and a water heater for heating purposes adding to the costs and weight.
Its Chem-Connect dispenser is another excellent addition that automatically releases chlorine to keep the water hygienic, saving more of your money that would otherwise be spent on these chemicals.
As far as its making is concerned, it is made to be sturdy and durable backed by the Coleman beam construction with 3x fortified material enhancing the strength of the design.
Also, regardless of the intensity of sun exposure, its design ensures that any number of UV rays wouldn't affect the shape of this portable inflatable hot tub.
Coleman SaluSpa Inflatable Hot Tub Spa comes with a digital control panel, and with that, you can customize the water temperature, pressure, and power-save settings with ease.
Its dimensions, however, aren't quite full as to fit six people, and thus we would generally recommend it for 4 to 5 adults at most.
Also, at this price, the addition of headrests was certainly needed that was, unfortunately, wasn't added to the design.
Pros
Power saving timer installed
An energy-efficient design
A durable and portable spa
Digital control panel for all settings
No tools required for installation
Cons
An expensive spa though
No wide enough for six adults
Why Should I Buy This Hot Tub?
 The following features of this large inflatable hot tub make it a worthy choice:
The digital control panel for easy water temperature and pressure customization
A multi-function spa for heating the water and also inflating the hot tub
Combines air massage and heat for bringing a soothing hydrotherapeutic experience
Water capacity of 242 gallons held inside the durable beam construction spa
You don't require any tools for setting this inflatable hot tub

The space inside the hot tub could always pose a problem for large families. So, to get the best 6-person inflatable hot tub experience, we are introducing Bestway Paris AirJet Hot Tub for the second pick.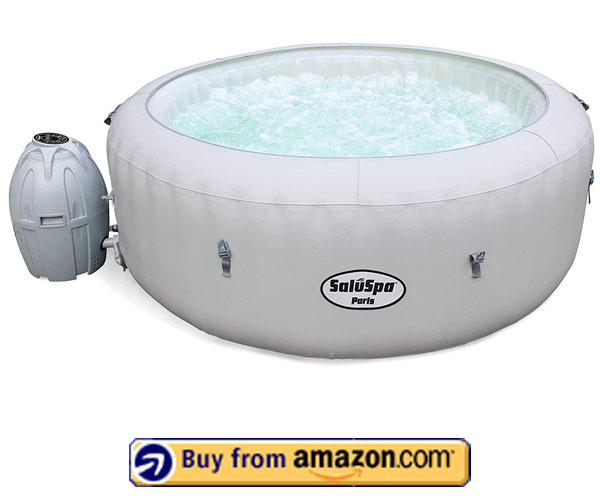 Besides accommodating for people inside, Bestway Paris AirJet Hot Tub is quite the best when it comes to assembling the spa. It requires no tool and is an errand even a beginner can run with ease.
Bestway Paris AirJet Hot Tub also features the same user-friendly digital control panel that allows you to control massage bubbles flow, water temperature, and a power-saving timer that can be set up for 72 hours.
This portable spa also features 7-color LED lights that are customizable and present a beautiful look. If you have a nighttime party, this is a lovely addition that you can have in your backyard.
As for the construction, it brings back the same beam construction backed with the tri-tech 3x fortified walls ensuring a puncture-resistant experience. Even when deflated, it retains its shape also when exposed to excessive UV rays.
Other features that Bestway Paris AirJet Hot Tub retains from its Coleman counterpart include a chem-connect dispenser, multi-function spa, and air-heat combination for a soothing therapeutic experience.
Again, you will be saving a handful of amount from the chem-connect dispenser that releases chlorine into the water. It would clean the water bringing a safe and hygienic experience for the users.
Some of the models have been reported not quite durable, and the warranty is also not enough to cover that after a few months. Due to that, it requires you to be more careful with use as compared to its counterpart.
Also, the instructions aren't quite thorough about setting the product up for the first time. That leads to bad user experience. However, that shouldn't be a problem for people with little technical knowledge.
Pros
The insulated reinforced cover for protection
Retains shape even after more exposure
Assembling and maintenance is easier
72-hour water temperature automation
Provides great value for the money
Cons
The questionable durability
Not enough directions for assembling
Why Should I Buy This Hot Tub?
The following features make Bestway Paris AirJet Hot Tub an excellent hot tub:
Plenty of free accessories including two filter cartridges and an insulated cover
The dispenser saves your money from buying extra chemicals for water hygiene
A large 6-person inflatable hot tub that is lightweight and comfortable for use
Add some ambiance to your hot tub experience with its 7-color LED lights
The enhanced structural integrity with the I-beam construction

Coleman Lay-Z-Spa – Best 4 Person Portable Inflatable Hot Tub 2023
Coleman Lay-Z-Spa Inflatable 4-Person Hot Tub is our third pick for the list and is a rather simpler solution for people with basic hot tub needs. So easy to set up that will not be requiring the help of a professional at any cost.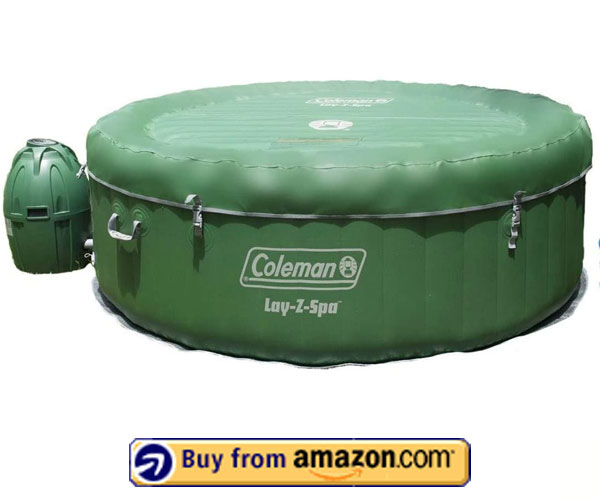 Easy to assemble, inflate, and maintain, this is an affordable inflatable portable hot tub that can be set up anywhere around the house, whether indoors and outdoors, without using any advanced tools during the setup process.
It makes the installation and inflation further convenient by introducing a set of DVDs in the package guiding you through every step of the installation, getting rid of any possible inconvenience for excellent user experience.
Coleman Lay-Z-Spa Inflatable 4-Person Hot Tub uses the same I-beam construction technology that combines strength and sturdiness for a durable hot tub experience. Also, with the type VI filter cartridges, the maintenance work remains minimal.
What we like about the product is that it has taken proper care of the user's comfort by introducing a comfy cushioned floor. This takes away the need for investment of hot tub seats. However, you might still need to spend on the headrests.
Moreover, this advanced design encourages easy hot tub inflation from the pump that you are already getting as a free accessory. Not just that, this same design enabled natural water drainage when you need to clean it every once in a while.
Coleman Lay-Z-Spa Inflatable 4-Person Hot Tub is one of the most affordable 4-person inflatable hot tub choices in the market. Besides being affordable, it delivers excellent value for the money and saves you even more with the energy-efficient design.
However, instead of the air massage and heating combination, it features the rapid heating system separately from the inflation mechanism. This quick water heating system is known to be pretty useful in quickly raising the temperature.
However, that would undoubtedly consume more electricity increasing the electricity costs. It doesn't feature a digital control panel either, so you will need to get used to the manual controls.
Also, you will need extra money on chlorine and other such chemicals since it lacks the built-in chemical dispenser.
Pros
A sturdy and durable hot tub
The perfect insulated cover
Maintains water temperature for days
Easy to install and maintain after use
Cons
No chlorine dispenser
Increased electricity costs
Why Should I Buy This Hot Tub?
 The enlisted features make Coleman Lay-Z Spa an ideal choice for the list:
An affordable inflatable hot tub with a rapid water heating system
Works indoors and outdoors for a relaxing therapeutic experience
It has sturdy walls and overall design that protects warm water inside
Works just fine up to 104 Fahrenheit for a soothing massage time

Intex 77in PureSpa – Best Inflatable Hot Tub For Backyard 2023
Even though Intex PureSpa is one of the traditional ones, it holds a massive reputation for its hard water treatment, easy maintenance, 3-way test strip, and heating system as one of the best portable inflatable hot tubs.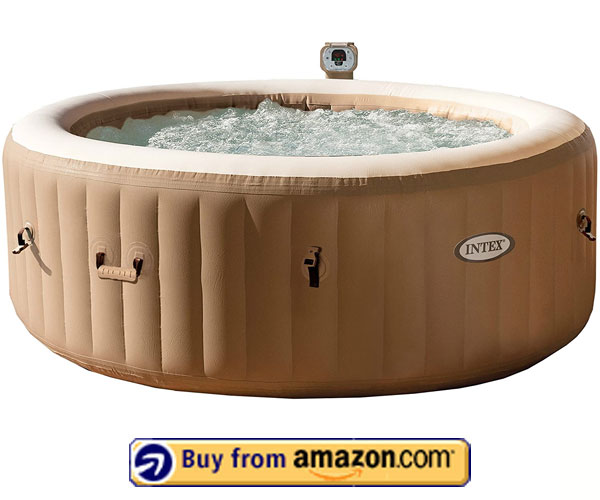 Besides bringing a soothing experience, the hard water treatment system is quite useful when it comes to treating soft or gentle skin. You can improve that experience further by adding the recommended chemicals by the experts.
The water inside this portable spa would remain clean for a longer time due to the filter cartridges. The users are provided an extra pair in the box, so you won't be spending on the next couple when you need to change these filters after a month.
To customize your experience inside the Intex PureSpa Portable Bubble Massage Spa Set, you could use the small digital control panel with necessary controls. Set the temperature and bubbles pressure smartly to make full use of it.
The users can make their portable spa experience safer by using the 3-way test strip to check the water pH. If it is not balanced, you can then add the recommended chemicals such as bromine or chlorine since it is an important aspect.
Intex PureSpa Portable Bubble Massage Spa Set has room for 210 gallons maximum water storage, which is ideal for a small inflatable hot tub and 104 Fahrenheit water temperature range for a warm and relaxing spa time.
A free pump accessory is provided when you will receive the hot tub for easy inflation that is one of its highest-rated features. It also rated highly for providing great value for the money and sturdiness, making it one of the most reliable products.
The making is a bit different from Coleman SaluSpa since it is fiber-tech construction providing a durable interior while delivering a lightweight spa for maximum portability.
Though we have received plenty of complaints about the 'not so durable' base unit that can be pretty lousy with excessive weight. Also, the manufacturers need to deliver better padding in the base; otherwise, it would only increase the seating costs.
Pros
Sturdy and lightweight
Good quality digital panel
Power bubble massage system
Better water capacity for 4 persons
An energy-efficient design
Cons
The padding needs to be better
The base unit isn't quite durable
Why Should I Buy This Hot Tub?
 The following Intex PureSpa features make this a standalone product:
Provides great value for the money at a reasonable price for a hot tub
The water capacity is massive for a 4-person inflatable spa
The rapid heating system that gets the job done within an hour
The proper insulation for keeping the water warm and tub durable
A well-made interior design that is sturdy and you can count on it

Coleman Salu spa Havana AirJet Inflatable Hot Tub is our fifth and final pick for this list featuring a chem-connect dispenser, advanced massage temperature, customizeable water temperature and pressure, and remote control for adjusting those settings.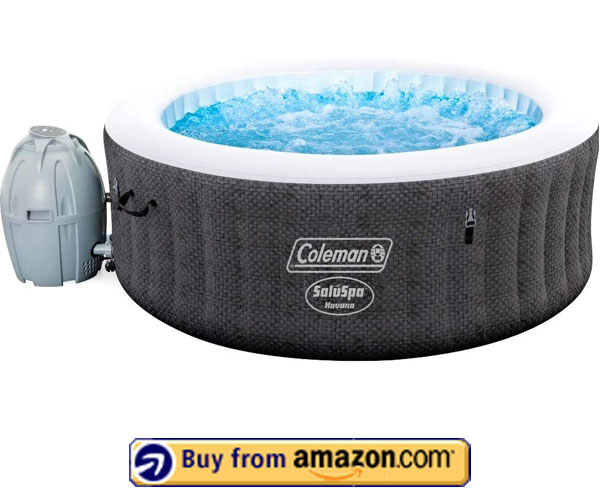 This portable hot tub also has an even better power-saving mode that allowing you to set settings for up to 99 hours, which is incredible. Also, now control everything from a smart digital panel that also includes the maximum temperature range of 104 Fahrenheit.
Coleman Inflatable Hot Tub features one of the best and probably the best AirJet massage system that produces bubbles at a rapid face combined with the water heater to bring the most relaxing therapeutic experience in a portable hot tub.
As expected, Coleman uses the same durable and puncture-resistant construction for the interior walls and the overall design. This sturdy wall structure with three times Tritech reinforcement to prevent any deformation and damage.
Even after these quarantined times, you can move this portable inflatable spa with you to vacations and have a relaxed time inside its cushioned flooring, massage jets, and a rapid heating system that warms the water up quickly.
Besides easy transport, this 4-season inflatable hot tub is easy to set up around any corner of your home or office. Moreover, it is easy to assemble and clean that many wouldn't have to consult its manual before installing it for use.
However, it doesn't seem to hold the heat quite well even when you use the insulation provided by the manufacturer. Spending money on a better cover would increase the costs, and this is something Coleman needs to work on for this model.
Even though it is advertised as a 4-person hot tub, it is only spacious enough to hold 3 persons with comfort. To adjust the fourth person, the others would need to sacrifice some space and thus their comfort.
Pros
Smart design
Remote control
Digital control panel
Easy to drain and clean
Tritech construction
Cons
Doesn't hold heat quite well
Not quite wide for four persons
Why Should I Buy This Hot Tub?
 It is due to the following features we think this is a great buy:
A durable and puncture-resistant designed backed by Tritech construction
The easiest hot tub to assemble and maintain around your house
Comes with a pump for inflation and dispenser for releasing chlorine
Easier to drain and do the cleaning process without much hassle

Are Portable Hot Tubs Worth It?
The portable hot tubs are certainly worth it since they are affordable and portable.
Can Inflatable Hot Tubs be Used in Winter?
Yes, the inflatable hot tubs can be used in winter, and you can even move them indoors for a better experience.
Which is the Best Portable Hot Tub?
As per our recommendations, Coleman SaluSpa's 6-person Hot Tub is the best portable hot tub for its spacious and durable design and smart digital control panel.
Conclusion
We hope that these latest reviews of the best portable inflatable tubs helped decide and choose the right product for your massage and therapeutic needs.
However, if you are looking forward to our final recommendation for a more prominent family, we would recommend Coleman SaluSpa Hot Tub that accommodates even more people with children.
Otherwise, you could also buy Intex 77in Pure Spa for a relaxing and affordable experience.
You can leave us your feedback and queries about the products for further recommendations.
Keep visiting our website for more interesting hot tub reviews and queries!