Are you wondering about how to care for an inflatable hot tub and prolong its life? The inflatable hot tub maintenance is a process that involves weekly water changes, cleaning the entire tub, and cleaning or replacing the filters.
It doesn't matter how good an inflatable hot tub brand you own; its life could significantly decrease if you are not paying proper attention to its cleaning and maintenance.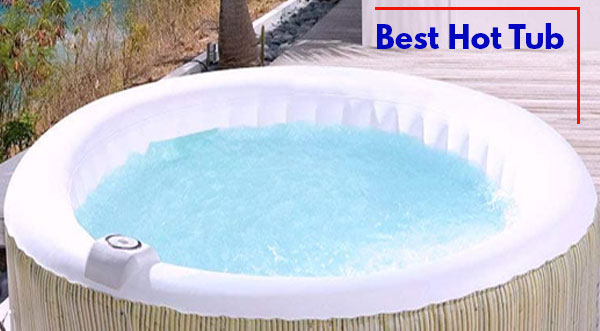 Now that you are looking forward to it, we have got some constructive tips for the proper inflatable hot tub maintenance in 2021.
Let's begin with that now!
How To Do Inflatable Hot Tub Maintenance?
The processes, as mentioned earlier, involved in the proper maintenance of an inflatable hot tub, if followed regularly, can ensure a long-lasting and durable experience.
Let's get into the details of how you should be doing the maintenance work:
Change Water Weekly
Many hot tub users can't help but ignore this most critical step and end up losing their inflatable hot tub sooner.
However, if you change the hot tub's water weekly, you will be saving it from getting mold, algae, and mildew that keep producing if the water stays in the tub for longer.
Also, it is even more important to keep the pH levels balanced, and for that, you could add certain chemicals such as bromine and chlorine.
Without having these balanced pH levels, the water can be more damaging to your skin, and the chances of infestation being produced also get higher.
For an inflatable hot tub, the ideal pH range is between 7.2 and 7.8.
To drain and replace the water in a hot tub:
Turn off the electricity and water connection.
Always use a pump to suck water out of the tub.
Thoroughly remove and clean the filters and also the bottom.
Dry the tub and pour fresh water in using the garden hose.
Weekly Cleaning
Besides the water drainage and replacement, you should clean your inflatable every week and complete maintenance check-up every month.
Make sure that you use the right quality detergents, soap, and water to do the cleaning, and that would keep mold and algae formation at bay.
Moreover, getting a sanitizer to ensure further safety and hygienic experience before a daily or weekly use is highly recommended.
Here are few tips about how to clean your inflatable hot tub:
Remove and clean the filters every week and replace them after a month by new ones
Cleaning with a recommended spa cleaner is important or warm soapy water at the very least
Make sure that you dry your hot tub properly with a dry towel or cloth
Using these inflatable hot tub cleaning tips will certainly ensure a long-lasting experience for the users.
Change Filters Weekly
We did mention that you must clean the filters daily or weekly and change them every month.
However, an even safer recommendation is that you replace the filters weekly as well unless it gets way out of your budget.
If you use your hot tub quite often, the filters can attract a lot of dirt, and this clogging can ruin the experience for you.
Though if you aren't going to replace them weekly, just clean them thoroughly daily, depending on how often you use the spa.
Some Other Important Maintenance Tips
It seems like the hot tub users could use some additional maintenance tips, and here we are with more of those:
Remove Unwanted Stuff
Placing tennis balls in the filter well could attract hair products, body oils, and other unwanted stuff that you don't want
Get Rid Of The Mildew Smell
Use bleach and water to wipe down the hot tub interior and get rid of the persistent mildew smell
Time Tracking Prevents Water Spillage
Using a timer while refilling the water can avoid water spilling on the ground
Lower Electricity Costs
Save money by heating your hot tub water during the off-peak hours. Find those by calling the company providing you electricity
Vinegar For Cleaning
Vinegar mixed with water can be a great cleaning recipe and could save you a lot of money on expensive cleaners
Save Your Air Valves
Air valves must be turned off while injecting chemicals and this is pretty useful while trying to heat up quickly
Rinsing The Filters
If you are used to using the hot tub quite often, clean the filters by rinsing them down with a hose
In-stock Chemicals
You should keep chemicals like pH balance, decreaser, sanitizer, test strips, and alkalinity increasers like chlorine and bromine in stock, especially if you are a regular user
Using these tips, you can take proper care of your Jacuzzi spa and enjoy the experience even more.
Conclusion
We hope that this article helped bring out every important inflatable hot tub maintenance tip that could prolong your hot tub's life.
Visit our website for more exciting information, tips, and tricks!