The only thing suitable to do at the end of a long and tough day is to chill in a hot tub. To get a more cooling effect in summers, many users add coolers and let them soak in for a few hours before use.
Spending your morning in a Jacuzzi Spa will be excitable. But it's vital to set the Hot Tub Temperature in Summer. No one wants a scorching tub in summer.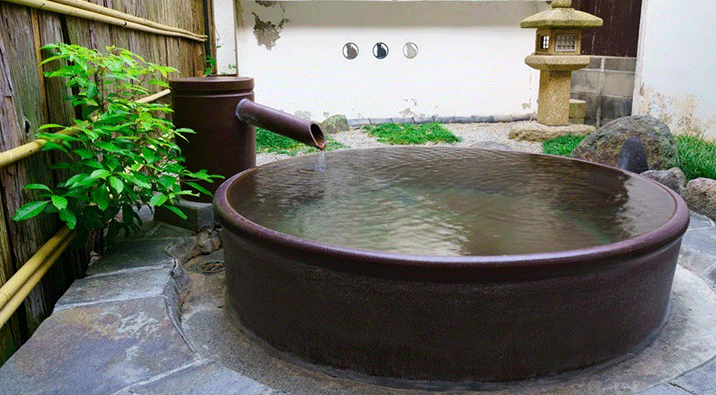 A normal hot tub temperature in summer can increase your motivation and add freshness into your body throughout the day while it spending evenings in hot tubs provide the benefits of good sleep.
Moreover, when summer hits, it can be tough for some people to find the most reasonable to hug the hot tub.
Some people don't even use their hot tubs in the summers, which is a total waste of a hot tub.
It's not hard to find out a way to enjoy hot tub moments in the summer. People often don't know what to do with hot tubs in summer.
Abandoning your hot tub can lead to its destruction. You can still be able to enjoy the therapeutic effects and new jets of a hot tub during summers with just a minimum amount of knowledge.
Once you experience it, you will realize that there is no better time to spend in a hot tub than in the summers.
Hot Tub Temperature Basics
The unique chance to spend some time with your family in the roiling waters in the hot tub is priceless. You can heat the water with just the flip of a switch or by adjusting a dial.
What's more?
Some best hot tubs let you warm the water up with an app on your tablet, PC, or phone.
Modern-day hot tubs contain a limitation that prevents the hot tub from reaching an unwanted level of the Centers for Disease Control and Prevention CDC still, the suggested temperature is 104° F (40° C).
However, some older models let you exceed this limit, but it is important not to test the limits of hot tubs.
Pro Tip: Even though there is a pre-installed temperature limiter in your hot tub, it is best to have a separate thermometer, especially for hot tubs. That way, you will be able to know the temperature of your water easily and quickly.
Other than that, you will also be able to identify any hardware issues, such as heating or overheating failures. It is essential to get everything out of the way before you step into the precious heated water.
Why Hot Tub Temperature Matters
Not every person prefers the same temperature as the water, and everyone has a different preference.
But, there are recommendations provided by the CDC to help you not cross the potentially severe health problems.
Heat-Related Health Problems the hot tub temperature Celsius exceeds 103°F (39°C), you are likely to develop situations related to hyperthermia, which is known as very high body temperature. It can lead to heatstroke, heat rash, heat exhaustion, and heat cramps.
Chances are worse for young children, those with a persistent illness, older folks, and pregnant women.
If you are in good health, spending a lot of time in warm water can still be dangerous for health.
Are hot tubs safe for children? Do not have the same level of tolerance as heat as adults. Their tiny bodies and thin skin make them susceptible prey to the weather. According to the CDC, children under five should never go near hot tubs.
Hot Tub Temperature In Summer
You can cool your hot tub down in the summers by merely lowering the temperature to 95 degrees.
The temperature of the water will be less than your body; it will give you a refreshing boost during the hot days.
Contrary to this, if you demand a much more cooling effect, the minimum temperature for summer should be 85 degrees to change your spa into a cold bed.
Hot Tub Temperature In Winter
During the winters, most users set the temperature of water to two or one degree, which is much higher than their usual preference.
Even the best hot tubs for cold climates demand a temperature change.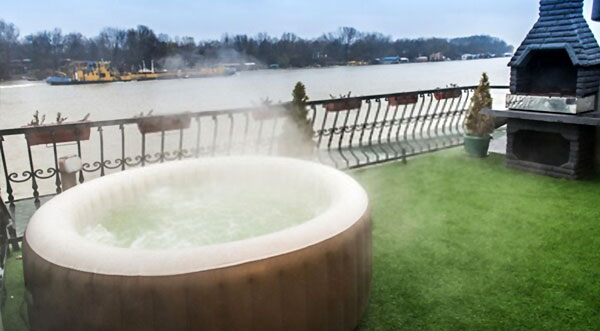 During the cold weather, you don't have to wait for the water to cool faster, it will automatically become cool even when the cover is on, but you can change that with warmer settings.
The ideal hot tub temperature in winters is 80° F, this will keep your hot tub from becoming cracked cold.
Keep Your Water Temperature Consistent
Some people believe that they can save energy while lowering the temperature of the spa when they get out of the tub and turn the heat back on when they want to use it again.
The hot tub temperature, when we are not using it, is always the same.
You can't save any amount of energy by raising the temperature before you tend to use the hot tub.
Here's a fact, your spa is made to contain consistent temperature, not changing temperatures.
Safe Hot Tub Temperature For Kids
Children have tiny bodies, hence thinner skin. Children should only step into the hot tub if they are tall enough to get half of their bodies out of the water.
The ideal temperature for children should be lower than 98°, and the maximum time for children to spend in the hot tub should be ten minutes.
Tips For A Safe Soaking Temperature For Kids
Cool The Water
You want to take a dip during the day, adjust the temperature lower than 95 degrees. Some people often don't know how to cool down a hot tub after warming it up for use.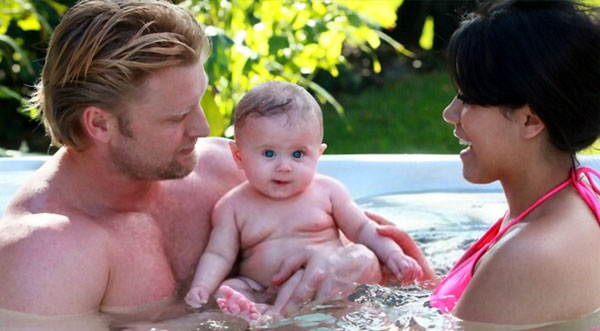 Any temperatures lower than your average body temperature will offer you relief, even in the hot summer days. Still, if you want a more relaxed effect, turn the level to 85 degrees.
Skin Protection
Hot tub temperature degrees are always a bit warm for the skin. Regardless of the heat, you go with, your skin which still exposed to the sun.
It's essential to wear a butt-load of sunscreen on the body whenever you dip into the hot tub.
Stay Hydrated
In warm water for hours can drain the fluids from your body. Keep fresh water bottles around you every time you go into the hot tub.
Night Time Dip
People like to go dipping in the water when the sun goes down. Because that is when you receive a cold temperature of the water.
So, during the night, you can make your hot tub chiller and enjoy the therapeutic pool.
Conclusion
So, when you are using the hot tub in the summer, make sure to set moderate temperatures that will suit your body temperatures.
Other than that, it is essential to drain and refill your hot tub a couple of times each year to ensure hygiene and safety.