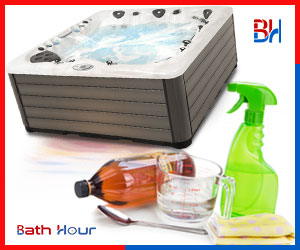 Well, while choosing the best hot tub, we look for some different factors like material, capacity, filtration system, cost of running, and many others.
But the factor we usually neglect the most is the cleaning that how we will clean it.
After doing a lot of research, we've concluded that there are a goodly number of ways to clean a hot tub.
Like, you can use different types of chemicals like sodium bicarbonate (Baking soda), borax, oils with antibacterial or anti-fungal action.
But the substance we found most suitable is vinegar or acetic acid. There are several reasons for this, which you'll know when we'll explain How to clean a hot tub with vinegar.
Why Should You Prefer Using Vinegar As a Cleaning Agent?
Most people are confused to a level that they even ask "Can you use vinegar to clean your hot tub or spa?", Is it safe? Isn't the acid cause erosion?
Well, the precise answer is Yes. You can use vinegar. It is 100% secured and does not cause abrasion.
Now, we come to the discussion, why should you prefer vinegar. There are four different reasons for it.
The first one is that it is promptly available. You can easily purchase vinegar from your nearest departmental store.
The second reason is that it is safe to use. Since acetic acid is a very soft acid, it does not have dangerous effects like other acids. You can easily mix with water to make a solution of the required concentration.
The third one is, it has a bactericidal effect. Surprisingly acetic acid in the vinegar can kill small bacteria and fungus very efficiently, so it frees you from using other bacteria inhibiting chemicals.
The last and the most important reason to prefer vinegar is, it is an excellent cleaning agent. The vinegar reacts with the dust particles and makes them water-soluble; this thing makes vinegar a very efficient cleaner.
Classification Of Vinegar
Commercially there are more than 21 classes of vinegar. The ones we are concerned with are just two. The Distilled vinegar and the white vinegar.
Both differ in the concentration of acetic acid, with white having up to 20% and distilled, having up to 8% acetic acid.
You can use both of them. But most people prefer to use white vinegar rather than the distilled vinegar as it works more effectively.

Things You Will Require To Clean Your Hot Tub With Vinegar
We assume that you are not using any hot tub cleaning service and willing to work yourself to clean your hot tub. You will need certain things for that.
Vinegar and water (quantity depends on the size of your hot tub)

Nylon Brushes

Filter cleaners

A few soft rags
Cleaning Instructions About How To Clean A Hot Tub With Vinegar
The cleaning process is simple if you do it properly. It has three steps
How To Properly Drain Your Hot Tub?
You would be only able to clean your hot tub correctly if it is adequately drained. Here are the instructions to properly drain your hot tub.
You don't want any mishap to occur. So for safety, switch off the power of your hot tub.
Take out the already present water in your hot tub by removing the drain plug. Wait until enough water removed.
You can use a sump pump to remove water and to make sure there is no water in the hot tub.
Another good option is to attach a garden hose with the sump pump and let the water go into the garden, but make sure to keep an eye on the pump and don't let it run when there is no water.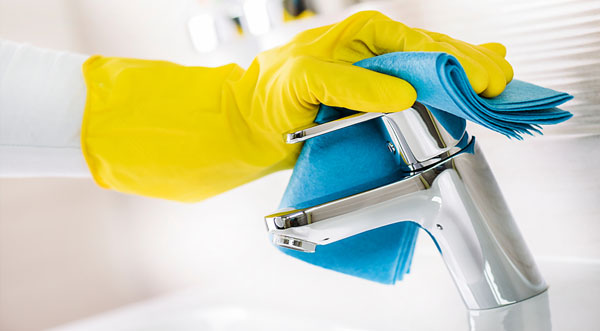 Cleaning 
Now you've drained your hot tub. It's time to clean your hot tub properly. Follow the sequence to make the process smooth
First, Start With Filters
Take the filters out and begin to clean them. You can use three different filter cleaners mechanism.
The first one is a filter cleaner with a quick rinse.
Secondly, you can use a chemical rinse.
The third one is to use a chemical soak. Then clean the essentials.
Make a solution of water and vinegar with 1 to 1 concentration and use a few soaked rags to clean the internals of a hot tub.
This task may become very burdensome, especially when you have a large hot tub.
While cleaning, you could face a different type of circumstances. If you haven't used a hot tub for a long time or that has been in sitting condition, or there could be any calcium deposits from organic materials in the water.
If you have not used any hot tub for a long time, the first thing is to do is fill the tub.

Then drain the tub.

Make a solution of white vinegar and distilled water, take a sponge, and start cleaning your hot tub.

When you're satisfied with the cleaning to take a dry sponge or rag and give a last touch to the tub, then fill the tub, and enjoy.
Cleaning The Calcified Hot Tub
If you are enjoying sitting in a hot tub using cosmetics and oils, you will often face a problem of deposition of calcium on the sides of the hot tub. The first thing is to prepare a solution of distilled water and white vinegar.

Spray the solution on calcified deposits.

Wait for ten minutes. Acetic acid reacts with the deposit, and it began to dissolve.

Using the Nylon Brushes, clean the hot tub, and enjoy it.
Fill
When you have done with cleaning, fill the tub, add salinity chemicals and sanitizers and enjoy.
Are There Any Alternatives To Vinegar?
If you are not willing to use vinegar as a cleaning agent, you can also use substitutes.
Ideally, any substance that has alkaline or acidic properties can work as vinegar alternatives. We have narrated some of the commonly used chemicals in the first paragraph.
Besides those, you can use various other chemicals as well, like ammonia solution, sodium hydroxide (Lye), citric acid, and Calcium hypochlorite.
Conclusion
Here is a summary of How to clean a hot tub with vinegar.
We prefer vinegar because it is inexpensive, easily accessible, and proper cleaning action.
There are two types of vinegar, white and distilled. You can use both of them.
Cleaning consists of three phases. Drain, Clean, and Fill.
You can also use vinegar substitutes.