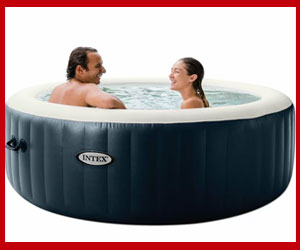 One of the indoor hot tub ideas is putting your inflatable hot tub in basement which is certainly possible.
However, there are plenty of considerations that you must undertake, and today, we shall guide you about it.
This job of moving a hot tub in your basement is about extra effort, hassle, and safety hazards.
We will lay them out in front while discussing certain advantages & disadvantages that will help you in making your mind.
Can You Put An Inflatable Hot Tub In Basement?
Yes, you can put an inflatable hot tub in basement; however, the process is much more complex and requires more effort than installing it elsewhere.
But, before we move towards how to do that, here are specific hazards that you must keep in mind before doing so:
Ventilation
There always are ventilation concerns when you need to install an inflatable hot tub in the basement.
While using so, the amount of condensation and humidity you will encounter will be much more than usual.
To tackle the problem, increasing the ventilation by installing a proper system is highly recommended.
Here is what you should be doing:
Install a powerful exhaust fan
Make sure is it vented outside your home.
A mechanical ventilation system to get complete rid of condensation
Follow these steps, and you shall be good to go.
Water Hazards
Water would usually wash away in an outside environment, but in a basement, you need to treat splashing water on the floor.
If left untreated, this leads to specific structural damage and makes the floor slippery posing a threat when you'll get outside.
For that:
Install rubber mats that are an excellent flooring material.
These will also make the floor slip-resistant.
It will form a drain line since the tub is above the floor now.
Moisture-resistant tire installation is another ideal solution for that.
Following these steps, you can now get rid of water hazards and have a safe experience.
Humidity
Using a hot tub indoors also raises humidity levels that can lead to mold growth.
Also, the increasing moisture would improve the chances of corrosion unless the materials are adequately insulated.
For that:
Install the best mechanical ventilation system you can find as advised before.
Give a coat of insulation to materials that are at the risk of rotting.
It concludes all hazards that must be treated before installing an inflatable hot tub in the basement.
Advantages Of Putting An Inflatable Hot Tub In Basement
There are certain advantages of using a hot tub in your basement that we are about to discuss next:
Privacy
Using an inflatable hot tub indoors, and then the basement brings a level of privacy that using them outside could never match.
Also, since most families have their music and entertainment systems installed in the basement, it would only enhance the fun.
Ease
Though it is more complicated in the beginning, using an inflatable hot tub in the basement then becomes a matter of ease since you are nearer to the systems in your home.
An inflatable hot tub is portable, and moving it around isn't difficult either though we would recommend bringing any fixed or in-ground spa to the basement.
Disadvantages Of Putting a Hot Tub In Your Basement
The difficulties, however, of putting a hot tub in the basement are more, and thus it isn't a good idea. Let us discuss some:
Expensive Drainage System
Disposing of the hot tub water is more comfortable when it is outside; however, in a basement, you will need to install a whole new and secure drainage system that would cost a lot.
It gets even worse when your home's water drainage isn't connected already to the sewer, and doing so, especially living in a city, brings a lot more costs.
Safety Hazards
We have already discussed the safety hazards like splashing water, humidity, and lack of ventilation that lead to a wrong hot tub experience.
Not just, getting rid of these safety hazards would ask for installing individual systems ending up increasing your costs that not many of us can afford.
The level of rising humidity due to the hot tub's heating system can settle on different things in your environment, causing damage as a result of corrosion and rotting.
Draining and Refilling An Inflatable Hot Tub In Basement
Depending on what water care system you are using, draining a hot tub from the basement can become a more frequent task that can get irritating at times.
It happens, especially when you have larger 6 or 8-person hot tubs that usually hold up to 450 gallons of water.
For instance, if you are using a chlorine or bromine-based system, it is highly recommended that you must drain your hot tub once within three months.
Equipment Needed
A submersible pump
Cleaning mitts
A vacuum cleaner
Dry towel
A garden hose
How To Drain Your Inflatable Hot Tub In Basement?
Turn off electricity and then the water supply
Use submersible pump for draining out water
Remove filters and clean them using the garden hose
Put the components back before refilling
Refilling Your Hot Tub
Put the hose in the hot tub
Turn the water connection on
Use the correct fill pipe to avoid air bubble formation
Conclusion
This guide concludes by putting an inflatable hot tub in a basement, its benefits, and risks that are involved while doing so.
These points are also beneficial while putting your hot tub in a garage.
Leave your queries that you want us to answer in the comments and keep visiting our site for more helpful hot tub guides and reviews.