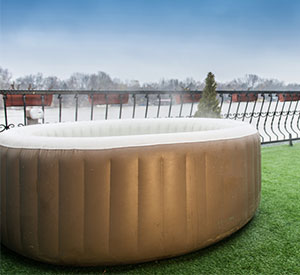 You can be placed an inflatable hot tub on deck, and it will be more viable due to its lighter weight than other heavier spas.
However, a deck has a specific weight tolerance, so you will need to look out for your inflatable hot tub weight vs. how much a deck can bear.
But the question is,
Is your deck strong enough for an inflatable hot tub?
Let's dig deep into the details of it!
How Much Does a Hot tub Weigh?
The total hot tub weight depends on three factors:
The unit weight of the hot tub.
Weight of the water.
Weight of all persons inside it.
To make this calculation easier, let us give you a coherent formula:
Inflatable Hot Tub Weight: Around 100 lbs (varies depending on the brand)
Weight of 1 Gallon of Water: 3 lbs
A person's average weight: 170 lbs to 175 lbs
Width x Length of Hot Tub = 52.56 Square Feet
The formula you should be using is:
Spa Weight + No. of Gallons x 8.3 lbs + Seats x Person's Avg Weight Square Feet

Formula to calculate the weight of hot tub
Once you are done calculating this sum, you can now customize your deck according to that.
Example
Take the example of Coleman SaluSpa Inflatable Hot Tub Spa which is one of the most common inflatable hot tubs used and weighs 88 lbs only.
However, everything changes when you are filling it with water, and while each water gallon adds up to 8.3 lbs, filling it up to 80% would make it weigh 2100 lbs excluding people.
Now, add the total weight of every person who will be using it, and you will have your estimated value of the hot tub weight.
Check our best inflatable hot tubs reviews to find the right inflatable tub with an ideal weight for your deck.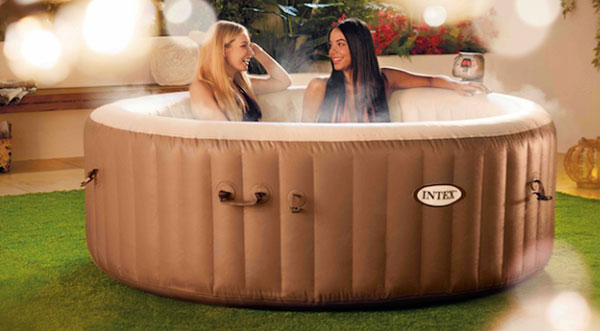 Can A Deck Support An Inflatable Hot Tub?
Most decks that are two feet above ground level can easily bear up to 100 pounds per square foot, so supporting an empty inflatable hot tub would be nothing.
However, the hot tub weight can spike up to 2000 and 3000 pounds in normal days when filled with water, designing your deck for tolerating this much weight is essential.
Some large hot tubs filled with more water can even sum up to 6000 lbs and that is too much weight for a deck to support.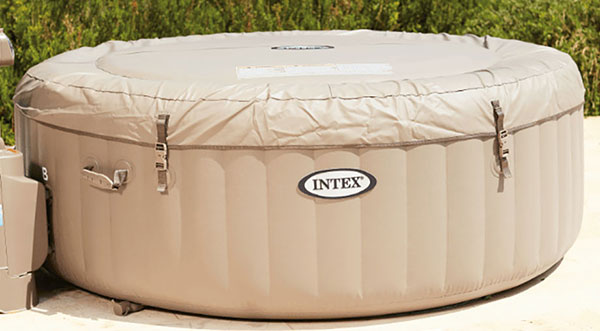 Though before putting your hot tub up on the deck, make sure that you have a professional inspect your deck to determine whether it could support your hot tub or not.
How Can You Modify Your Deck To Hold a Hot Tub?
The best person advising you about this should be an engineer.
However, what we could gather from our experience, if the above calculations prove that your deck needs to be reinforced, here is what you should be doing: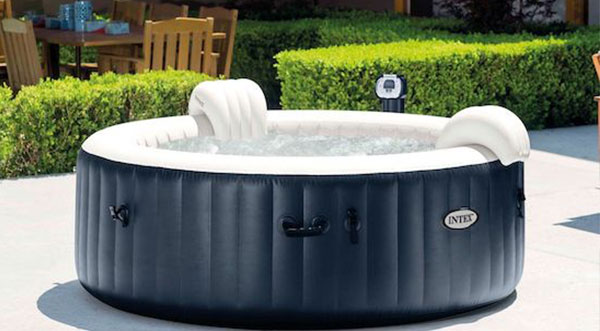 Adding Joists
To reinforce a deck, the first thing you should be doing is to hire a carpenter and make him install additional joists to the existing ones.
Make sure that you install these at the exact spot where you will place your hot tub.
Place a clamp between the existing and new joists to fasten them together in a better way improving weight distribution.
Installing Ledger Board Fasteners
The deck can get further reinforced to support more weight by installing ledger board fasteners.
Depending on how much weight the deck needs to support, you can add 2, 3, or even 4 fasteners at that time.
Joist Hanger
Installing joist hangers could add further support between the ledge and joists; however, these must be installed on the house side.
In the end, nail the modified blocks back in and make sure that you do that well with quality steel nails.
Placing Your Inflatable Hot Tub On Deck
While placing your hot tub on a deck, there are certain considerations you must take care of to have a safer, private, and more relaxing spa experience.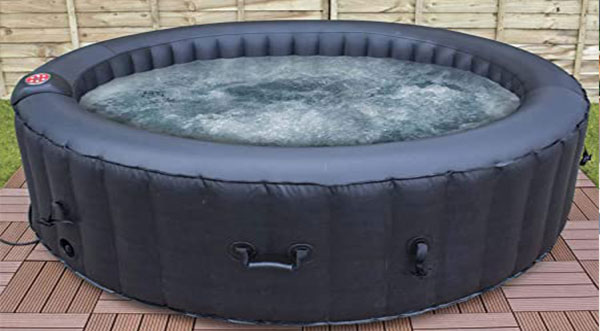 We have laid out the details of these factors in detail here:
Distance From the House
How far away should your hot tub from your home be can determine a lot about the experience you're going to have.
Unless the weather is getting cold, the best recommendation is to place it farther and in a more open area.
Also, make sure that you place rubber mats to enable slip resistance to avoid any accident while getting out of the spa.
Though when it's closer to your house, it brings the advantage of rushing back into the home quickly in case of a cold breeze or sudden weather change.
Privacy
Placing your deck and hot tub near to your home has a major privacy advantage allowing you to spend more time in there without having to worry about anything.
Positioning it closer to the walls is even better than ensuring that the cold breeze stays away while you enjoy a drink and read a book in your spa.
Accessibility
This is the third most important consideration and for that, place your tub in a position so you can enter or exit freely.
Also, it should give you enough space while putting the cover on and removing it when you are done using the spa.
Moreover, while putting it beside the wall, position it in a way that the engine is easily accessible when you need to do the repairs and maintenance.
Conclusion
So this was our brief yet complete guide about putting your inflatable hot tub on deck and having a great summer that we hope you enjoyed.
Leave us queries and feedback in the comments and keep visiting our website for more interesting hot tub content.