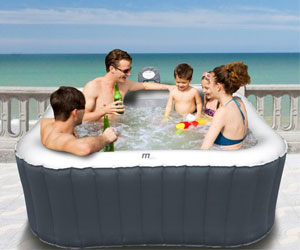 The inflatable hot tub with seats does not come readily manufactured by the companies making them. However, you can buy seats separately if you feel the need to get them.
While they don't have seats, an inflatable hot tub usually has a cushioned bottom that is quite comfortable, so most users don't need the feel to have seats at all.
Let's make them a part of our detailed discussion now!
Do Inflatable Hot Tubs Have Seats?
No, an inflatable hot tub doesn't have seats when you buy it first. People who want seats in their portable spa need to order them later.
For a comfortable spa experience, most new inflatable spas have padded cushions at the bottom so you can enjoy them just well.
Getting the seats for your inflatable spa can add to the costs. There is a good inflatable hot tub with seats available in the market to save you a handsome amount of money.
Also, a better suggestion is that since you are already getting padded cushions with an inflatable hot tub, simply buy cushioned headrests.
This would add to the comfort, will have an optimal experience, and you will no longer feel the need to spend extra money on buying seats.
Inflatable Hot Tub With Seats
The inflatable hot tubs don't come with built-in seats
These portable spas do have padded cushions to sit on
You will need to order inflatable hot tubs with seats separately
Seats do become necessary if your kids use your inflatable hot tub
Adults only need to buy a headrest to pair with the cushion
Do Not be Afraid with No Seats of Inflatable Hot Tubs
Even if your inflatable hot tub doesn't have seats, it doesn't mean you would drown.
The wall height of these portable spas is made so that your head stays above the water.
However, this is a concern when the tub is full of water, and if you have kids around so getting inflatable hot tub seats for them would be better.
In case you didn't know, there is a significant advantage of not having seats in this type of hot tubs since then, it can accommodate more people than they can when people sit on seats.
A Quick Summary
Adults don't need seats due to the ideal wall height for them
Seats are important for kids though
Inflatable hot tubs without seats can host more people inside
Having seats in these affect the portability
Where To Get Seats For An Inflatable Hot Tub?
Finding the best of these products can be difficult, and in case you are looking for the best hot tub seats recommendations, we have got a few of them for you.
Intex PureSpa Spa Seat
Intex is pretty famous for bringing quality inflatable and fixed hot tubs to the market. Now, to enhance the experience, you can order Intex PureSpa Spa Seat.
Some top features of this portable would be:
This hot tub seat allows height adjustability between 3 & 5.8 inches.
Stay comfortable with the slip-resistant design the whole day.
You can attach and detach this spa seat at any time.
This is compatible with any portable hot tub brand.
Onner Spa and Hot Tub Booster Seat Pad
Onner Spa and Hot Tub Booster Seat Pad is our 2nd top recommendation for the best inflatable hot tub seat known for being cozy, firm, and preventing floating.
Again, besides coming from a specific brand, this hot tub seat pad is ideal to be used with any hot tub or spa you have got.
Here are some major features of the product:
Made of the heat-resistant materials for a durable experience
This seat pad increases the height while being firm and comfortable
The design and height made it perfect for both kids and adults
It has suction cups that ensure floating prevention at all costs
Conclusion
In the end, what you need to takeaway is that getting seats for an inflatable hot tub isn't entirely necessary unless in the cast of a kid.
However, if you still want to buy an Inflatable hot tub with seats, we have got you the best hot tubs seat recommendations for both small and large inflatable hot tubs.
Leave us your feedback and keep visiting our website, cheers!